Gov. John Kasich's campaign staffers' confidence paid off — the GOP presidential hopeful will appear on Pennsylvania's primary ballot after all.
Nathaniel Rome, the college student who filed a petition in Pennsylvania's Commonwealth Court alleging that Kasich's campaign did not submit the required number of signatures in order to appear on the state's ballot, withdrew his petition on Wednesday. The withdrawal came just one day after Florida Sen. Marco Rubio, who Rome actively supported, ended his own GOP presidential campaign.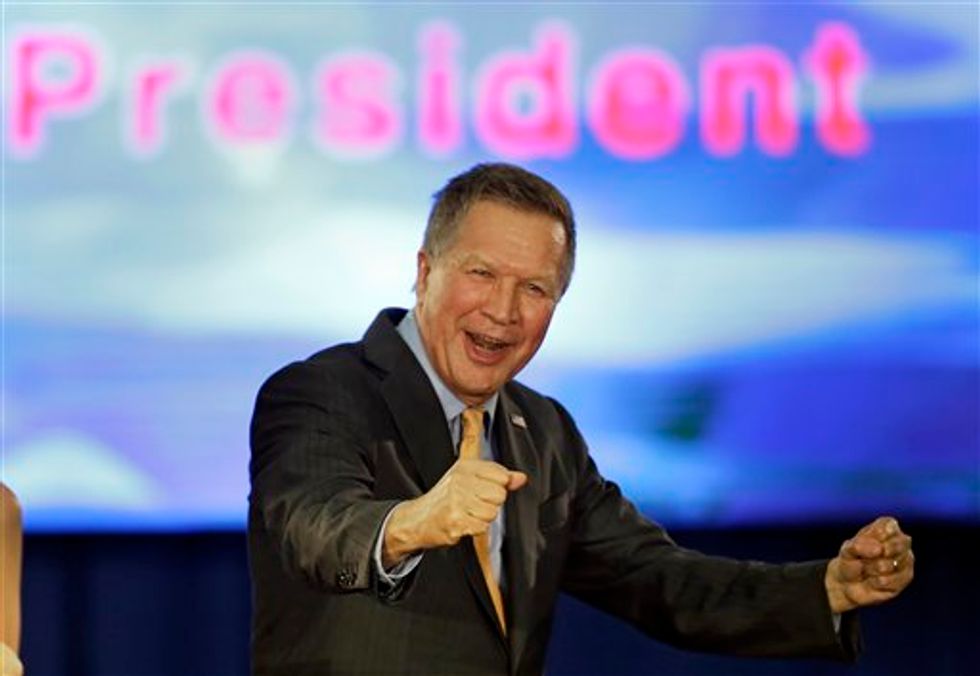 Republican presidential candidate Ohio Gov. John Kasich pumps his fist and celebrates before speaking at his presidential primary election rally in Berea, Ohio, Tuesday. Kasich won Ohio in the primary. (AP Photo/Tony Dejak)
According to the Pittsburgh Tribune-Review, Rome's lawyer claimed the student was asked to withdraw the petition but did not elaborate further.
"We said all along that we will be on Pennsylvania's ballot. We are on Pennsylvania's ballot," Rob Nichols, Kasich's communications director, told TheBlaze.
The issue over Kasich's ballot appearance was fairly divisive and essentially boiled down to what time the day officially ended.
As TheBlaze previously reported, Rome's petition argued that 802 of the signatures submitted by Kasich were ineligible and brought the governor's number below the 2,000 threshold. Rome filed his petition at 5:13 p.m. on Feb. 23, the final day to submit, according to Pennsylvania law. Lawyers for Kasich argued that the filing was 13 minutes too late as the day ended at 5 p.m.; Rubio's team insisted that the day was completed at 11:59 p.m.
The case was eventually sent to a three-judge panel with each campaign tasked with submitting new briefs by Monday and Wednesday.
While Rubio's campaign crumbled after a crippling loss in his home state of Florida to GOP presidential front-runner Donald Trump, Kasich has gained some momentum after winning his state of Ohio in Tuesday's primary.
Nichols told TheBlaze that because Kasich, 63, was born in McKees Rocks and lived in Pennsylvania for 18 years, he expects a Keystone State victory in the April 26 primary.
Former Pennsylvania Rep. Bob Walker, a senior advisor to Kasich, told the Tribune-Review that he — along with others in the Kasich camp — have actively been working to sway Rubio's supporters over to their side.
"There are ongoing discussions that have been very friendly," Walker said. "We would love to have their people come over to support us."
He added, "I expect by the end of the day a substantial amount of the impressive Rubio team will join us."
There are 71 total delegates at stake in Pennsylvania, with at-large delegates awarded on a winner-take-all basis and congressional district delegates elected on a primary ballot but officially unbound.
—
Follow Kaitlyn Schallhorn (@K_Schallhorn) on Twitter