In an interview with the White House Chief of Staff Denis McDonough Thursday, NBC's "Today" co-host Savannah Guthrie challenged President Barack Obama's call for Senate Republicans to hold hearings on his Supreme Court nomination when, as senator, he sought to block two Republican nominations to the high court.
McDonough demanded that the Senate to "do its job" and allow a vote on Obama's Supreme Court nominee, Merrick Garland. But Guthrie, bringing up Obama's record, challenged him on that call.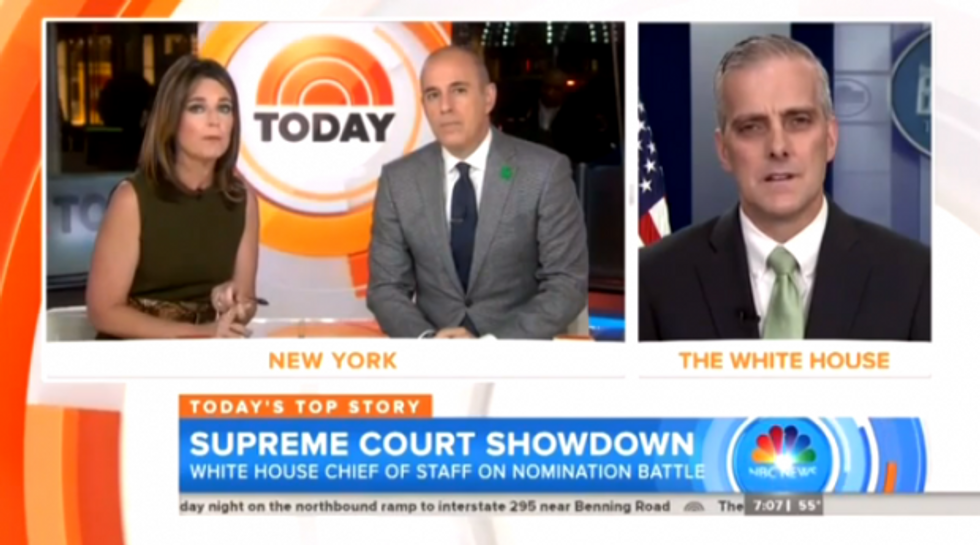 White House Chief of Staff Denis McDonough discusses the president's Supreme Court nomination on NBC's "Today" Thursday. (Image source: MRCTV)
"When it comes to these judicial nominations," Guthrie pressed, "perhaps neither side has clean hands entirely. Back when Sen. Obama was in office, he voted against Justice Robert's nomination and Justice Alito's nomination."
"So is this a case of what's good for the goose is what's good for the gander? How does he explain that now?" she asked.
In response, McDonough said that in both of those cases, the Senate met with and gave hearings to the nominees and ultimately voted on them, adding, "that's exactly the process that we're asking for here."
"But, Denis, President Obama voted to filibuster Justice Alito, which is another way of saying not bring him to the Senate floor for a full vote," Guthrie challenged.
However, since Obama was denied the filibuster, McDonough determined that it doesn't count: "Well, in fact, what they did have is a series of hearings and then they had a vote out of committee, then they had a debate on the Senate floor. That filibuster was stopped and he was voted onto the court. That's exactly the way—"
"So he doesn't regret being part of that?" the NBC reporter interrupted.
McDonough didn't answer the question.
Guthrie's co-host Matt Lauer asked the White House chief if the president has any "firm ally" on the Republican side that he feels could help him get a hearing and confirmation in the Senate.
Though McDonough didn't name any one, he said the White House heard that "more than a handful" of Republicans have signaled that they will meet with Garland.
"We think that's a good start," McDonough said. "But this is not rocket science, here, Matt. All they need to do is do what the Constitution says, give him a hearing, give him a vote, and let's fill that vacancy."
—
Follow the author of this story on Twitter: