New video has emerged purportedly showing the moment a U.S. citizen visiting North Korea stole a propaganda poster, resulting in the 21-year-old being sentenced to 15 years of hard labor in the communist country.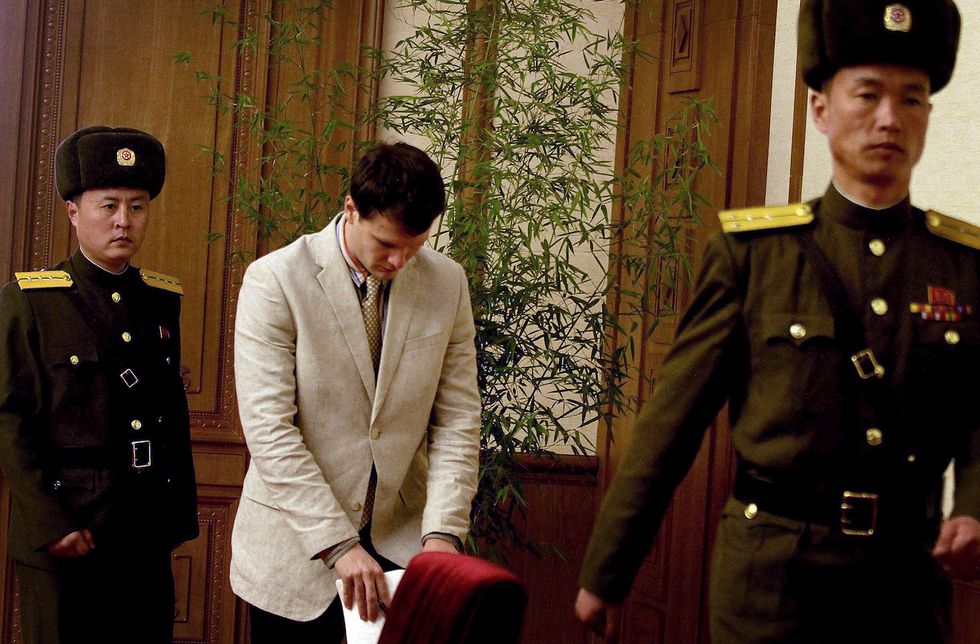 American student Otto Warmbier, center, arrives at the People's Cultural House, as Warmbier is presented to reporters Feb. 29 in Pyongyang, North Korea. (AP Photo/Kim Kwang Hyon)
Virginia college student Otto Warmbier was visiting North Korea when surveillance video allegedly captured him removing a banner from a wall in his Pyongyang hotel. The banner contained a propaganda message, reading, "Let's arm ourselves strongly with Kim Jong-il patriotism," a reference to the late-communist dictator Kim Jong-il.
Watch the footage:
Warmbier was sentenced in a North Korea court Wednesday to 15 years of hard labor after being arrested in January. Warmbier was taken into custody while trying to leave North Korea, where he was traveling with a New Year's tour group. Warmbier said he wanted the banner "as a trophy" to give to his friend's mother.
U.S. State Department deputy spokesman Mark Toner called the punishment "unduly harsh" and accused North Korea of detaining Warmbier for "political purposes."
North Korea has denied that the move was politically motivated.
(H/T: Daily Mail)
– 
Follow the author of this story on Twitter and Facebook: