Sen. James Inhofe (R-Okla.) held a large snowball during a Senate floor speech early last year to parody believers in global warming. In 2012, his book was titled "The Greatest Hoax: How the Global Warming Conspiracy Threatens Your Future."
So it might be surprising that in the 2016 Republican presidential primary Inhofe announced this week he is behind Ohio Gov. John Kasich. Even when the field was 17 strong, Kasich was the only GOP candidate who said climate change is a problem and humans have something to do with it.
In a debate in March, Kasich said, "I do believe we contribute to climate change."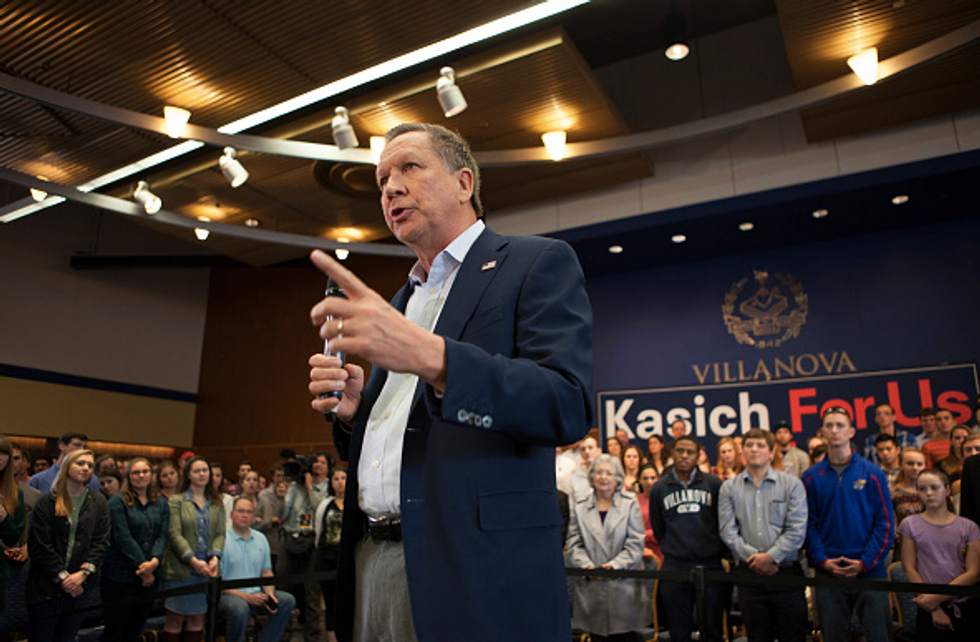 Republican presidential candidate Ohio Gov. John Kasich speaks at a town hall meeting at Villanova University in Villanova, Pennsylvania, Wednesday. (Jessica Kourkounis/Getty Images)
Last month, campaigning in South Carolina, Kasich asked rhetorically, "Am I not a conservative because I think human beings affect the climate? I'm for the environment."
Kasich has made similar comments numerous other times but has never supported cap-and-trade legislation backed by Democrats.
So what could prompt Inhofe to back Kasich for president when the senator doesn't believe the science is settled?
"[Inhofe] believes the climate is changing, as it always has been, but he does not believe man is the driver of that change," Inhofe spokesman Donelle Harder told TheBlaze. "Gov. Kasich has said time and again that the 'EPA is too punitive' and that he would 'scrap' the Clean Power Plan."
Further, Harder notes that Kasich believes fossil fuels would always be part of the American economy.
"Inhofe, having a personal relationship with Kasich, knows he is a man of his word and believes Kasich would follow through on his plans to rein EPA in and overturn economically harmful climate regulations," Harder said
The personal relationship, which began when the two men served together in Congress, seems to have played a key role in the endorsement.
"During this time, I also attended a weekly Bible study with him for eight years," Inhofe said in a statement announcing the endorsement. "You learn a lot about a person when you attend a Bible study together, so I can tell you personally that he is a man of his word. When he talked, people listened. Now the country is listening to his message of optimism and results."
Kasich is generally characterized as a moderate in the race against front-runner Donald Trump and Texas Sen. Ted Cruz. However, Inhofe has scored well in conservative rankings, with a 92 percent score by the American Conservative Union and a 74 percent liberty score by Conservative Review.
"Our campaign is growing because more and more people are responding to Gov. Kasich's positive message and record of results," Kasich campaign spokesman Mike Schrempf told TheBlaze. "It isn't always a single issue that draws people to support Gov. Kasich. It is because he is the only candidate in the race who has not just talked about shaking up the political establishment, but has actually done it. He is the only candidate who has balanced the federal budget, turned an $8 billion deficit into a $2 billion surplus, cut taxes more than any other sitting governor and helped create more than 400,000 new jobs."
Last year, at the Values Voter Summit, Kasich said he supported the statement from Pope Francis that climate change is a moral issue that must be addressed but still defended free enterprise.
As far back as 2012, Kasich talked about his belief in climate change.
"This isn't popular to always say, but I believe there is a problem with climates, climate change in the atmosphere," Kasich said at a Ross County, Ohio, Republican Party event. "I believe it. I don't know how much there is, but I also know the good Lord wants us to be good stewards of his creation. And so, at the end of the day, if we can find these breakthroughs to help us have a cleaner environment, I'm all for it."