Though he's produced hit reality TV shows like "The Apprentice," "Survivor" and "The Voice," it was something far from the bright lights of Hollywood that gave Emmy-winning producer Mark Burnett "a genuine purpose."
Burnett, who is currently the executive producer of 10 different series on network television, has become known for his work with Middle Eastern Christians who have been displaced from their homes and persecuted at the hands of the Islamic State. Last year, Burnett and his wife, actress and producer Roma Downey, teamed up to raise $25 million to aid displaced minorities in the Middle East.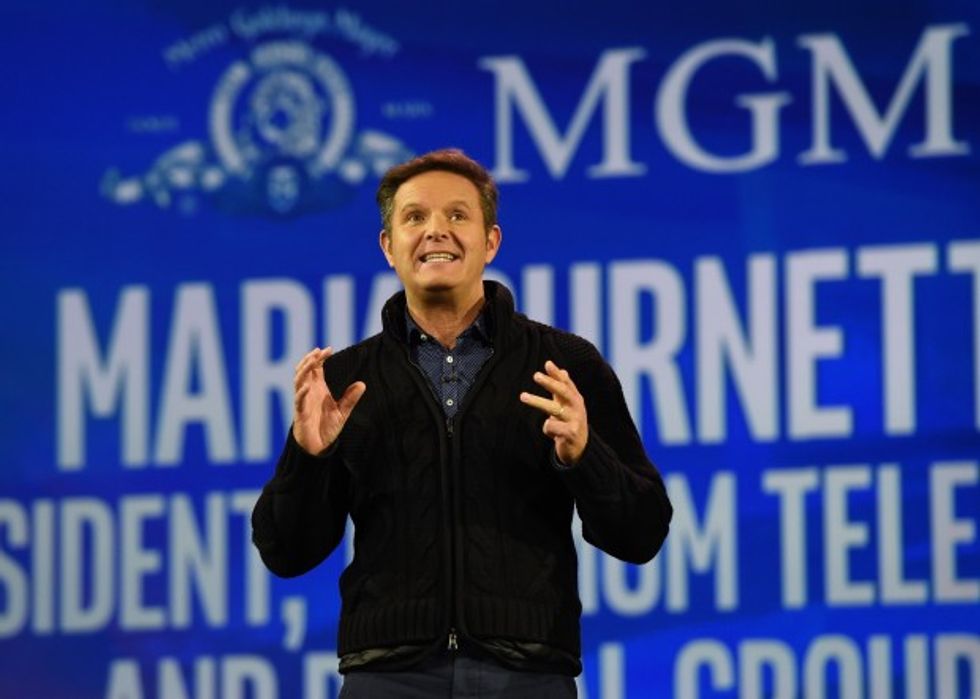 MGM Television and Digital Group President Mark Burnett speaks during an Intel Corp event in Las Vegas Jan. 5. (Photo by Ethan Miller/Getty Images)
Burnett has long been heralded as one of Hollywood's most successful producers, but it has been only in recent years that the British-born Emmy winner has shifted his focus toward the Christian community — something he says was inspired by his and Downey's recent hit miniseries "The Bible" on the History channel.
"You're a guy who, up until recently, has just been kind of — you know, you were the guy who made reality television," Glenn Beck said to Burnett on The Glenn Beck Radio Program Friday. "What is it that changed in you that made you, because I know, everything that you do now is dedicated to doing good and doing right. What happened?"
Burnett told Beck his perspective "really shifted" when he began making "The Bible" in 2013.
"I think it would be hard for anybody who is smart to be spending years taking the risk of bringing the Bible to primetime television — which means reading it every day, thinking about it, being part of the church community — to not be affected," Burnett said.
He went on to describe the experience as "supernatural," adding that, during the making of the wildly popular series, the Holy Spirit "really affected" him.
"And I'm just glad that it happened, because it's given me more of a genuine purpose," Burnett said.
In the end, Burnett told Beck that he is still happy to be producing so many hit television shows — after all, he says, "I still love doing that" — but in the rest of his life, "I'm focused on more important things like this."
Complimentary Clip from TheBlaze TV The full episode of The Glenn Beck Program, along with many other live-streaming shows and thousands of hours of on-demand content, is available on just about any digital device. Click here to watch every Glenn Beck episode from the past 30 days for just $1!
—
Follow the author of this story on Twitter: