While Mohamad Jamal Khweis didn't say why he joined the Islamic State in Iraq earlier this year, the 26-year-old U.S. citizen — who surrendered Monday to Kurdish forces — had plenty to say about why he left the terror group in Mosul.
"I wasn't thinking straight," Khweis said in a heavily edited interview with Kurdistan24.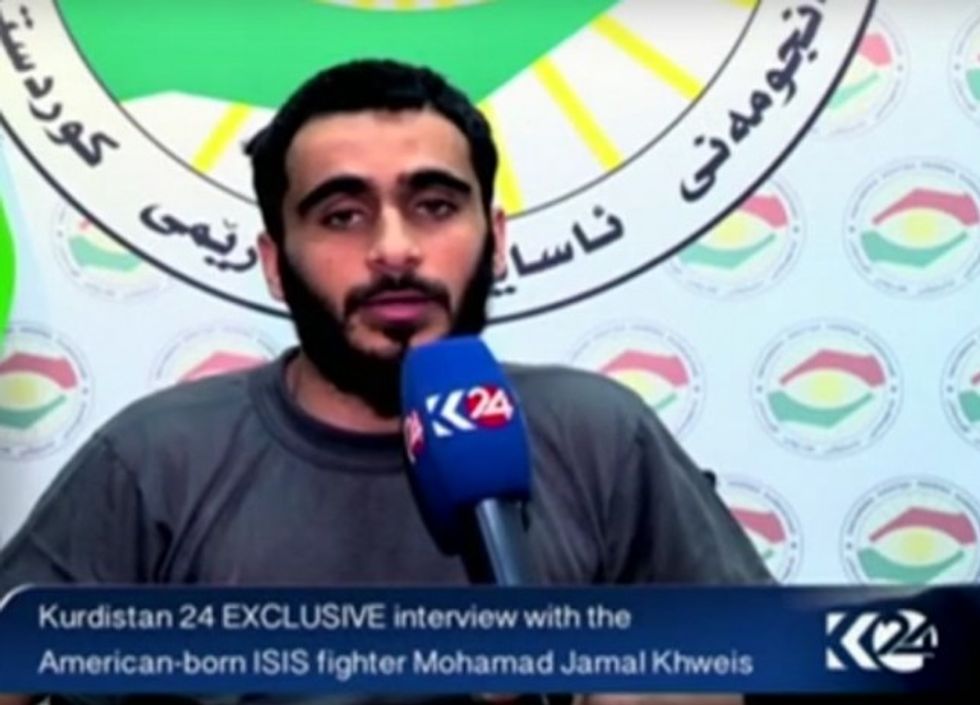 Mohamad Jamal Khweis (Image source: YouTube)
Khweis — who's from Alexandria, Virginia, and whose Palestinian mother and father moved to the U.S. before he was born — told Kurdistan24 that he "attended a mosque in America, but not that often." In mid-December he made a trip to Europe and ended up in Turkey where he met a woman who said she's from Mosul and that her sister had been married to an Islamic State fighter.
The Islamic State took Mosul in June 2014.
"She knows somebody who could take us from Turkey to Syria and then from Syria to Mosul, so I decided to go with her," he said during the interview.
During the journey, Khewis said as a new Islamic State recruit his identification cards were taken — but he was given a nickname: "Abu Omar." He stayed with 70 foreign fighters in one house until he was taken to Mosul, Kurdistan24 reported.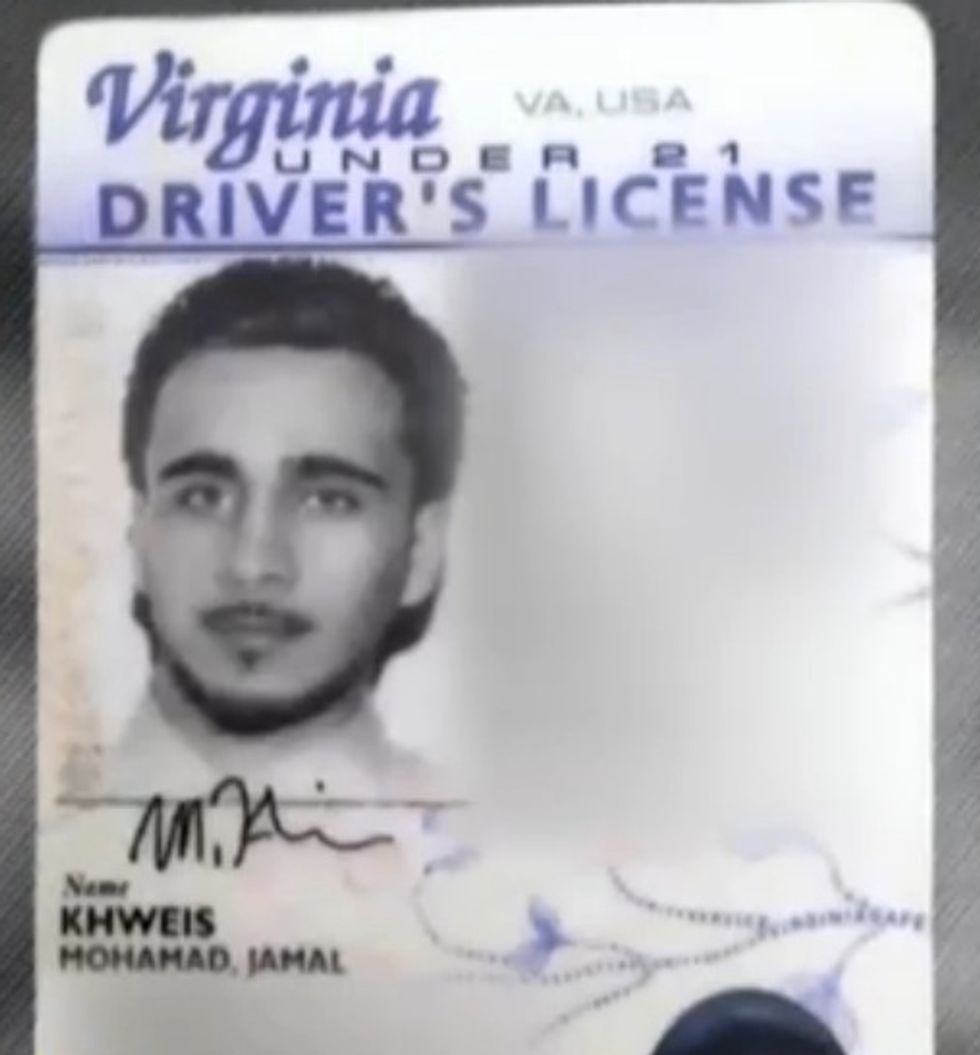 Image source: NBC News
Khweis admitted that going to Mosul was a "bad decision."
"I wasn't thinking straight," he revealed, "and on the way there I regretted — I wanted to go back."
In Mosul, he was indoctrinated in Shariah: "Our daily life was basically prayer, eating, and learning about the religion for about 8 hours. ... It was pretty hard to live in Mosul. It's not like the Western countries. ... There's no smoking."
And apparently all that brought Khweis to a pivot point; he noted that he "didn't complete the whole Shariah [Islamic Law]. I didn't agree with their ideology. That's when I wanted to escape."
"I don't see them as good Muslims," he added. "I wanted to go back to America."
Khweis told the Kurdish station that after about a month he "found someone who could take me back to Turkey. First he said he could help me, but then he said it will be difficult to take me all the way to Turkey. He told me he will take me close to Turkey's border."
After that he made contact with Kurdish forces.
"I wanted to go to the Kurds' side because I know that they are good with the Americans," Khweis told Kurdistan24, adding, "And when I met with the Kurds, they treated me very well. And I am happy I made that decision."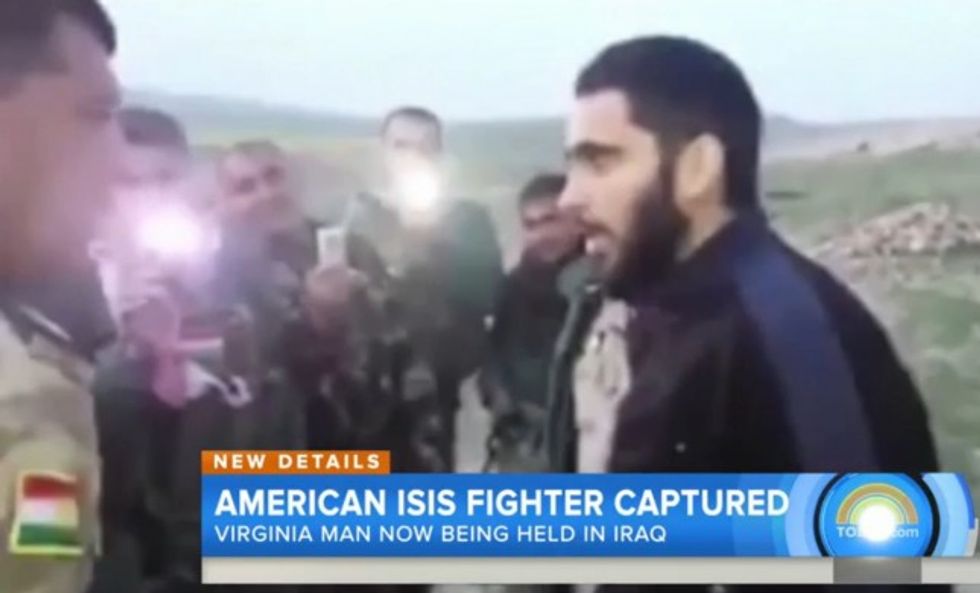 Image source: NBC News/"Today"
NBC's "Today" reported that while the Kurds described Khweis as an Islamic State fighter, he didn't say anything about engaging in combat.
Khweis' uncle — Kamal Khweis — confirmed it was his nephew in released video and said he's happy he's no longer with the Islamic State.
"He is not with those bad people," he told NBC News.
While it's unclear what will happen to Khweis at this point, NBC News noted in a separate story that U.S. officials want to question him because of how much he may know about the Islamic State.
"He would be an intelligence gold mine," Seamus Hughes, a former U.S. National Counterterrorism Center official, told NBC News, adding that Khweis is the first American fighting with the Islamic State believed to have surrendered in the field.
"He could provide a window into the ISIS command structure," Hughes — now with the Program on Extremism at George Washington University — added. "Who does he report to? What does his daily routine look like?"
During his Kurdish interview, Khweis also had a message for the American people: "... life in Mosul, it's really, really bad. The people [who] were controlling Mosul don't represent the religion," he said. "Daesh, ISIS, ISIL, they don''t represent the religion."
(H/T: Daily Mail)