A Florida jury awarded wrestling star Hulk Hogan $115 million in damages in the Gawker sex tape trial, holding the website responsible for violating his privacy.
And punitive damages will be tacked on top of that $110 million #hulkvsgawk

— Tom Kludt (@Tom Kludt) 1458341900.0
Hogan, whose real name is Terry Bollea, broke down in tears after the verdict was read, according to reporters at the scene.
Hogan appears to be crying. #hulkvsgawk

— Anna Phillips (@Anna Phillips) 1458342001.0
The wrestler filed a lawsuit against Gawker after it posted a 90-second clip of him having sex with his friend's wife. Hogan refused to settle outside of court.
Gawker had sought to argue during the trial that Hogan was a public figure — one that had been very open about his sex life in the past.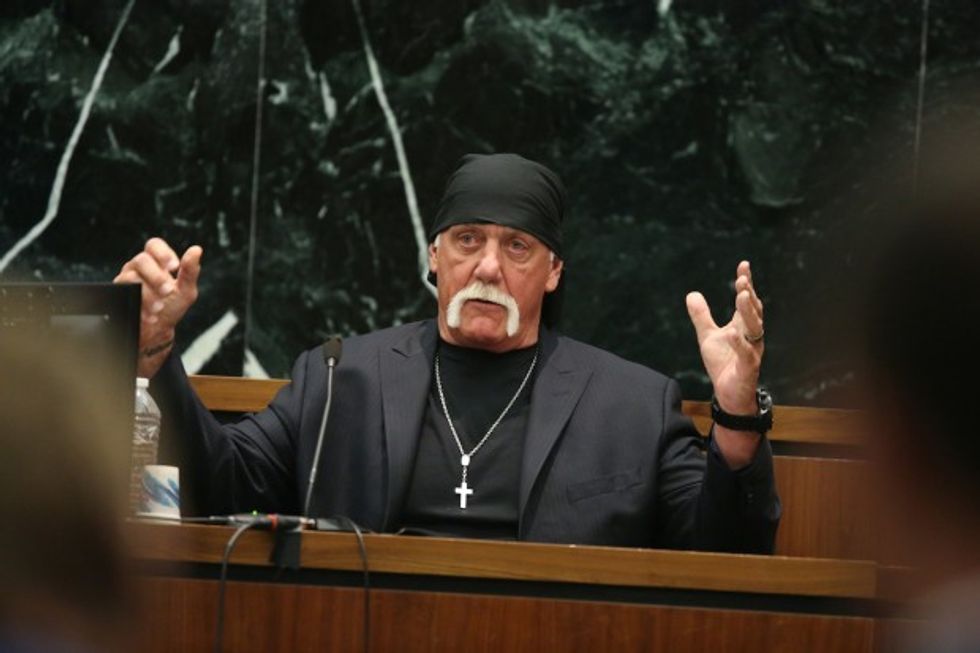 John Pendygraft-Pool/Getty Images
The jury was not moved and concluded that Gawker caused severe emotional distress and violated the wrestler's privacy when it published the video.
Gawker was expected to appeal the decision.
Gawker's view has always been that #HulkVsGawk will REALLY be fought in the appeals courts. And that begins... now.

— Brian Stelter (@Brian Stelter) 1458341926.0
Denton said in a statement following the decision that he's confident about their chances in an appeal court.
"Given key evidence and the most important witness were both improperly withheld form this jury, we all knew the appeals court will need to resolve the case," founder Nick Denton said in a statement. "I want to thank our lawyers for their outstanding work and am confident that we would have prevailed at trial if we had been allowed to present the full case to the jury. That's why we feel very positive about the appeal that we have already begun preparing, as we expect to win this case ultimately."
Nevertheless, a source told CNN media reporter Brian Stelter that the reaction inside Gawker was not good.
Initial #hulkvsgawk verdict reaction from a Gawker source, seconded by a colleague: "This is much worse than anyone ever expected"

— Brian Stelter (@Brian Stelter) 1458343213.0
The New York Times reported last year that individuals within Gawker viewed the case in apocalyptic terms that could jeopardize the website's future.
"It's a $100 million lawsuit," Denton told the Times. "We don't keep $100 million in the bank, no."
—
Follow the author of this story on Twitter and Facebook: