A man shot and wounded a burglar who broke into his Parkville, Maryland, home early Friday morning after the intruder kicked in the door to the room where the man was hiding.
Baltimore County police said that they responded to a call at the man's home on Harford Hills Road around 2:30 a.m. Friday morning to a report of several shots being fired, according to WBAL-TV. The homeowner told the police that he had just shot an intruder after the man broke into his home, saying, "I'm in your house, I'm coming to get you."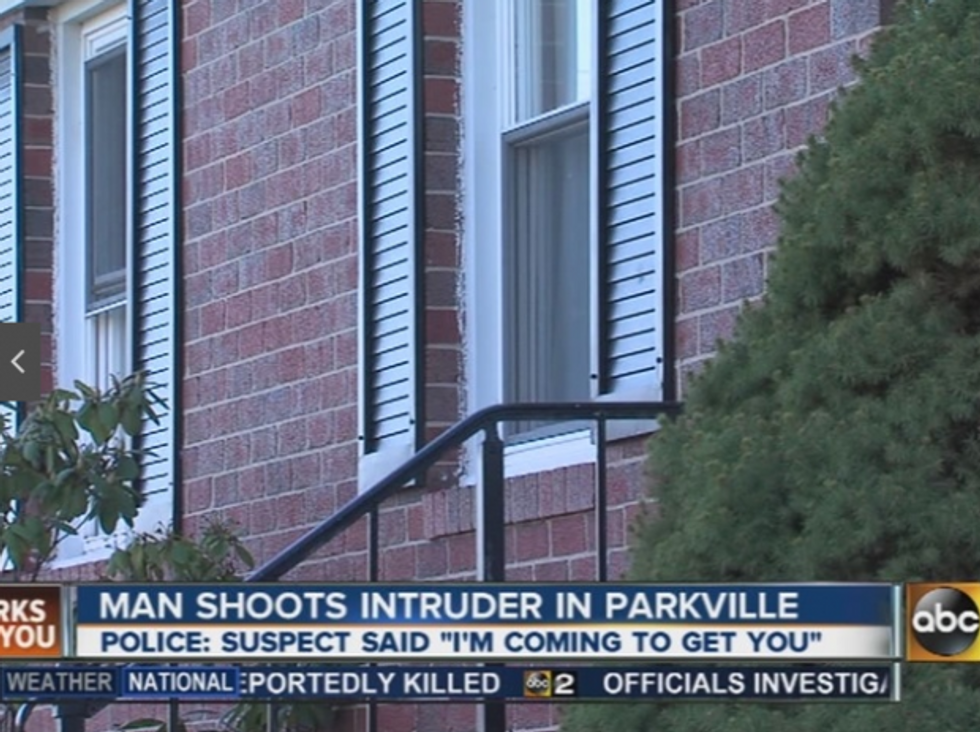 Image source: WMAR-TV)
"The man armed himself with a gun and closed the door to the room he was in. The suspect kicks in that door. The man, fearing for his life, shoots the suspect several times," Baltimore County police Cpl. John Wachter said, according to WBAL.
Immediately following the shooting, the homeowner left the premises, called the police and waited for the officers to arrive.
"We were able to locate the suspect inside the home and he was transported to an area hospital for treatment. When he gets out of the hospital, he's facing charges in connection with this incident," Wachter said, according to WMAR-TV.
Police stated that the burglar's injuries are considered to be non-life-threatening.
"There's nothing to indicate why this man kicked in the door and started talking to the people inside the home. There's no indication that they knew each other," Wachter said.
Joe Schmidt, the homeowner's next door neighbor, told
WMAR
 that he heard the shots from his bedroom that morning.
"When I heard the shots, I wasn't going to go outside then because he might have been out there shooting again so I didn't want to play with that," Schmidt said.
Schmidt also expressed his admiration for his neighbor's quick-thinking during the frightening incident.
"I'll tell you, if more people were like that, this country would be better off, because if somebody breaks in, you don't have much time," Schmidt told WMAR. "Today we got to start speaking up a little bit. It's too much killing going on and too many innocent people getting shot everywhere so I think it's about time for something like that to show people it's enough."
—
Follow Kathryn Blackhurst (@kablackhurst) on Twitter