Texas Sen. Ted Cruz vowed that if he were president, he would go before the United Nations to personally veto any resolution to recognize a Palestinian state.
"It is the Palestinian authority and the so-called unity government with Hamas that celebrates the murder of women and children and incites and even compensates the terrorist attacks," Cruz said Monday speaking at the AIPAC Policy Conference in Washington.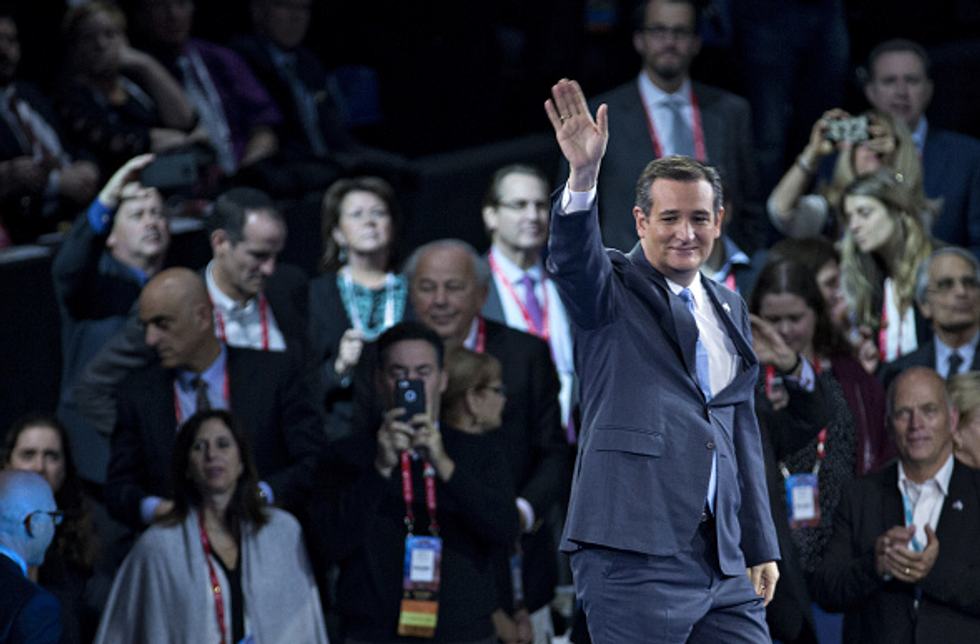 Senator Ted Cruz, a Republican from Texas and 2016 presidential candidate, waves as he arrives to speak during the American Israeli Public Affairs Committee (AIPAC) policy conference in Washington, D.C., U.S., on Monday, March 21, 2016. The presidential race will take a detour from domestic sniping today as Hillary Clinton, Donald Trump and Trump's two Republican opponents converge on Washington to address the key pro-Israel group. (Andrew Harrer/Bloomberg via Getty Images)
"If the Palestinians try to push through a United Nations resolution to unilaterally declare Palestinian statehood, America will veto that resolution," Cruz said. "Indeed I tell today I will fly to New York to personally veto it myself."
Earlier in the evening, Cruz's opponent in the Republican presidential primary Donald Trump also voiced opposition to a U.N.-imposed plan as opposed to a negotiated deal between Israel and the Palestinian authority.
Nevertheless, Cruz took a swipe at Trump for previously pledging neutrality in the conflict.
"My leading Republican opponent promised to be neutral. I will not be neutral. America will stand unapologetically with Israel," Cruz said.
Cruz also told the audience he would move the U.S. embassy in Israel from Tel Aviv to Jerusalem.
He further added that as president, he would withhold any federal funds from any organization including schools and universities that support boycotts of Israel.
—