HAVANA (TheBlaze/AP) -- Brushing off decades of distrust, President Barack Obama and Cuban President Raul Castro shook hands Monday in Havana's Palace of the Revolution, a remarkable moment for two countries working to put the bitterness of their Cold War-era enmity behind them.
As if the historic meeting didn't anger his critics enough, Obama also posed for a photo op in front of a massive sculpture of notorious revolutionary Che Guevara.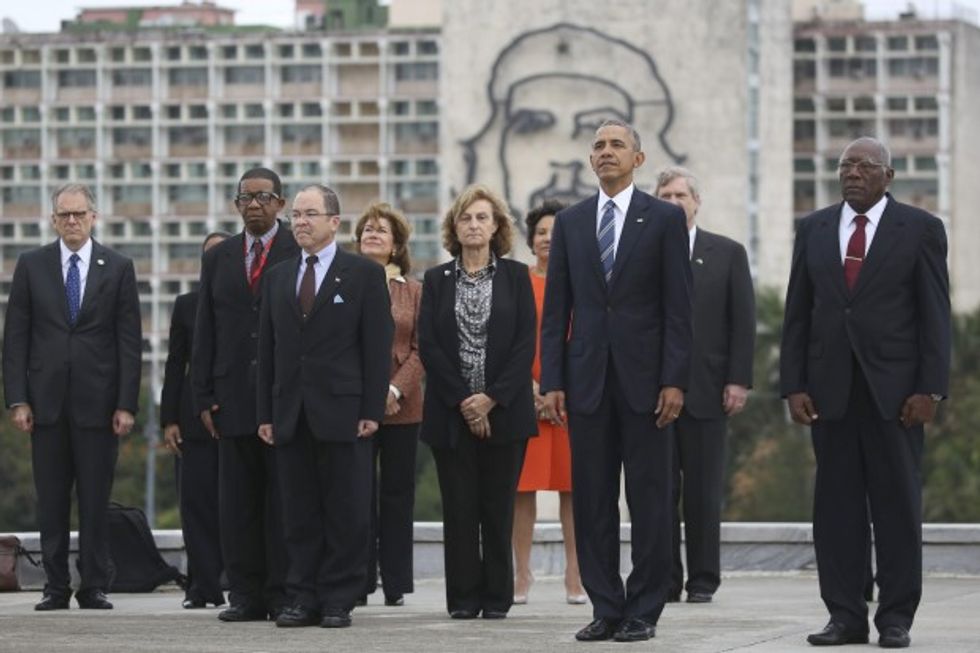 Back dropped by a monument depicting Cuba's revolutionary Ernesto "Che" Guevara, U.S. President Barack Obama, Vice-President of Cuba's State Council Salvador Valdes Mesa, right, and other members of the U.S. delegation stand during a ceremony at the Jose Marti Monument in Havana, Cuba, Monday March 21, 2016. (AP Photo/Dennis Rivera)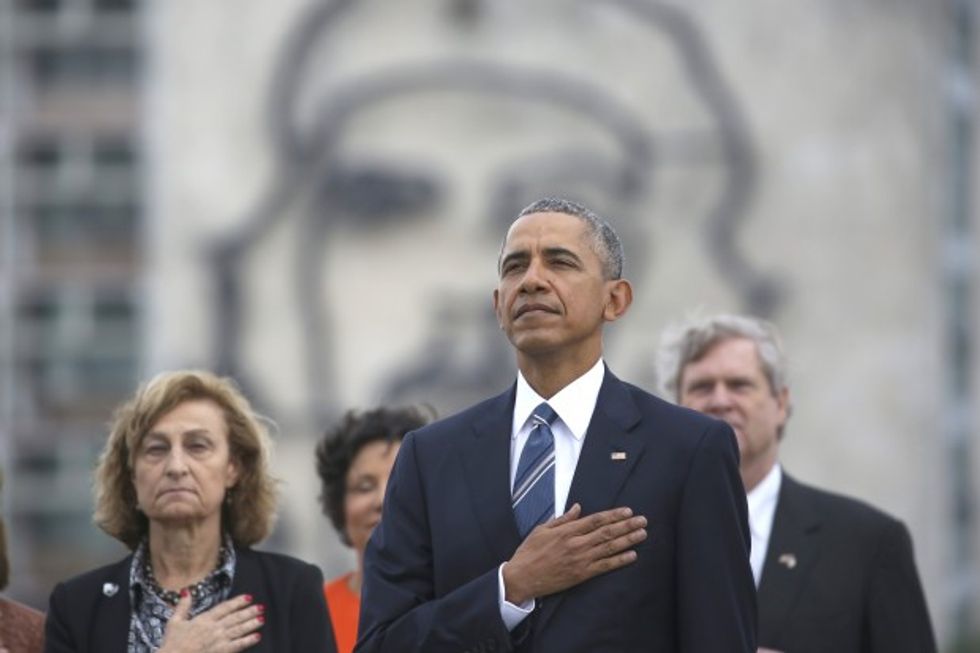 (AP Photo/Dennis Rivera)
Associated Press reporter Peter Orsi said there was a "collective gasp" in the press room when Obama paused in front of the Che Guevara sculpture in Revolution Square.
When Obama paused in Revolution Square with famous #Che Guevara sculpture in background, a collective gasp in this conference room. #Cuba

— Peter Orsi (@Peter Orsi) 1458573252.0
The reaction from other Americans online was swift and biting.
Mr. President, you're a disgrace. https://t.co/CNRZk1dm3w

— Ben Shapiro (@Ben Shapiro) 1458576857.0
Obama proudly poses w/ Marxist murderer Che Guevara. Freedom advocates everywhere mournfully ask: Where is America? https://t.co/H8sTqB8tMk

— Pete Hegseth (@Pete Hegseth) 1458578613.0
No one will be angrier about the Che mural photo op than Obama when he reads about it in the paper tomorrow.

— Starless (@Starless) 1458576751.0
And that's just a small sample.
Obama and Castro stood together as a Cuban military band played the national anthems of Cuba and the United States - stunning sounds in a country where resistance to the U.S. has been part of the national mission for decades. Greeting each other warmly, the two leaders inspected an honor guard before sitting down in front of American and Cuban flags
Whether Obama and Castro could use the meeting, one of the first since Cuba's 1959 revolution and the only one in Cuba, to further the ambitious diplomatic experiment they started 15 months ago was an open question, infusing Obama's historic trip to Cuba with uncertainty and tension for both governments.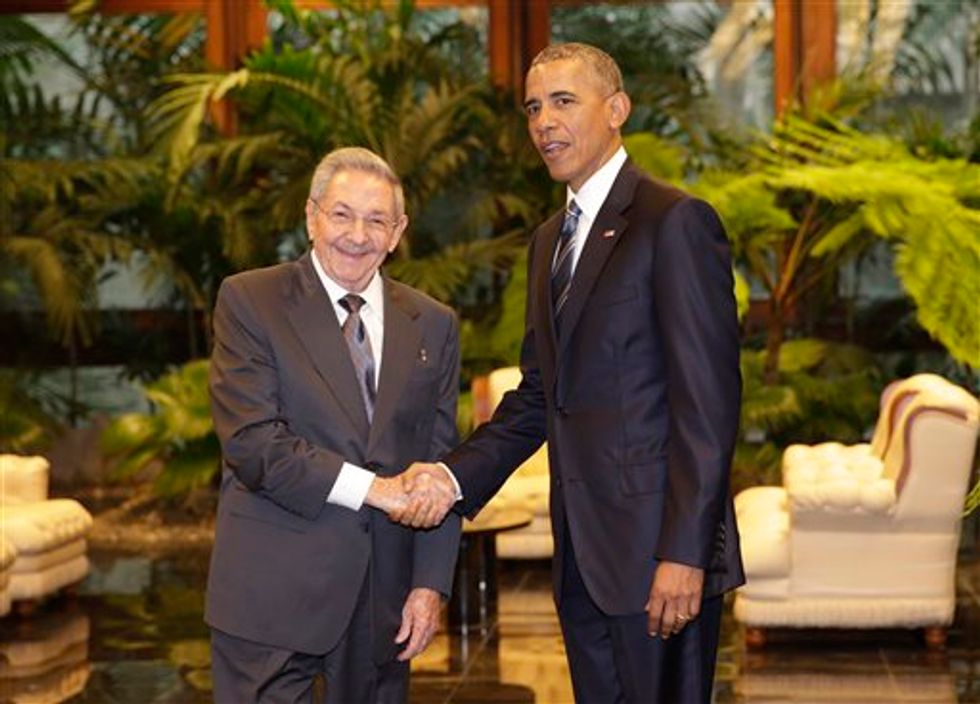 Cuban President Raul Castro, left, shakes hands with U.S. President Barack Obama during a meeting in Revolution Palace, Monday, March 21, 2016. Brushing past profound differences, President Obama and President Castro sat down for a historic meeting, offering critical clues about whether Obama's sharp U-turn in policy will be fully reciprocated. (AP Photo/Ramon Espinosa)
For Obama, there was no better place than Havana to show that engagement can do more than isolation to bring about change on the communist island. Yet for the Cubans, the glaring question is whether their own government is ready to prove the ambitious diplomatic opening is more than just talk.
American companies, eager for opportunities in Cuba, were wasting no time. Obama announced that tech giant Google had struck a deal to expand Wi-Fi and broadband Internet on the island 90 miles south of Florida.
Outside the palace in Havana's sprawling Revolution Square, Obama posed for the photo in front of the Guevara sculpture, creating an indelible image sure to reverberate in Cuba and beyond. The notoriously violent revolutionary leader was once one of Fidel Castro's top lieutenants, his face an iconic symbol of Cuba's revolution that is revered by some but reviled by others.
Paying tribute to another Cuban independence hero, Obama adjusted a wreath at the foot of a 59-foot statue of Jose Marti, calling his trip "a historic moment."
"It is a great honor to pay tribute to Jose Marti, who gave his life for independence of his homeland," Obama wrote in the guestbook. "His passion for liberty, freedom, and self-determination lives on in the Cuban people today."
The long-awaited meeting between Obama and Castro was one of the most scrutinized moments of Obama's 2½-day trip to Cuba, the first presidential visit in nearly 90 years. The White House's attempts to get Castro to agree to a joint news conference appeared unsuccessful, and it was unclear whether they'd answer any questions.
Obama came to Havana hoping his visit would spur Castro to offer gestures of good faith and meaningful change, undermining critics who accuse Obama of kowtowing to an authoritarian government. In the last year-plus, Obama has taken sweeping steps to lift decades-old U.S. restrictions, and American businesses have eagerly followed suit.
Western Union became the latest company to take advantage of Obama's move last week to relax financial controls, announcing Monday that it will start processing remittances from non-U.S. countries into Cuba. In the last few days, hotel chains Starwood and Marriott have announced plans to operate on the island, and U.S. airlines and cruise lines are poised to begin service soon.
To the dismay of Obama and his critics, reciprocal steps by Cuba have been in short supply.
Since succeeding his brother Fidel in 2008, Castro has orchestrated economic and social reforms with broad-based impact, though they appear slow to materialize. Not only are hundreds of thousands of Cubans now able to pursue free enterprise, but restrictions on cellphones and Internet have been eased and citizens feel more comfortable discussing Cuba's problems.
Yet Castro hasn't budged on changing Cuba's single-party system or easing strict limits on media, assembly and political dissent. Repeatedly, his government has chided Obama for saying he wanted to empower Cubans.
None of that has dissuaded Obama, who insists that any intransigence by Cuba's government only proves why Cubans will be better off when they're intimately exposed to American values.
On his first full day in Cuba, Obama also planned an event with U.S. and Cuban entrepreneurs aimed at championing Cuba's fledgling private sector. He was to be feted in the evening at a state dinner, an honor illustrating just how far the U.S. and Cuba have come despite their deep ideological differences.
"We felt that coming now would maximize our ability to prompt more change," Obama told ABC News as he started his trip. "Particularly because this has been welcomed by the Cuban people with enormous popularity."