Donald Trump literally put a press conference on hold Monday to conduct a job interview with a woman who identified herself as a 9/11 survivor and an Iraq and Afghanistan War veteran.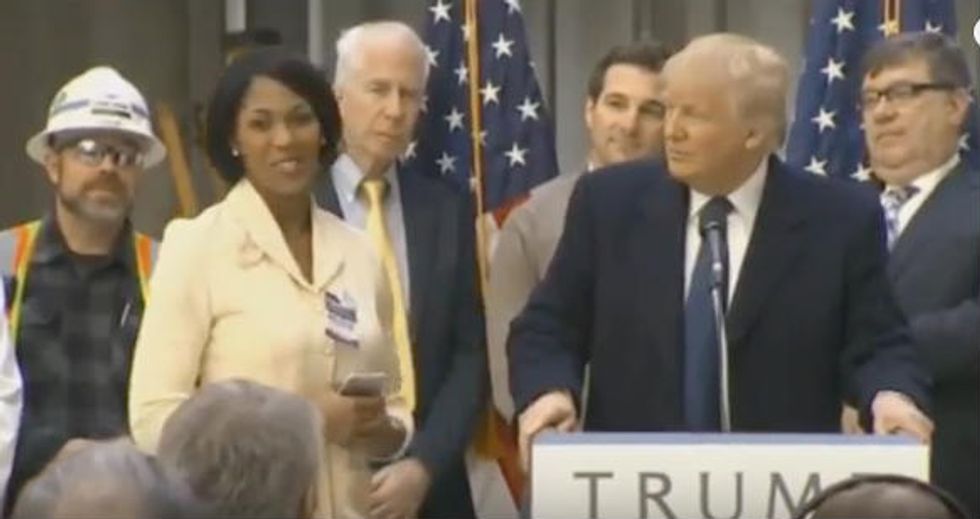 Image source: YouTube
"I love the policy that you have for the military," the woman said when called on to ask a question of the billionaire businessman. "I wanted to know if Trump towers would be part of the veterans job –"
"What type of position are you looking for? Come up here. Come here," Trump told the woman.
"Do you mind if I do a job interview right now? We need good people," Trump said to the crowd that was gathered at his soon-to-be luxury hotel in Washington, D.C., just steps from the White House.
The woman explained that she has design and decorating experience, before Trump instructed her to go with someone else.
"If we can make a good deal on the salary, she's going to probably have a job," Trump said.
WATCH: Donald Trump conducts impromptu job interview during press conference.https://t.co/KNb43kll8c

— CSPAN (@cspan) March 21, 2016
(H/T: Mediaite)
–
Follow the author of this story on Twitter and Facebook: