President Barak Obama, in addressing both the Cuban people and the communist Cuban government Tuesday, said democracy is the solution to most problems — and pointed to the 2016 U.S. presidential election as an example of American "progress."
"You have two Cuban Americans in the Republican Party running against the legacy of a black man who was president while arguing that they're the best person to beat the Democratic nominee who will either be a woman or a democratic socialist," Obama said. "Who would have believed that back in 1959? That's a measure of our progress as a democracy."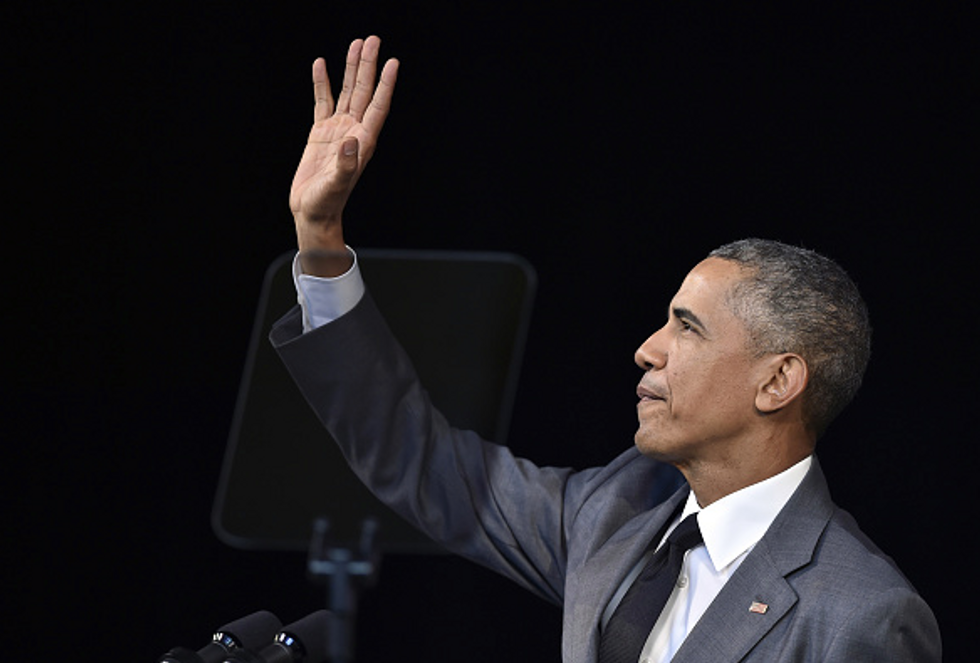 President Barack Obama waves before delivering a speech at the Gran Teatro de la Habana in Havana, Cuba, Tuesday. (Yuri Cortez/AFP/Getty Images)
Notably left out of Obama's praise of the American democracy electoral system were Republican presidential candidates Donald Trump, a billionaire businessman, and Ohio Gov. John Kasich. Rubio exited the presidential race last week.
It was in 1959 after a revolution that Cuba and the United States severed ties. The two countries normalized relations in late 2014, and Obama is the first president since Calvin Coolidge to visit the island nation.
Obama declared, "I have come here to bury the last remnant of the Cold War in the Americas." He added that he wants to do away with the Cuban embargo but stressed that lifting the embargo tomorrow won't improve conditions in Cuba until more human rights are recognized.
He noted that Cuban President Raul Castro had suggestions for the United States. In some cases, Obama seemed to concede the point to Castro — at least in part.
"I've had frank conversations with President Castro," Obama said. "For many years he's pointed out the flaws in the American system: economic inequality, the death penalty, racial discrimination, wars abroad. That's just a sample. He has a much longer list."
Obama said he welcomed open debate, while agreeing that "we do have too much money in American politics" and that "we do have challenges with racial biases in our communities and criminal justice system and our society, the legacy of slavery and segregation."
"But the fact that we have open debates within America's own democracy is what allows us to get better," Obama added.
"There's still enormous problems in our society, but democracy is the way that we solve them," Obama said. "That's how we got health care for more of our people. That's how we made enormous gains in women's rights and gay rights. It's how we addressed the inequality of so much wealth at the top of our society — workers can organize and ordinary people have a voice."