With blood covering his hands, Alphonse Youla tried to hold back tears as he spoke about the deadly explosions that ripped through Brussels Airport Tuesday, leaving dozens dead and many more injured amid smoke, shattered glass and caved in ceilings.
"It was a horror," he told the Daily Mail. "I saw at least seven people dead. There was blood. People had lost legs. You could see their bodies but no legs."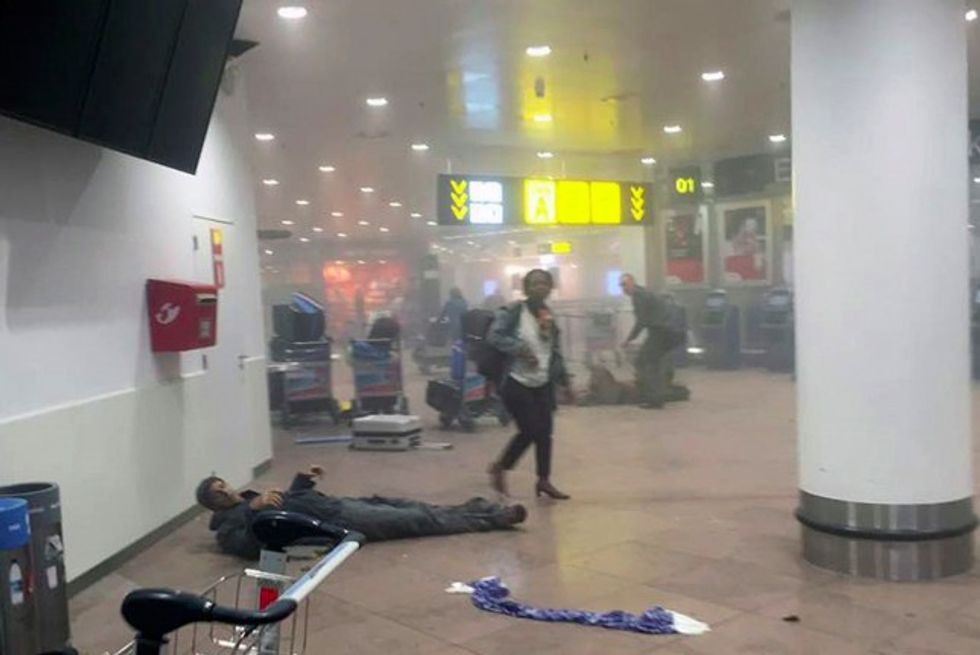 A man lies wounded in Brussels Airport in Belgium after explosions were heard Tuesday. (Ketevan Kardava/Georgian Public Broadcaster via AP)
Working at a stand placing security wrapping around baggage, Youla said he heard yelling just before the blasts hit.
"I heard a man shout some Arabic words then an explosion ... then a second explosion, a massive explosion, much bigger," he told the outlet. "I did not see the man who shouted in Arabic as he was behind me. I just heard the words. I don't speak Arabic so I don't know what he said."
Then Youla said he "saw two men face down with blood pouring out of their heads. The injuries were so awful. You cannot imagine. People were so injured."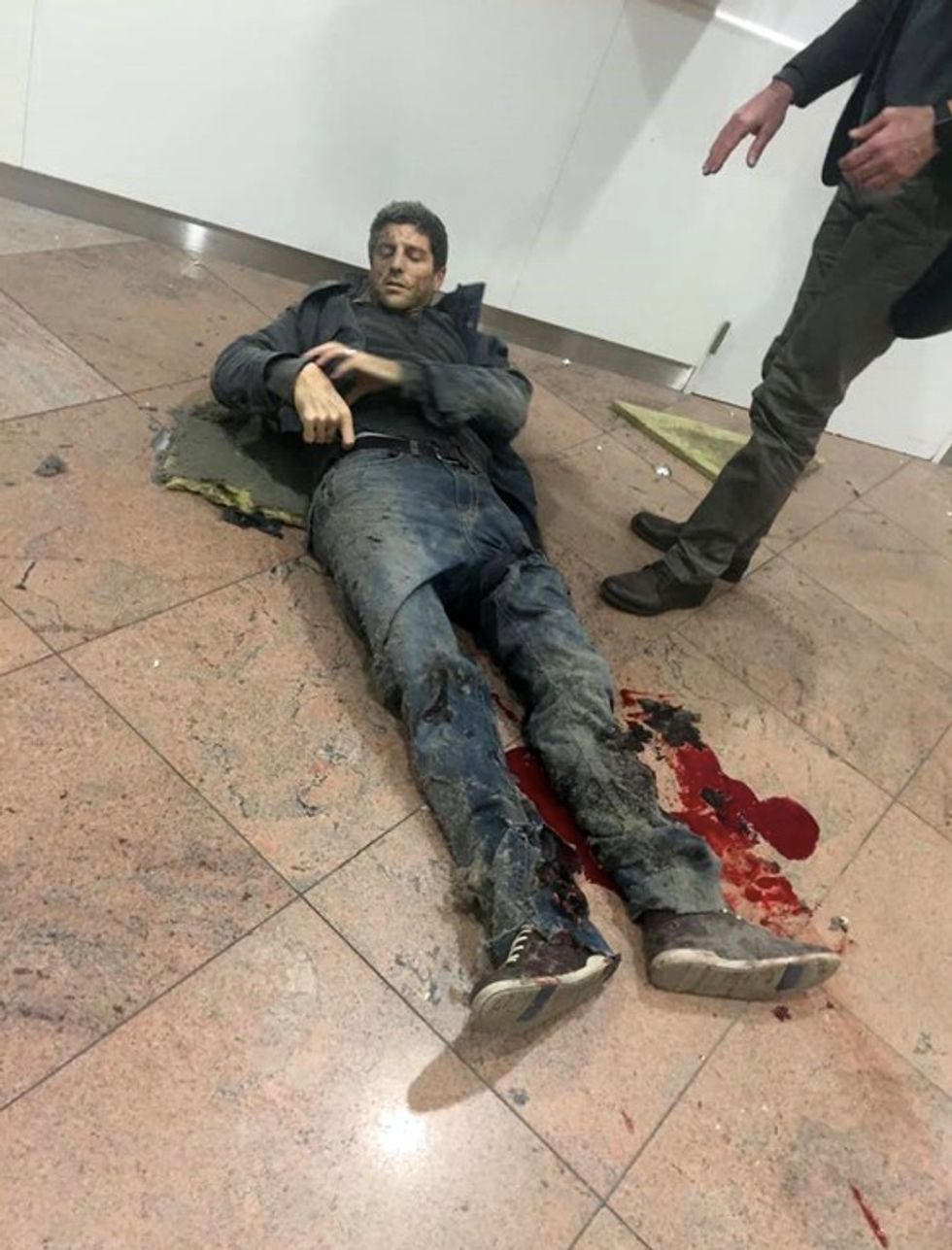 This man is one of dozens injured in the terror attacks at the Brussels Airport in Belgium Tuesday. (Ketevan Kardava/ Georgian Public Broadcaster via AP)
Samir Derrouich, who works at an airport restaurant, said the explosions were both at a check-in desk. "It was awful," he told the Daily Mail. "There was just blood. It was like the apocalypse."
Dries Valaert, 30, told the outlet he was waiting for a boarding pass when the explosions hit about 30 yards from where he was standing.
"I saw people down on the ground, and I just went running," he said. "I jumped over the security fences toward the departure gates as I thought it would be safer. My first intuition was to get out in case their were attackers with guns."
"I saw a woman around 18 years old with a hole in her hand with blood pouring out and a man with an injured ankle and two people down," Valaert added to the Daily Mail. "There was lots of panic. People were running all over the place."
Valaert said he believes the blasts came from bombs in suitcases, as the explosions were "just behind the service desks, they were blown toward us." He added that he didn't hear anyone shouting anything beforehand.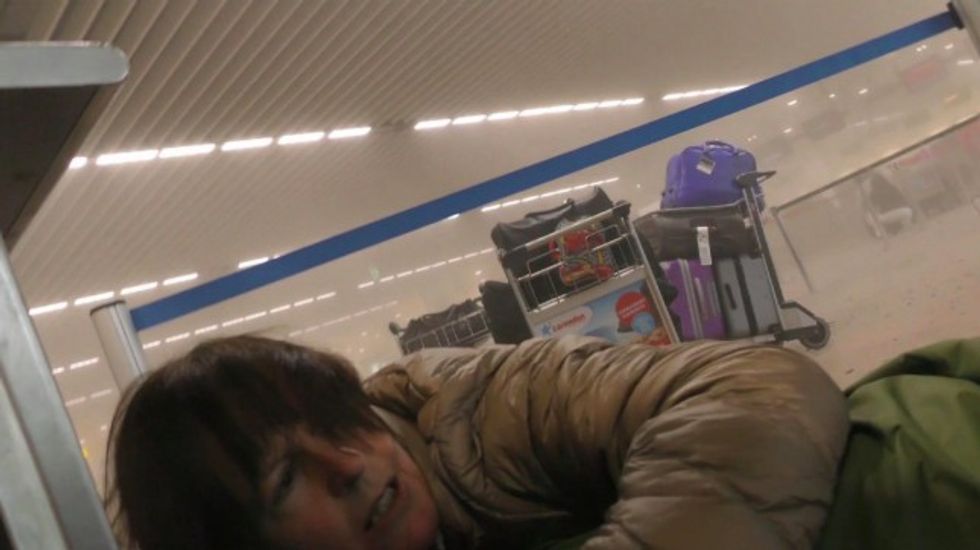 A traveler lies on the ground in a smoke filled terminal at Brussels Airport in Belgium after explosions Tuesday. (Ralph Usbeck via AP)
Martin Buxant tweeted that a witness told him of seeing "bodies go up in the air and then falling down heavily."
Belgian native Marc Noel was set to board a Delta flight to Atlanta and then return to his Raleigh, North Carolina, home when the first explosion hit. At the time, the 63-year-old was at a shop about 50 yards away buying automobile magazines.
"People were crying, shouting, children," he told the Associated Press. "It was a horrible experience." He added that going to the shop may have saved his life.
"I don't want to think about it, but I would probably have been in that place when the bomb went off," Noel said.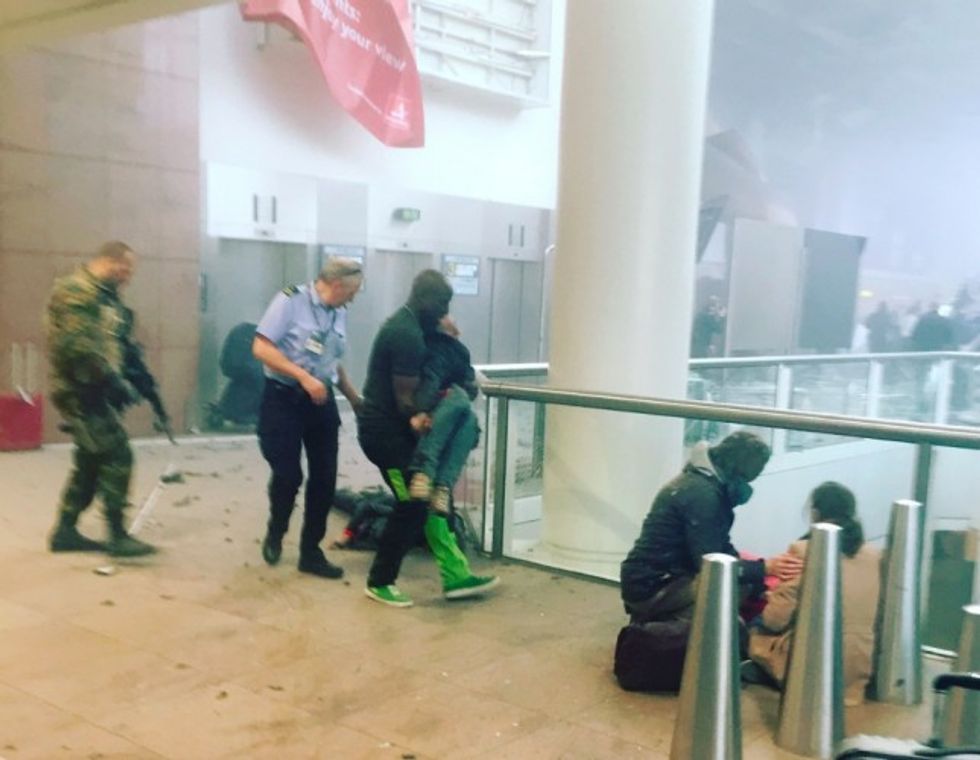 The scene in Brussels Airport in Belgium after explosions were heard Tuesday. (Ketevan Kardava/ Georgian Public Broadcaster via AP)
More from the Daily Mail:
Photographs from inside the arrivals hall showed the floor was covered in fallen roof tiles and dust as bloodied people hobbled out of the airport. Others injured were photographed lying on the floor.

Video shows terrified passengers running for their lives out of the terminal.

The explosions come just a day after the Belgium Interior Minister warned of possible revenge attacks after the arrest of Paris massacre suspect Salah Abdeslam in the city last week.
Zach Mouzoun deplaned from a flight about 10 minutes prior to the first blast and told BFM television that the second explosion crumbled ceilings and burst pipes, as water blended with blood.
"It was atrocious," he told the station. "There was blood everywhere, injured people, bags everywhere."
A taxi driver who identified himself as Philippe told Belgium website DH that he entered the terminal to see what had happened and saw a "pond of blood" and "dismembered bodies."
(H/T: Daily Mail)