A member of the U.S. Air Force and his family were among the dozens injured in Tuesday's terror attacks in Brussels, according to reports.
The servicemember has not been identified, and the Pentagon would not immediately confirm the reports. A number of his family members were also injured, the AP reported.
Three Mormon missionaries from Utah were also among those injured in Tuesday's Brussels attacks, according to the Deseret News.
The group was abroad serving with the France Paris Mission at the time of the attacks. All three were seriously injured in the explosions at the Brussels airport, Eric Hawkins, a spokesman for the Church of Jesus Christ of Latter-day Saints told Deseret Tuesday morning.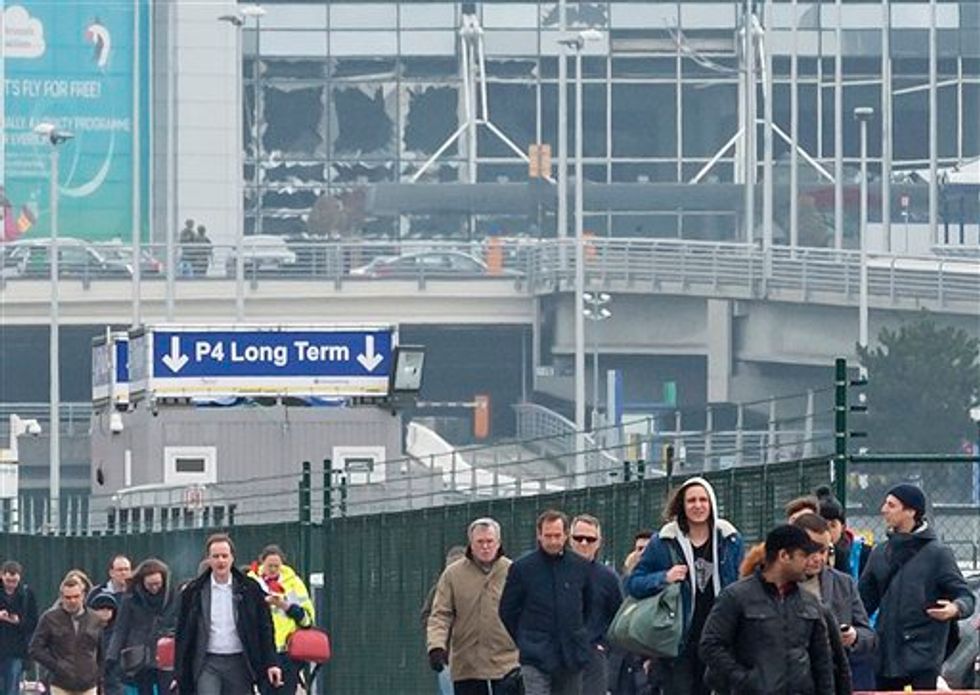 People walk away from the broken windows at Zaventem Airport in Brussels after an explosion Tuesday Explosions, at least one likely caused by a suicide bomber, rocked the airport and subway system, prompting a lockdown of the Belgian capital and heightened security across Europe. (AP Photo/Geert Vanden Wijngaert)
The spokesman gave the names and ages of the injured men: Elder Richard Norby, 66, of Lehi, Utah; Elder Joseph Empey, 20, of Santa Clara, Utah; and Elder Mason Wells, 19, of Sandy, Utah.
The missionaries were taking a fellow church member, Sister Fanny Rachel Clain, 20, of Montélimar, France, to the airport when the explosions took place, Hawkins said. Clain, who Hawkins said had been serving in the France Paris Mission while awaiting a permanent American visa, was reportedly on her way to a mission assignment in Ohio.
According to Deseret, the four missionaries had passed through airport security when the explosions took place. As of Tuesday morning, at least 31 people were reported dead and nearly 200 wounded in the coordinated attacks in the city. Deseret reported that one passenger said the second explosion took down ceilings and ruptured pipes.
Belgium Brussels Mission President Frederic J. Babin notified LDS church officials in Salt Lake City that their parishioners had been near the explosion. They have since been taken to the hospital for treatment, Deseret reported.
According to Hawkins, communication with Babin, whose family has ties to Utah, has been limited. As a young man, Babin once served in the Utah Salt Lake City South Mission, Deseret reported. Babin's wife, Marie-Françoise Babin, also served the church in Brussels.
Babin began serving as mission president in Brussels July 2014. At the time, he and his family lived in the France Paris South Stake, according to Deseret.
Jon Street and Leigh Munsil contributed to this report.
(H/T: Deseret News)