While presidential front-runners Donald Trump and Hillary Clinton started Western Tuesday's primaries off with big victories in Arizona, the luck for both candidates seemingly changed after the clock struck midnight on the east coast.
Trump's win in Arizona secured the Republican candidate all of the Grand Canyon State's 58 delegates as it is a winner-take-all-state. Yet in Utah, where delegates were decided based on a proportional basis, Texas Sen. Ted Cruz managed to receive more than 50 percent of the statewide vote — sweeping the state's delegates and denying Trump the opportunity to collect even a precious few.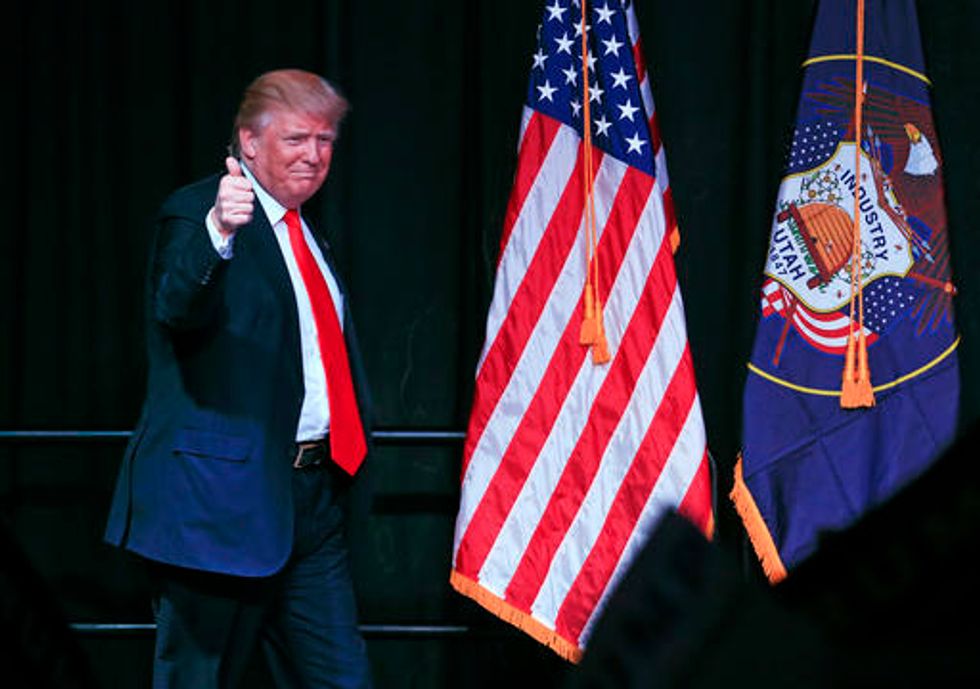 Republican presidential candidate Donald Trump takes the stage at a campaign rally Friday, March 18, 2016, in Salt Lake City. (AP Photo/John Locher)
While the victory in Arizona was needed, the loss of any delegates in Utah handed a blow to the Trump campaign as he seeks to avoid a contested convention in Cleveland in July. As it stands, Trump has 739 out of the 1,237 delegates needed, according to Real Clear Politics' count. In comparison, with Utah's 40 delegates, Cruz will have a total of 465 delegates.
Also sustaining a blow during the Western Tuesday contests was Ohio Gov. John Kasich who won zero states and received just as many delegates.
Prior to the primary results, Kasich's campaign released a memo from chief strategist John Weaver in which he detailed just how the governor is the "key" to defeating Trump in the primaries and Clinton in the general election, especially in the wake of the Belgium terrorist attacks earlier on Tuesday.
Cruz's campaign had adamantly complained about Kasich's presence in the race while campaigning in the western states as the Texas senator contended that Kasich could steal away votes and prevent him from sweeping Utah — a feat that apparently did not occur.
"A vote for John Kasich is a vote for Donald Trump, because right now Kasich on the ballot is just dividing votes [of] the opposition to Donald Trump," Cruz said during a radio interview last week.
Despite Trump's inability to garner delegates in Utah, two new national polls released on Monday demonstrated Trump clearly leading among Republicans. According to the New York Times/CBS News poll, 46 percent of 362 Republican primary voters surveyed in mid-March supported Trump compared to 26 percent who said they supported Cruz and 20 percent who said they supported Kasich.
In comparison, a CNN/ORC poll found that 47 percent of Republicans surveyed in mid-march supported Trump compared to the 31 percent who supported Cruz and 17 percent who supported Kasich.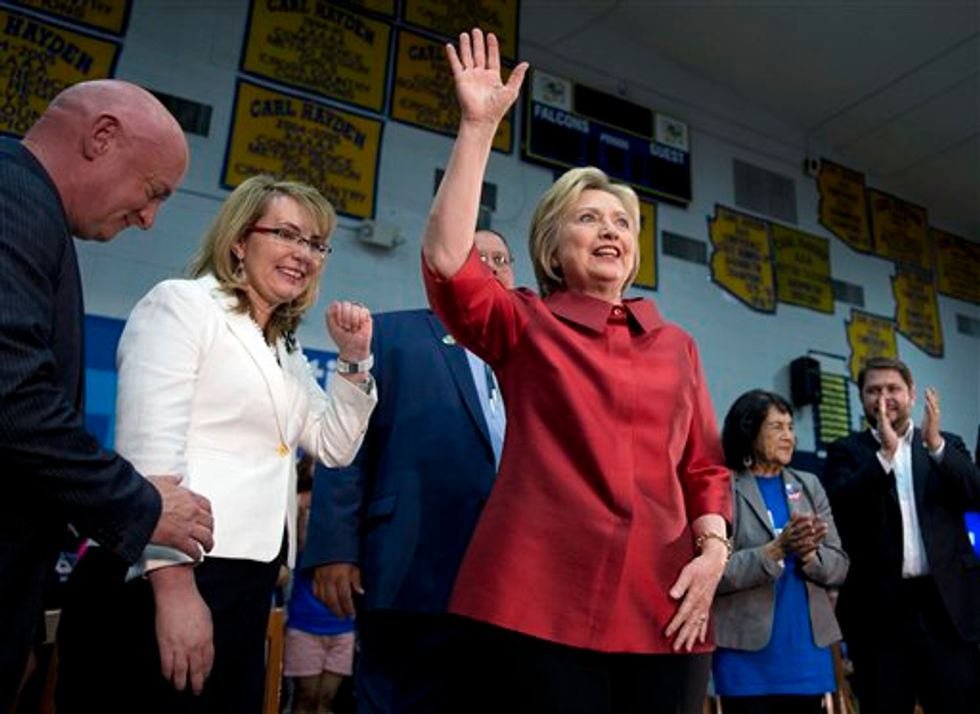 Democratic presidential candidate Hillary Clinton waves as she arrives at a campaign event at Carl Hayden Community High School in Phoenix, Monday, March 21, 2016. (AP Photo/Carolyn Kaster)
Yet while the three GOP candidates only had two states to focus on for Tuesday, the two Democratic presidential candidates divided their time between three states: Arizona, Idaho and Utah.
Like Trump, Clinton's luck changed after Arizona as well.
Speaking to his supports after losing in Arizona, Sanders contended that the race wasn't over yet and predicted that he would pick up a victory later in the night — and in Utah and Idaho he was correct.
"I am enormously grateful to the people of Utah and Idaho for the tremendous voter turnouts that gave us victories with extremely large margins," Sanders said in a statement following his victories. "The impressive numbers of young people and working-class people who participated in the process are exactly what the political revolution is all about. These decisive victories in Idaho and Utah give me confidence that we will continue to win major victories in the coming contests."
Idaho's 23 delegates and Utah's 33 delegates will be split proportionally between Clinton and Sanders as was Arizona's 75 delegates.
Idaho's Democratic caucuses were open to anyone, regardless of party affiliation, who is eligible to vote in November's general election and didn't vote in the GOP primary which was held earlier in March.
The caucuses are also conducted by an "honor system" in which voters sign their names to an affidavit which promises that they are eligible to participate; those names are then cross-checked with the names of those who voted in the GOP primary. If the voter does not appear to have voted in the GOP primary, then they can participate in the caucuses. 
— 
Follow Kaitlyn Schallhorn (@K_Schallhorn) on Twitter