Texas Sen. Ted Cruz won Utah's Western Tuesday GOP caucus, and he may have succeeded in preventing front-runner Donald Trump from receiving any of the state's 40 delegates.
As Utah was called for Cruz, the senator had racked up more than 60 percent of the vote which put him above the 50 percent statewide vote needed in order to take all of the Beehive State's delegates. Should Cruz's number have dipped below that 50 percent, then Utah's delegates would be awarded on a proportional basis.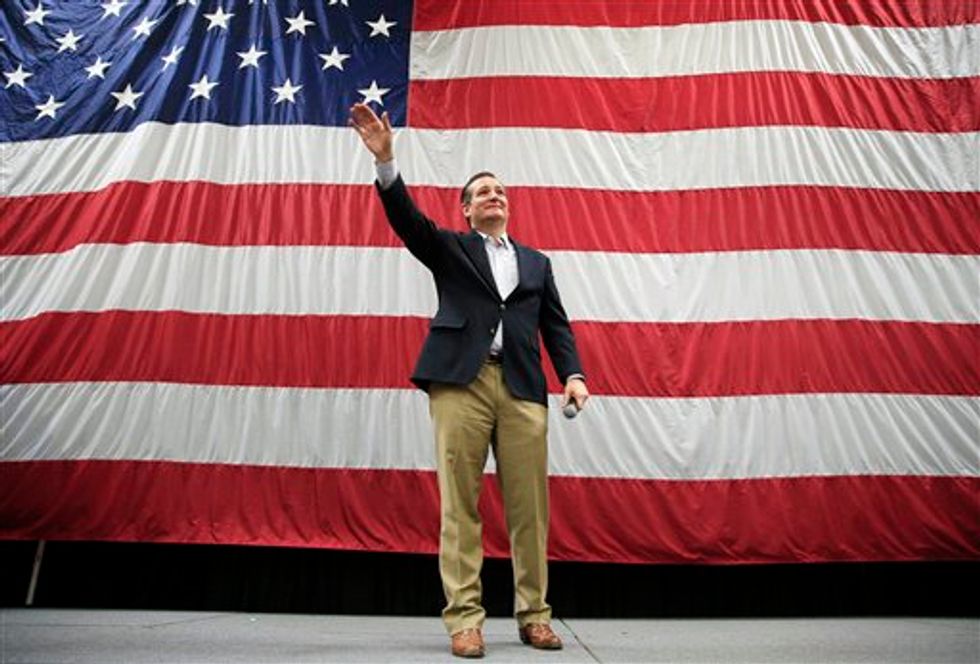 Republican presidential candidate, Sen. Ted Cruz, R-Texas, waves as he is introduced at a campaign rally for Sen. Mike Lee, R-Utah, Saturday, March 19, 2016, in Draper, Utah. (AP Photo/John Locher)
And with Cruz seemingly denying Trump any of the state's delegates, he also denied Ohio Gov. John Kasich from getting any delegates at all during the Western Tuesday primaries and caucuses. Kasich appeared to come in second-place in Utah, according to early projections.
Utah's Republican caucus was dubbed the "first of its kind" as it allowed voters who registered by March 15 to vote in the primary from anywhere in the world through any electronic device with internet connection. The voters who registered received an personal identification number which they could use to login to vote.
However, according to the Dessert News, many voters experienced errors as they attempted to login to vote Tuesday. Hugh Gallagher, the business advisor for the company handling the online system, Smartmatic, said calls from voters who had problems with the program "overwhelmed our system."
Like Arizona, KUTV reported that polling places were plagued with long lines and a shortage of ballots.
Vermont Sen. Bernie Sanders was the winner of Utah's Democratic presidential primary Tuesday. For the Democrats, there are 33 delegates up for grabs in the Beehive State.
Thank you to all those who caucused tonight in Utah! https://t.co/rOyeNApj2R

— Bernie Sanders (@Bernie Sanders) 1458712101.0
—
Follow Kaitlyn Schallhorn (@K_Schallhorn) on Twitter