Billionaire businessman Donald Trump scored a grand victory in the Grand Canyon State's GOP primary Tuesday, garnering all of Arizona's 58 delegates.
Neither Texas Sen. Ted Cruz — who was the early projected second-place finisher— nor Ohio Gov. John Kasich will receive any delegates from Arizona.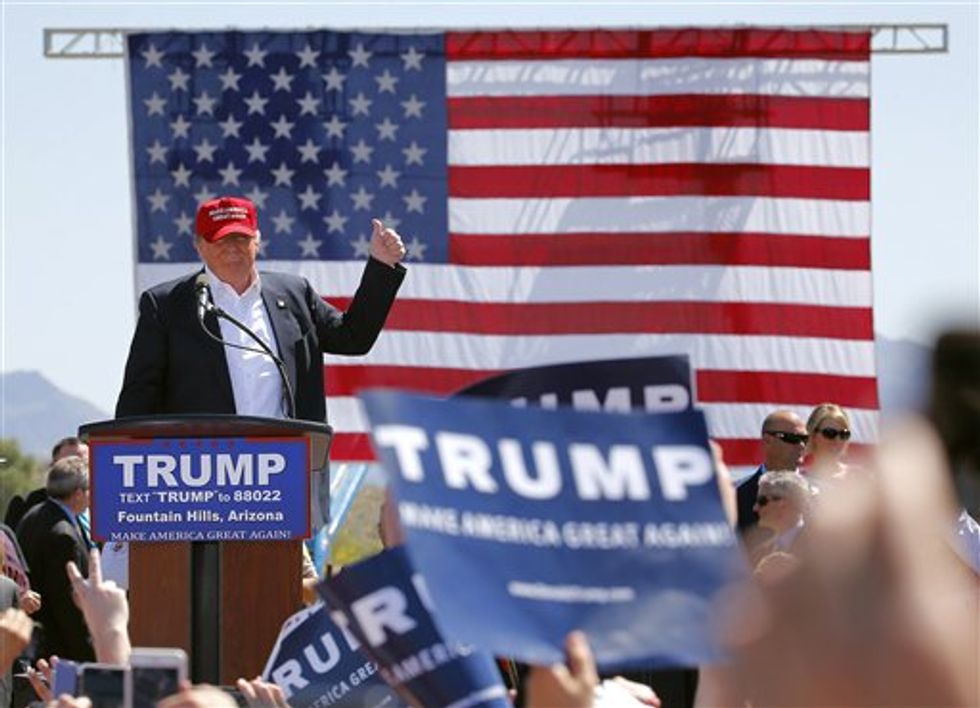 Republican presidential candidate Donald Trump speaks during a campaign rally Saturday, March 19, 2016, in Fountain Hills, Ariz. (AP Photo/Matt York)
Trump's victory in Arizona, a "winner-take-all state," easily secures even more delegates for the GOP front-runner as he attempts to avoid a potential contested or brokered convention this summer in Cleveland. With this Western Tuesday primary victory, the businessman is a little more than halfway to the 1,237 delegates needed to secure the GOP presidential nomination.
As the Arizona Republic reported, long lines plagued the state's voters on Tuesday as less polling places were available this year than in previous years. Hundreds of voters were reportedly still in line to cast their votes just minutes before polls closed, according to KSAZ-TV. Bruce Weiss, who said he waited in line fore more than two hours, slammed the process as "a complete total failure of government."
One voter who waited in the long Arizona lines reportedly passed out snacks to her fellow voters which included circus animal cookies as she said "that's appropriate."
Trump led Arizona ahead of its Tuesday primary by a substantial amount according to polling data — even as his events were marked with protests which, at times, became violent. Protesters even managed to shut down roads leading to an event in Phoenix prior to a Trump campaign rally last week.
As TheBlaze previously reported, immigration was the main issue tackled by Cruz and Trump as they campaigned across Arizona ahead of Tuesday's primary.
Much bigger win than anticipated in Arizona. Thank you, I will never forget!

— Donald J. Trump (@Donald J. Trump) 1458704630.0
Former Secretary of State Hillary Clinton also won the Democratic presidential primary in Arizona on Tuesday but will split the state's delegates with Vermont Sen. Bernie Sanders as they are divided among the candidates proportionally.
Thank you, Arizona! https://t.co/jJ2G4MKiPK

— Hillary Clinton (@Hillary Clinton) 1458703378.0
This story has been updated. 
—
Follow Kaitlyn Schallhorn (@K_Schallhorn) on Twitter