The man charged with misdemeanor assault for allegedly beating a protester at an Arizona rally for Republican presidential frontrunner Donald Trump is an airman at a Tucson Air Force base, KVOA-TV reported.
Tony Pettway allegedly was caught on video beating protester Bryan Sanders — who was holding a sign showing Trump's face reportedly combined with a Confederate flag — as he was being removed from the Tucson rally Saturday. The clip has gone viral.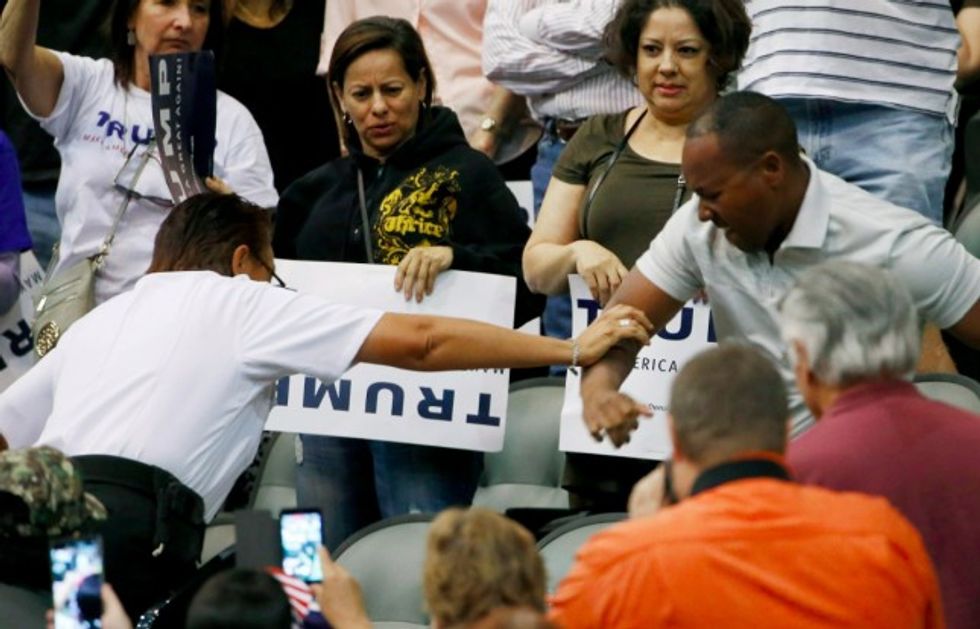 A member of security, left, tries to break up a scuffle between an anti-Donald Trump protester, out of picture, and another person, right, as the Republican presidential candidate was speaking during a campaign rally Saturday, March 19, 2016, in Tucson, Ariz. (AP Photo/Ross D. Franklin)
Captain Casey Osborne, 355th Fighter Wing Chief of Public Affairs, released the following statement, KVOA said:
I can confirm the individual depicted in these videos is an Airman assigned to Davis-Monthan Air Force Base. We are reviewing the situation, fully cooperating with local authorities, and will take appropriate action.

All DOD members are authorized to participate in the political process in their personal capacity without implying any endorsement from the DOD.

We believe wholeheartedly in our fellow Americans' rights to express their views on political issues, and we strongly condemn any attempt to silence those views through force or violence.
While initial videos showed only the altercation as Sanders was being walked up the stairs, another clip revealed what the crowd saw beforehand — a Trump protester following Sanders up the steps who was wearing a Ku Klux Klan-like hood and giving a Nazi salute.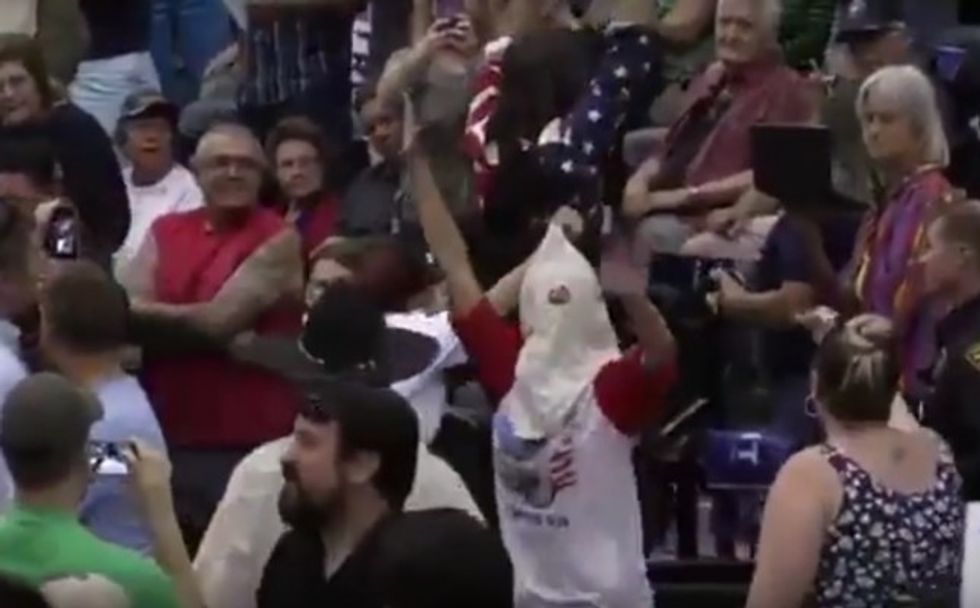 Image source: YouTube
"There's a disgusting guy," Trump yelled after seeing the protester with the KKK-like hood. "He puts a Ku Klux Klan hat on. He thinks he's cute. He's a disgusting guy. That is a disgusting guy."
The alternate video showed the protester continuing to wear the hood, which covered the protester's head and face, and giving Nazi salutes while following Sanders from the floor up the steps — which has many observers wondering if that sight is what angered Pettway, who is black.
And as the altercation was underway, the protester took off the KKK-like hood and appeared to be a woman.
After the altercation, Sanders spoke outside the venue.
"I was protesting Donald Trump's fascism, his racism, his lies and his women hating," Sanders told the Arizona Daily Star. "I had a sign that said 'Trump is bad for America.'"
While Sanders identified himself as neither a Democrat nor a Republican, he said he attended a Bernie Sanders rally the previous night, which he lauded as "democracy" as opposed to the Trump rally, which he called "an angry mob."
"We're gonna stop this; this is not going to continue," he added. "If it takes somebody getting punched in the face, that's what it takes, no problem."
KVOA interviewed a man who said he was sitting next to Pettway, took a photo with him and then exited the rally before the altercation.
"Wow, that looks like the guy I was sitting beside," Johnny Silvercloud told KVOA regarding his reaction after he saw the video."So I look at my selfie and I'm like that's him."
Hey, black dude at #TrumpRally in #Tuscon who brutalized protester was right beside me. https://t.co/eRxHRjD2vNpic.twitter.com/d0XiE1S6z3

— Johnny Silvercloud (@JohnnySilverclo) March 20, 2016
Silvercloud added that he and the man in the photo talked about politics and military life.
"He said as soon as he heard Trump was running, he said 'that's the one I'm supporting,'" Silvercloud told the station, later adding that "the fact that he is a military man makes it even more baffling because he has so much to lose. A person in the military doesn't only fall under local law, but also the uniform code of military justice."
This story has been updated.