PHOENIX, Ariz. — The 2016 presidential campaign headed west this weekend, with Republican candidates Donald Trump and Texas Sen. Ted Cruz making their pitches to the largely conservative populations of Arizona and Utah.
Illegal immigration was the main campaign issue in Arizona — Trump even donned the famous "Make America Great Again" trucker hat that he debuted in July on the U.S.-Mexico border in Texas.
Cruz went to the southern Arizona border Friday, holding a press conference in front of a porous-looking wood fence, which, the senator remarked, his 5-year-old daughter could have climbed in about 20 seconds.
"The most important tool for solving and securing the border is boots on the ground," Cruz said. "We will solve this problem, we will secure the border, and we will end illegal immigration."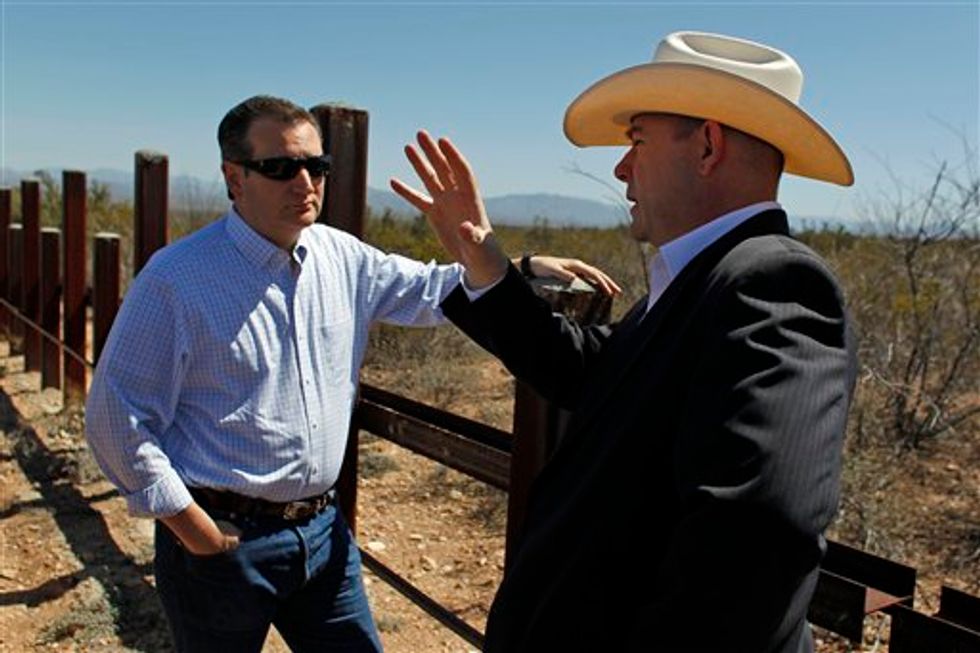 Arizona House Speaker David Gowan (R), right, speaks with Sen. Ted Cruz (R-Texas) during a visit to the Arizona border with Mexico in Douglas, Arizona, Friday. (AP/Ricardo Arduengo)
Trump's events in Arizona were marked by at-times violent clashes between protesters and event attendees, and three protesters were arrested Saturday after shutting down a main road into his event in Fountain Hills. At the rally, Trump repeated his vow to build a taller wall on the U.S.-Mexico border and to get Mexico to pay for it.
"Unless you have a border, you don't have a country," Trump said. "We're going to build the wall, and we're going to stop it."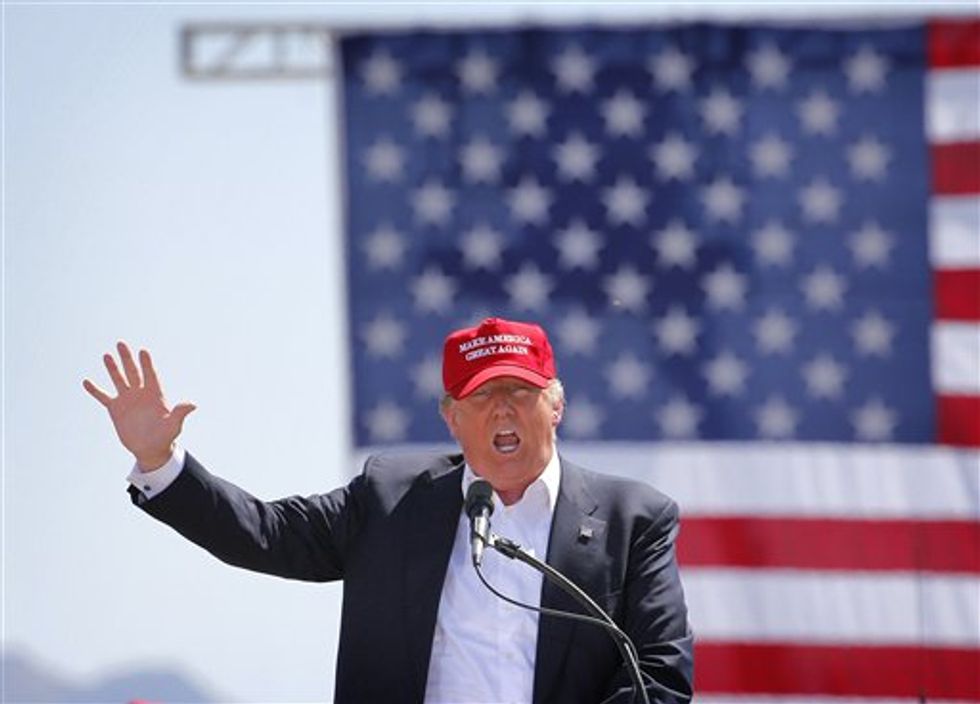 Donald Trump speaks during a campaign rally Saturday in Fountain Hills, Arizona. (AP/Matt York)
Arizona and Utah are worth 58 and 40 delegates respectively — Arizona's 58 are awarded on a winner-take-all basis and Utah's will be awarded proportionately unless the winner receives more than 50 percent of the vote.
Trump has a sizable lead in Arizona, according to recent polls, and Cruz is significantly ahead in the heavily Mormon state of Utah.
Cruz picked up a key endorsement of sorts from former Republican presidential candidate Mitt Romney Friday, when the 2012 nominee said he plans to cast his ballot for Cruz.
"The only path that remains to nominate a Republican rather than Mr. Trump is to have an open convention," Romney said. "At this stage, the only way we can reach an open convention is for Sen. Cruz to be successful in as many of the remaining nominating elections as possible."
Ohio Gov. John Kasich, who remains in the 2016 Republican race, didn't make any stops in Arizona or Utah this weekend. He will deliver a speech to the American Israel Public Affairs Committee on Monday night, then head to Wisconsin for a town hall on Wednesday.
—
Follow the author of this story on Twitter and Facebook:
[facebook //www.facebook.com/plugins/like.php?href=