MANHATTAN, N.Y. — Republican presidential contender Sen. Ted Cruz (Texas) harshly went after a New York City politician during a campaign event Wednesday — but it wasn't fellow GOP hopeful Donald Trump.
Over the past 24 hours, Cruz and New York City Mayor Bill de Blasio have excoriated one another in the wake of Tuesday's Belgium terrorist attack that left more than 30 people dead and at least 270 others injured. Cruz's call for the empowerment of law enforcement "to patrol and secure Muslim neighborhoods before they become radicalized" drew staunch consternation from de Blasio and other New York officials who have traded blows with the presidential hopeful since.
And during a New York City event Wednesday afternoon, Cruz did not hold back in repeatedly castigating the city's mayor.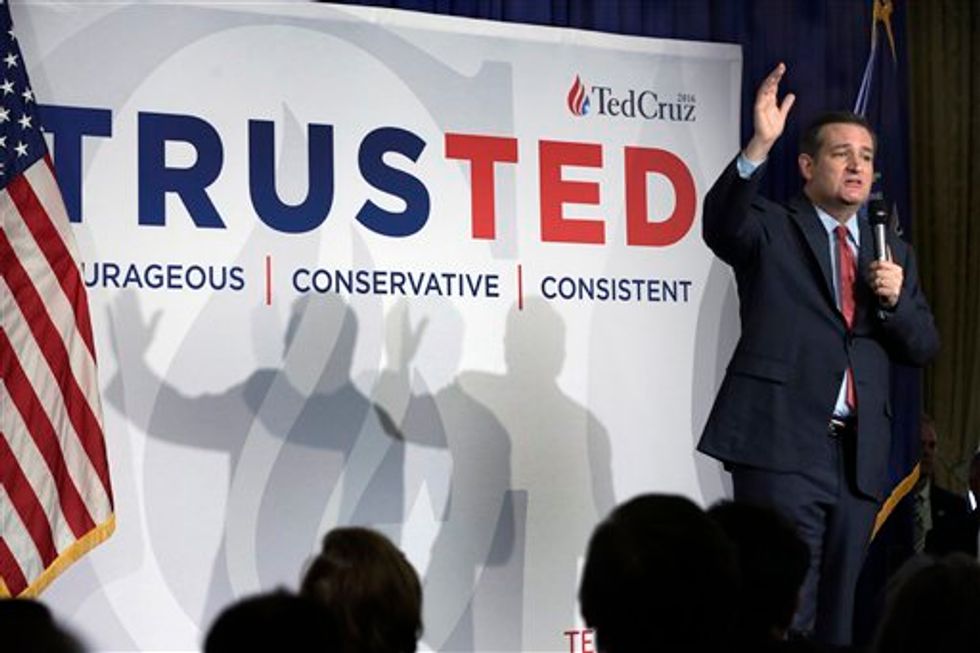 Republican presidential candidate Sen. Ted Cruz (Texas) speaks at the Women's National Republican Club in New York Wednesday. (AP Photo/Richard Drew)
"When the heroes of the NYPD stood up and turned their backs on Mayor de Blasio, they spoke not just for the men and women of New York, but for Americans all across this nation," Cruz told his supporters gathered at the event hosted by New York's Republican Party and the Women's National Republican Club.
He added that he had a personal message for de Blasio: "I will stand with law enforcement every time."
Ahead of Cruz's visit to the Big Apple, de Blasio and New York City Police Commissioner Bill Bratton held a press conference in which they both lambasted the senator's  statement on Muslim neighborhoods.
"I just have to say it's reprehensible," de Blasio said. "His comments are not about safety and security. It's demagoguery."
Bratton asserted that his statement was proof that "he's not going to become president of this country."
While President Barack Obama, too, has weighed in with criticisms of Cruz's call to monitor Muslim neighborhoods, Cruz has lauded former New York City Mayor Michael Bloomberg's surveillance of Muslims. 
Cruz joked during his rally that he "must be doing something right" for de Blasio to hold a press conference the day before he visited New York City and later told reporters that he is "never surprised" when de Blasio "lashes out and attacks" him, contending that both Obama's and de Blasio's "policies are failures."
Yet while Cruz focused much of his attention on his feud with de Blasio, Trump wasn't exempt from harsh criticism from his GOP rival — especially when it came to his strategy to defeat the Islamic State, support of Israel and his now infamous "New York values." Cruz criticized the Manhattan businessman for bankrolling liberal politicians over the past 40 years, which will ultimately harm Trump's campaign in the Empire State.
"Donald Trump has bankrolled the same liberal Democratic politicians that inflicted so much damage on the state of New York, on the people of New York," Cruz told reporters after his campaign rally, adding that Trump has financial ties to Democratic presidential candidate Hillary Clinton, Gov. Andrew Cuomo, Rep. Charlie Rangel, former Gov. Eliot Spitzer and former Rep. Anthony Weiner.
And while Cruz's mention of de Blasio to those in attendance during his campaign rally drew large boos Wednesday afternoon, the mention of the notorious Weiner drew awkward laughter.
"So the next time you think of all of the disastrous policies that have been foisted on the people of New York, you can thank Donald Trump for bankrolling those efforts," Cruz told his supporters gathered at a venue just five blocks south of Trump Tower.
The senator went on to suggest that Trump's reasoning for attacking Cruz's wife, Heidi, is indicative of a greater trend.
"We've grown to see a pattern with Donald. When he's worried, when he's upset, when he's scared, he reacts predictably. He begins screaming, he begins yelling, he begins often cursing," Cruz told reporters. "And then he tries to attack and bully people, and that is his pattern that he does over and over again. I will say though, even for Donald, he reached a new low. It's one thing to try to attack another candidate; it's another thing to come after my wife."
Despite Trump's home-field advantage in New York, Cruz reassured his supporters that his campaign is "competing vigorously" in New York as he referred to it several times as a "battleground state."
"It's been a long time since the state of New York had a voice nationally in selecting the Republican nominee," Cruz said.
Cruz assured reporters that he does not believe that his "New York values" gambit from earlier in the campaign season will come back to haunt his efforts in the state.
"I'm not worried at all because the people of New York understand firsthand the liberal left-wing values of New York politicians. The people of New York have suffered under the liberal left-wing values of New York politicians, and they experience it first-hand," he said.
There are 95 total delegates up for grabs in New York, which will be doled out on a proportional basis unless a candidate reaches a 50 percent threshold. The state's GOP primary will be held April 19.
Former New York City Mayor Rudy Giuliani is reportedly leaning toward endorsing Trump.
—
Follow Kaitlyn Schallhorn (@K_Schallhorn) on Twitter