President Barack Obama got personal with Texas Sen. Ted Cruz, a Republican presidential candidate who after the Brussels terrorist attack suggested Muslim neighborhoods in the United States be watched.
"As far as the notion of having surveillance of neighborhoods where Muslims are present, I just left a country that engages in that kind of neighborhood surveillance -- which, by the way, the father of Senator Cruz escaped for America, the land of the free," Obama said Wednesday during a joint press conference with Argentina President Mauricio Macri in Buenos Aires.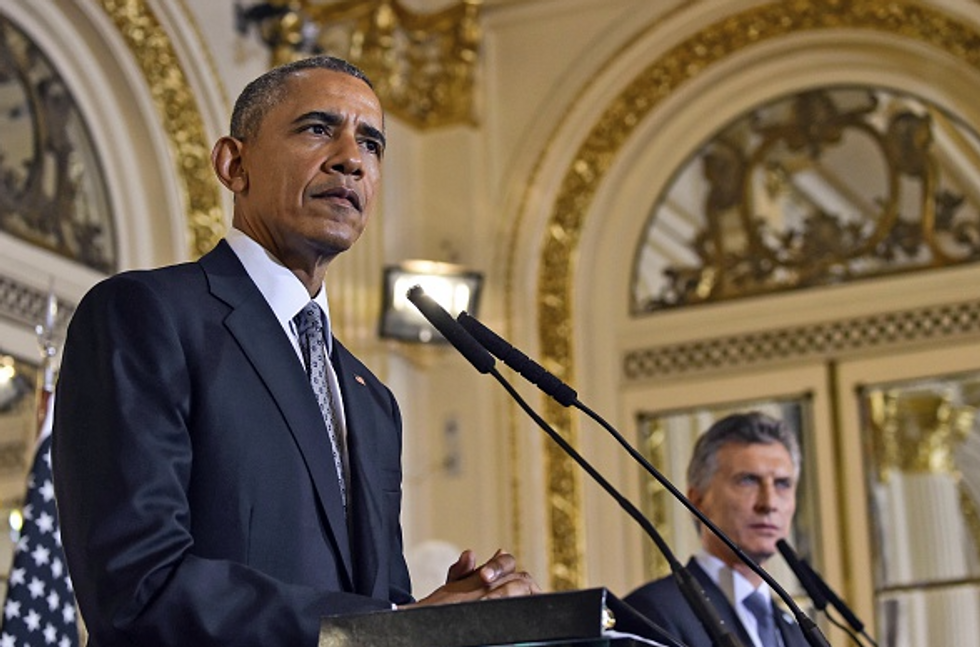 President Barack Obama (L) and Argentinian President Mauricio Macri deliver a joint press conference at the Casa Rosada presidential palace in Buenos Aires on March 23, 2016. US President Barack Obama arrived in Argentina early Wednesday after making a historic visit to former Cold War foe Cuba. (NICHOLAS KAMM/AFP/Getty Images)
Obama was speaking about the senator's father Rafael Cruz, who fled Cuba in the late 1950s for the United States. This week, Obama went to the communist nation where he met on Monday with Cuban President Raul Castro, and the next day delivered a speech about democracy.
"The notion we would start down that slippery slope makes no sense," Obama continued. "It's contrary to who we are, and it's not going to help us defeat ISIL."
On Tuesday, after the Islamic State's terrorist attack in Brussels, Cruz said law enforcement should "patrol and secure Muslim neighborhoods."
Obama responded to a question about his strategy toward the Islamic State in light of the group's bombing in Brussels Tuesday that killed 34 people. He was also asked about what some of the Republican presidential candidates have said after the bombing.
Without naming Cruz specifically, Obama also criticized the senator for calling for carpet bombing to defeat the Islamic State.
"When I hear somebody say we should carpet bomb Iraq or Syria, not only is that inhumane, not only is that contrary to our values, but that would likely be an extraordinary mechanism for ISIL to recruit more people willing to die and explode bombs in an airport or in a metro station," Obama said. "That's not a smart strategy."