CNN anchor Kate Bolduan grilled a senior policy adviser to Donald Trump Thursday over the Republican presidential candidate's recent Twitter feud with Texas Sen. Ted Cruz regarding their wives.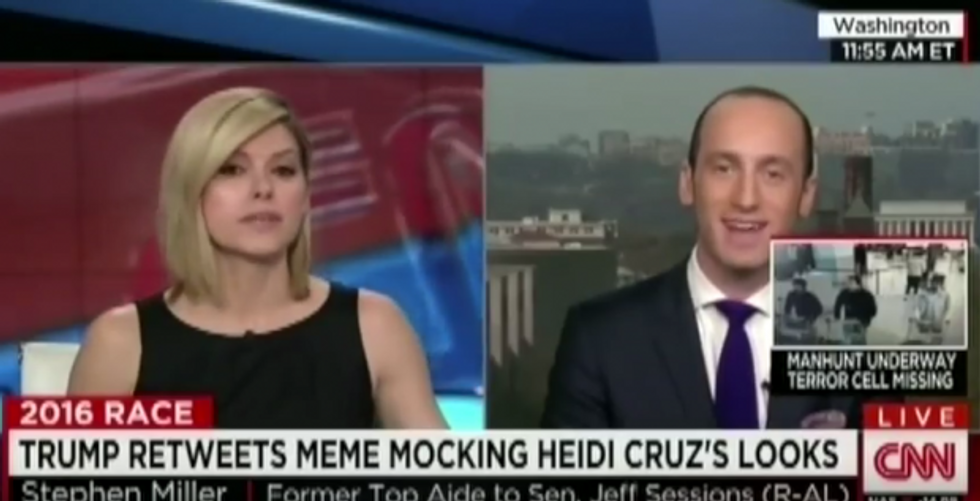 Image source: YouTube
Trump began the Twitter war on Tuesday evening when he issued an ominous message to Cruz following an ad issued by an anti-Trump super PAC that featured a risque of Trump's wife, Melania, posing for a GQ photo shoot and warning that a President Trump would mean having Melania as first lady. Trump threatened to "spill the beans" on Cruz's wife, Heidi, if he wasn't "careful." But on Wednesday, Trump retweeted a meme comparing Heidi's looks to Melania's in a disparaging way, saying, "A picture is worth a thousand words."
"A picture is worth a thousand words" @realDonaldTrump @tedcruz #LyingTed #NeverCruz @heidiscruz @MELANIATRUMP https://t.co/dQuoYRprwg

— Don_Vito 💎 (@Don_Vito 💎) 1458790528.0
Cruz responded with these words, "Donald, real men don't attack women. Your wife is lovely, and Heidi is the love of my life."
Donald, real men don't attack women. Your wife is lovely, and Heidi is the love of my life. https://t.co/pprXhIMzUT

— Ted Cruz (@Ted Cruz) 1458793849.0
On her show "At This Hour" Thursday, Bolduan interviewed Trump's senior policy adviser, Stephen Miller, and asked him for his opinion regarding Trump's social media behavior.
"As a woman, it's demeaning to not only Ted Cruz's wife, it's demeaning to Melania Trump because she has got a lot more going for her than just her looks, and you don't see that in this retweet," Bolduan said to Miller. "We will agree on one thing. Put politics out of this, you and I are not going to agree on endorsing something that is demeaning to women, including Donald Trump's wife."
But Miller stood by Trump's actions.
"I think the retweet speaks for itself," Miller said. "There was a vicious, mean-spirited, uncalled-for attack on Mr. Trump's wife. And it was a personal attack about her image and appearance, and so he responded as any normal person would," Miller said, before adding later, "Of course I endorse the decision to retweet it."
Miller also maintained that the Twitter controversy only escalated because the Cruz campaign failed to denounce the super PAC's ad outright.
"But Stephen, Stephen — this retweet coming from your guy had nothing to do with the super PAC. It has nothing to do with donors. This is Donald Trump continuing to want to talk about this fight after both sides have had their say," Bolduan said.
Watch the rest of the video clip below.
(H/T: Mediaite)
—
Follow Kathryn Blackhurst (@kablackhurst) on Twitter