The battle between two Republican presidential candidates over their spouses escalated even further Thursday as Texas Sen. Ted Cruz seemed to let his emotions get the best of him while defending his wife, Heidi.
"Donald, you're a sniveling coward, and leave Heidi the hell alone," Cruz said while speaking to reporters at an event in Wisconsin.
Cruz added that he doesn't often get angry but added that, if "you mess with my kids, you mess with my wife, that will do it every time."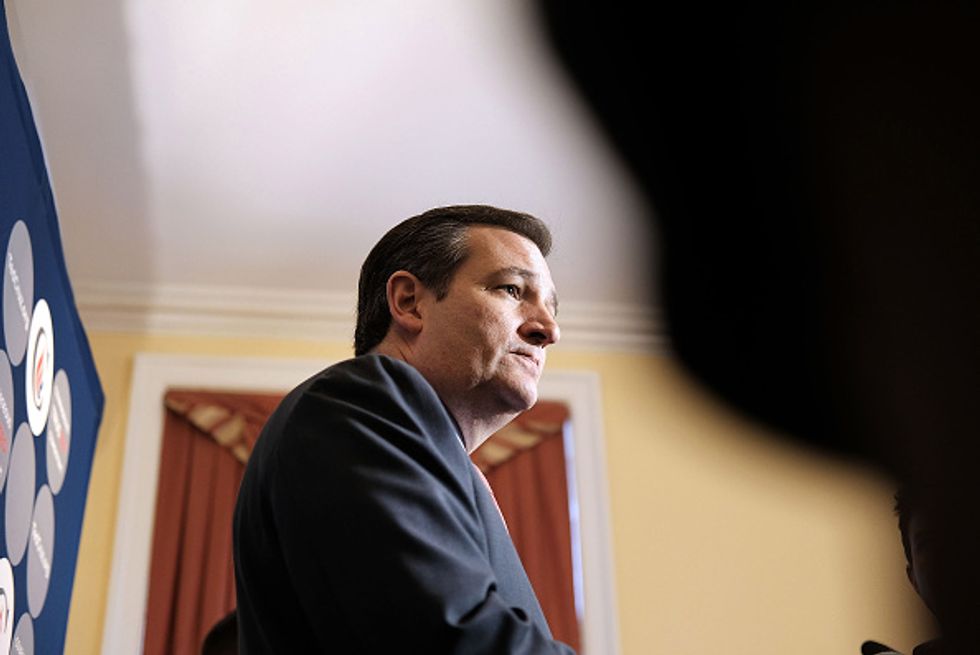 Republican presidential candidate Ted Cruz speaks to the media during an appearance in New York City Wednesday. (Photo by Spencer Platt/Getty Images)
Cruz and GOP front-runner Donald Trump have been at each other's throats ever since an anti-Trump PAC posted a negative ad that featured Trump's wife, Melania. Since the ad was released, Trump took to Twitter to pounce on Heidi Cruz and threaten that he will "spill the beans" on her as he erroneously declared that the ad was a product of the Texas senator's campaign.
The back-and-forth that has ensued between the two candidates, largely over Twitter, even included Trump sharing a photo comparison of his wife and Heidi Cruz.
Speaking to reporters following an event in New York City Wednesday, Cruz contended that Trump was going after his wife because he is "worried and upset."
"[Heidi is] used to dealing with people who are full of hot air so it doesn't bother her in the slightest, but I will say the fact that he's attacking Heidi says a lot about his character," Cruz said Wednesday.
Cruz also called the ad that sparked the war between the two men "completely inappropriate."
—
Follow Kaitlyn Schallhorn (@K_Schallhorn) on Twitter