BROOKLYN, N.Y. — For actor Danny DeVito, Democratic presidential front-runner Hillary Clinton isn't necessarily a "bad person," but it's her donations and ties to corporate money that reaffirmed the popular "It's Always Sunny in Philadelphia" star's decision to throw his weight behind Vermont Sen. Bernie Sanders.
DeVito, who won an Emmy and a Golden Globe for his role in "Taxi," told TheBlaze Thursday that unlike Clinton, Sanders has no one "steering" him to vote one way or another because of financial contributions. And while he wouldn't call Clinton's ties to corporate donors corrupt, he attributed it to fueling the "revolution" — the mantra of Sander's presidential campaign.
"I don't think Hillary is a bad person; I just think she's co-opted by all of the monied influences, and we don't want that because it's one vote, one person — not one dollar," DeVito, 71, told TheBlaze.
"It's a misstep, and we're evolving as a people and that's why we need a revolution; that's what a revolution is," the Hollywood star added. "You look at it, and you say we've got an opportunity right now."
While Justin Bartha, star of the "Hangover" movie series and "National Treasure," said he would "absolutely" throw his weight behind Clinton should she become the nominee, he agreed with DeVito as he asserted that her first priority might not be the American people considering the money she accepts.
"When it comes to honesty, Bernie runs on a platform of not taking money from corporate interests," Bartha told TheBlaze. "I think Hillary is an honest person, but I think she has other people she has to serve besides the people and what the people want to achieve."
DeVito told TheBlaze that he "doesn't think much of" GOP presidential front-runner Donald Trump and would never vote for the businessman.
As he spoke to a hoard of Brooklyn College students Thursday afternoon, DeVito reiterated Sanders' talking points while he signed autographs and advocated for the millennials to register to vote ahead of New York's Democratic primary in April.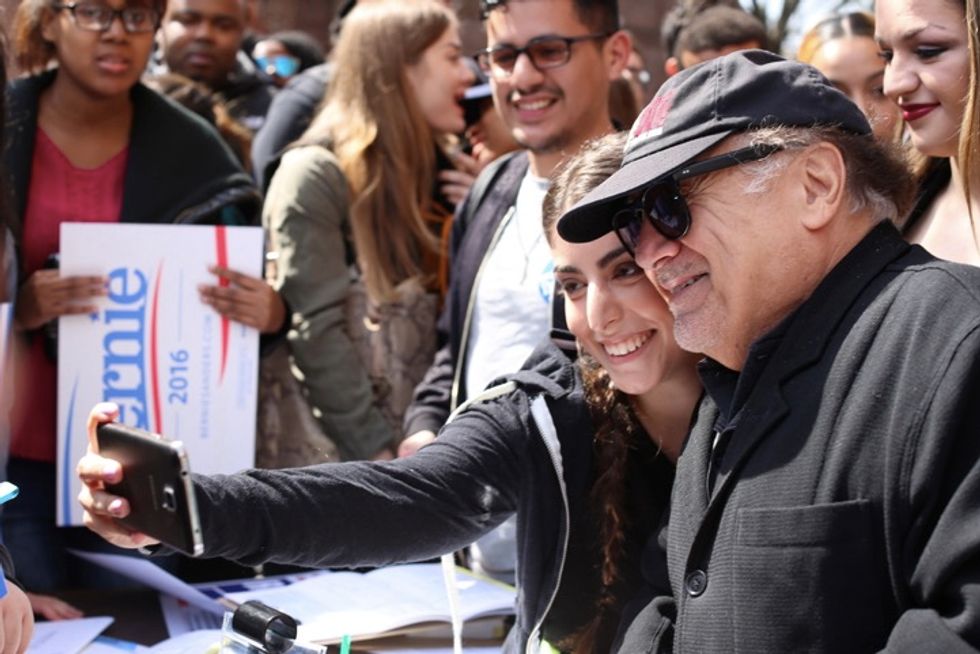 Hollywood star Danny DeVito poses for a photo with a Brooklyn College student while campaigning for Democratic presidential contender Vermont Sen. Bernie Sanders. (TheBlaze/Josiah Ryan)