Conservative provocateur Milo Yiannopoulos continued his in-your-face crusade in support of free speech in a new interview on "The Rubin Report" — and if you're easily offended, this would be a good time to walk away.
The openly gay journalist discussed the terror attacks in Brussels, Donald Trump, free speech, Twitter and even "restoring" the meaning of words considered to be anti-gay slurs.
At one point, Yiannopoulos even urged host Dave Rubin to become a conservative because he said there is no room on the left for a liberal who supports and defends free speech.
"They don't even like you," he said.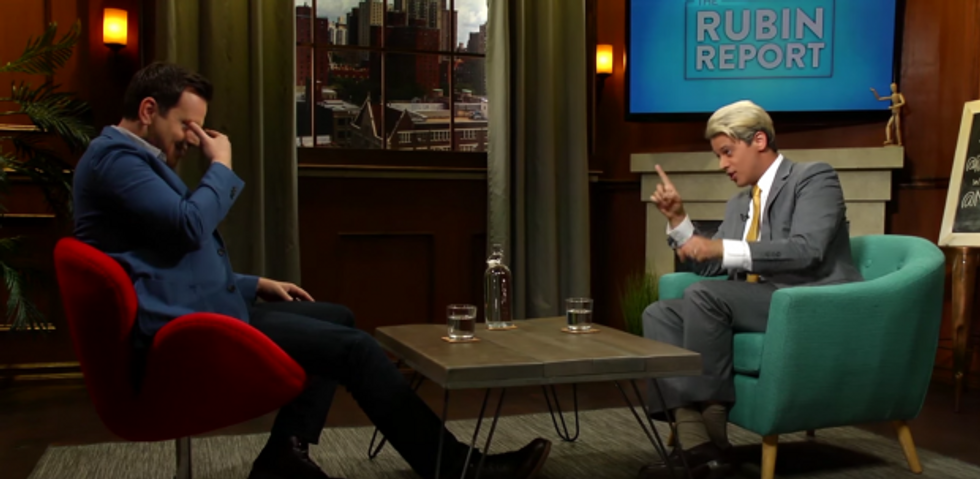 The Rubin Report
Yiannopoulos strongly criticized Twitter CEO Jack Dorsey over his view on free speech on the social network. He said Dorsey's position amounts to "freedom from" not "freedom to" exercise free speech.
"If you want to be punk these days, you want to be cool and dissident and mischievous, you have to be conservative," Yiannopoulos said. "If you are that on Twitter, sooner or later you are going to lose your account."
He added, "It plays into the safe space and trigger warning culture…it's freedom from ever having to be exposed to anything that might make you feel uncomfortable. Well that's not what freedom of speech is."
Yiannopoulos famously had his Twitter verification -- the little blue checkmark -- revoked. He has since been an outspoken critic of the social network's policies.
Watch part of the interview via "The Rubin Report" below (Warning: Strong language):
Later in the segment, Yiannopoulos, despite being a gay man himself, defended people's right to use words that are considered by some to be anti-gay slurs.
"I want 'gay' to be restored to its prestige meaning," he said. "The real meaning of 'gay' is like crap, rubbish, s**t, lame, Hillary-supporting, immigrant-loving…this is what I want gay to mean. When somebody says something stupid, I want you to be able to say, 'that's gay' or 'stop being a fa**** — it doesn't mean anything."
Part of his position, he said, is to remind people that "words can't hurt you."
Watch below (Warning: Strong language):
More with @Nero coming shortly. Social Justice Warriors might need a safe space for this...https://t.co/XMlFoncFug pic.twitter.com/sPf39qzwwS

— Dave Rubin (@RubinReport) March 24, 2016
---