The Lone Star State will soon have more than 1 million citizens licensed to carry concealed handguns.
With the recent terror attacks, such as San Bernardino, combined with charges that President Barack Obama wants to further curtail the Second Amendment, more people than ever are buying guns and applying for concealed carry licenses across the country, but especially in "gun-friendly" states like Texas.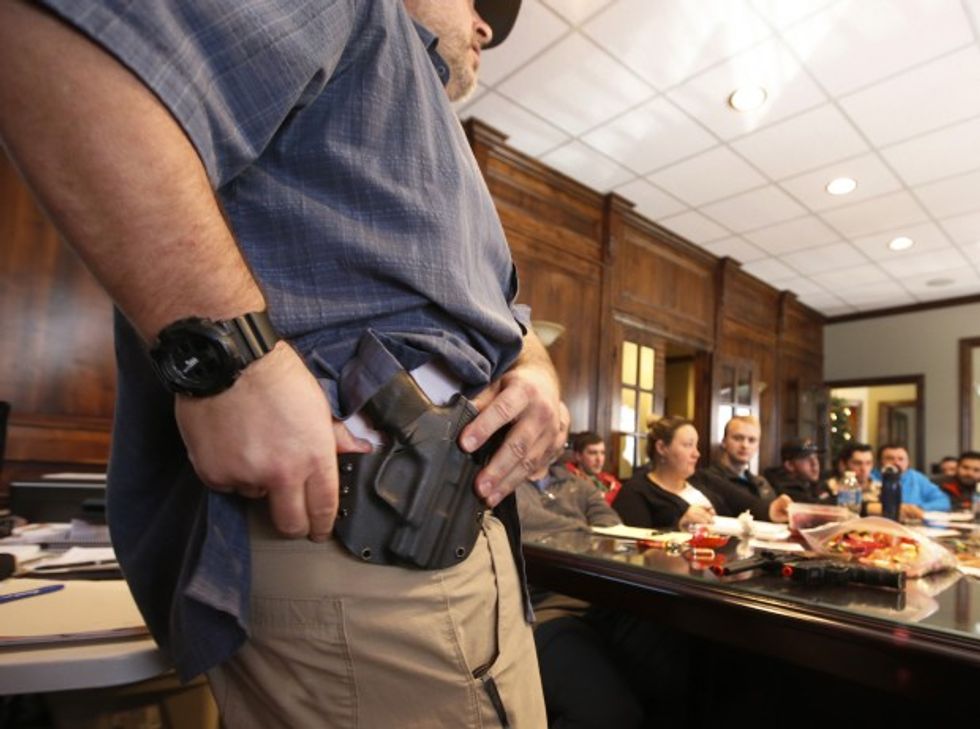 Damon Thueson shows a holster at a concealed carry permit class put on by USA Firearms Training. (George Frey/Getty Images)
According to Michael Cargill, who owns Central Texas Gun Works in Austin, CCL application requests have skyrocketed 140 percent from December 2015 through February 2016. The gun store owner detailed the uptick in applications during a recent radio interview.
"Then you have the new [open carry] law that went into effect January the first … all of that plays into it, and that's why we're seeing numbers," he told KRLD-AM. "For the first time, the state of Texas will actually go over 1 million licensed holders."
According to KTVT-TV, the Texas Department of Safety reports they have received 136,000 CCL applications over the three-month period compared to just 57,000 application requests during the same period a year ago.
Texas is already one of the gun-friendliest states in the union. In January, it became even more so when Gov. Greg Abbott (R) signed into a law the controversial open carry law.
—
Follow the author of this story on Twitter and Facebook:
[facebook //www.facebook.com/plugins/like.php?href=