BRUSSELS (TheBlaze/AP) -- Police raided Brussels neighborhoods again Friday in an operation a local official said was linked to both the airport and subway bombings and to the arrest in the Paris suburbs of a man who may have been plotting a new attack in France.
Three people were detained, with two of them shot in the leg, the federal prosecutor's office said. The operation was conducted in the Schaerbeek district, which was raided Thursday night, as well as the Forest and Saint-Gilles neighborhoods, it added.
Belgium's state broadcaster RTBF said one person who was detained was carrying a bag of explosive material.
Several photos reportedly show one of the terror suspects clutching a bag, supposedly carrying explosives:
Armed police shoot terror suspect holding rucksack at Brussels tram station https://t.co/3r0R31Avhd pic.twitter.com/OanNp59Yif

— Daily Mail Online (@MailOnline) March 25, 2016
BREAKING: Footage shows man wounded in bus stop clutching bag amid latest Brussels raid https://t.co/mfLnxBtryr pic.twitter.com/l8JKZ2b2oy

— Daily Star (@Daily_Star) March 25, 2016
Video footage also emerged showing a bomb disposal robot approaching the body of a suspect after he was shot:
Heavily armed officers wearing hoods began the operation about 1:30 p.m., when there were "two big explosions," said resident Marie-Pierre Bouvez, and it lasted about two hours. Bouvez, a veterinarian, told The Associated Press that police kept the area locked down and shouted at her to "get back inside" when she tried to go into the street.
The latest arrests are said to be linked to the capture of Reda Kriket in France on Thursday, who police said was in the "advanced stages" of plotting a terror attack in that country. Kriket had previously been found guilty in a Belgian court in absentia and sentenced to 10 years in prison for being part of a jihadist network.
On the third and final day of national mourning for Tuesday's attacks that killed 31 people and wounded more than 270, Prime Minister Charles Michel skipped a wreath-laying ceremony at the airport with U.S. Secretary of State John Kerry because of the police raids.
Kerry, in a hastily arranged visit, defended Belgium's counterterrorism efforts despite a series of security and intelligence failures before the bombings.
Confirming that several FBI agents are involved in the investigation, Kerry said the "carping" about Belgium's shortcomings "is a little bit frantic and inappropriate."
Top members of Belgium's embattled government are facing criticism over its counterterrorism efforts since - and before - the Nov. 13 Paris attacks that killed 130 people and that authorities believe were plotted from Belgium.
Kerry also said the U.S. and other countries had already scheduled meetings with Belgium prior to the attacks about improvements they could make to their laws, intelligence collection and attempts to blunt the radicalization of youth.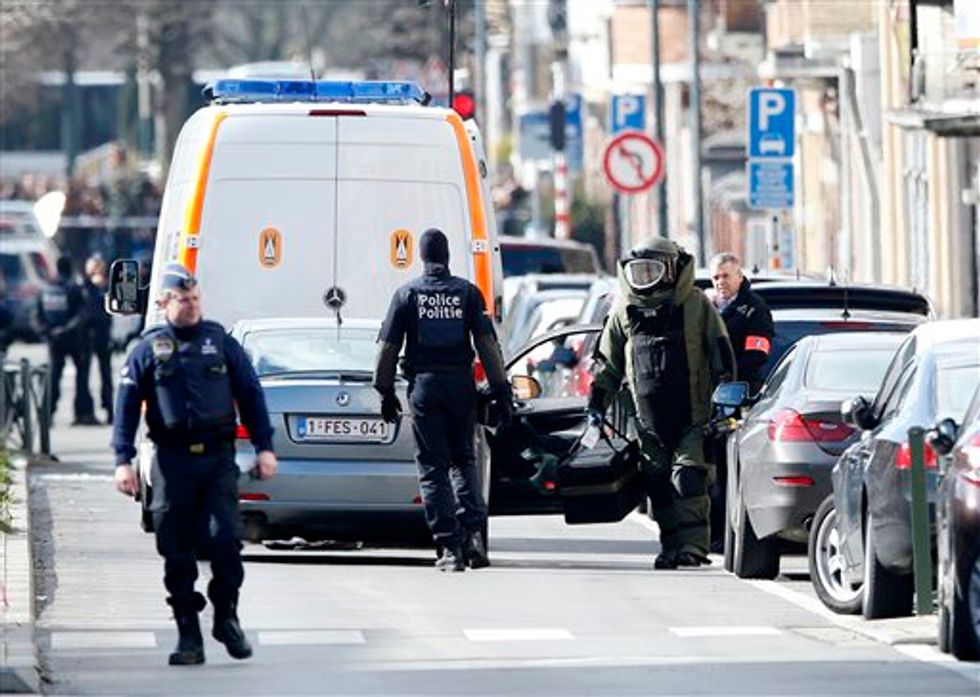 A member of emergency services wearing protective clothing, at right, investigates the scene in Schaerbeek, Belgium, Friday March 25, 2016. A witness speaking on Belgian state broadcaster RTBF described hearing two blasts and shots from heavy weapons during the police raid on the Schaerbeek neighborhood. About 50 officers appeared to be involved in the operation. It is unclear whether it is linked to Tuesday's attacks. A tram passing through the area was stopped and evacuated and police cordoned off a wide perimeter of streets. (AP Photo/Alastair Grant)
The Islamic State group has claimed responsibility for the attacks in Paris and Brussels, and Kerry lashed out at the extremist group.
"We will not be deterred," he said. "We will come back with greater resolve - with greater strength - and we will not rest until we have eliminated your nihilistic beliefs and cowardice from the face of the Earth."
Authorities also announced that American, British, Chinese, French and Dutch citizens were among the dead.
A manhunt has been underway since Tuesday for one of the Brussels airport attackers who was recorded on a surveillance video and fled the scene. Prosecutors have not said how many attackers there were in total, or how many accomplices might be at large.
Belgian prosecutors said raids Thursday night targeted central Brussels, Jette and the Schaerbeek neighborhood, where police had earlier found a huge stash of explosives and bomb-making material in an apartment used by the Brussels attackers. Three of six people detained in those raids have been released, prosecutors said.
French counterterrorism police also detained a 34-year-old man Thursday who officials say was in the advanced stages of an attack plot. The suspect, Reda Kriket, had a past Belgian terrorism conviction and was linked to the suspected ringleader of the Paris attacks, Abdelhamid Abaaoud, officials told The Associated Press.
Elsewhere, Belgium's nuclear agency said it has withdrawn the entry badges of some staff and denied access to other people recently amid concern the country's nuclear plants could be a target for extremists.
The move at some plants "is not necessarily linked with the terrorist attacks," said nuclear control agency spokeswoman Nele Scheerlinck, noting the decision to deny access usually takes weeks.
Immediately after Tuesday's attacks, security was boosted around the country's nuclear sites and hundreds of staff were sent home.
Last month, authorities said searches in the wake of the Paris attacks uncovered video linked to a person working in Belgium's nuclear industry.
Belgian media reported this week that Brussels attackers Ibrahim and Khalid El Bakraoui had video recordings of the home of a senior official at the Mol nuclear waste facility in the Flanders region. It's unclear why.
In a sermon before Friday prayers in the neighborhood of Molenbeek, home to some of the participants in the Paris attacks, Sheik Mohamed Tojgani denounced the Brussels bombers.
"Terrorism is terrorism," said Tojgani, the imam of Molenbeek's main mosque. "It has no state, no nationality, no religion, no country."
In a message to the Belgian people, he added: "You are from us and we are from you. What affects you, affects us."
---