Wonderful news arrived for one of San Fransisco's poorest communities this Holy Week: The nuns in charge of operating the local soup kitchen are there to stay, thanks to the generosity of one critical donor.
Last month, the future looked far more uncertain for the sisters of the Fraternite Notre Dame Mary of Nazareth Soup Kitchen, who were facing eviction after rent surged by more than 50 percent back in January. The San Fransisco Chronicle reported that the French nuns were struggling to pay the new monthly rate, which had surged from $3,465 to $5,500.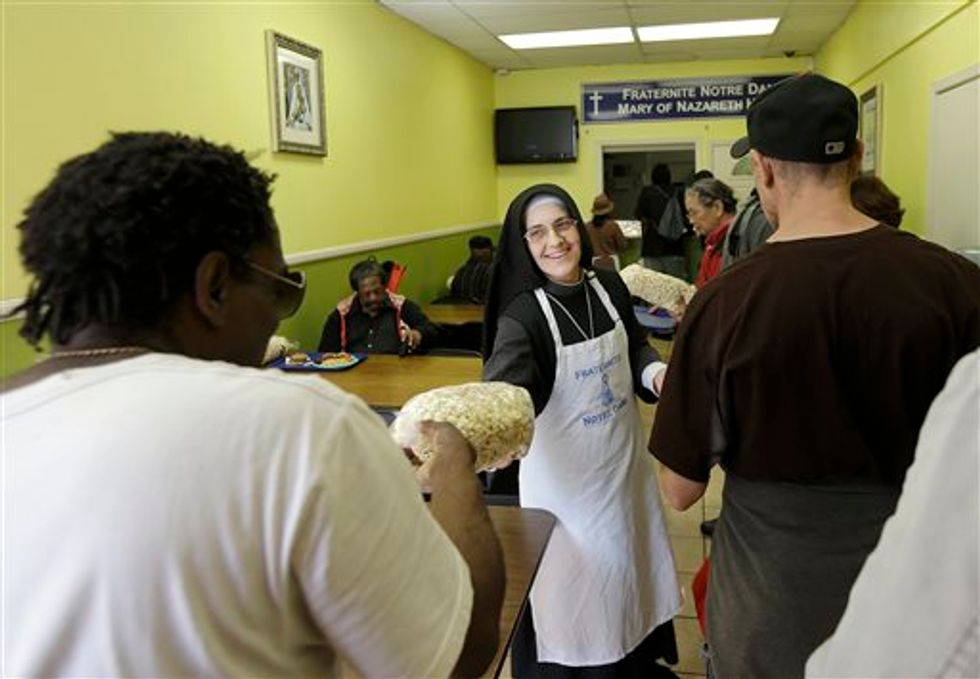 Sister Mary Valerie, center, hands out bags of popcorn at the Fraternite Notre Dame Mary of Nazareth Soup Kitchen in San Francisco, Tuesday, Feb. 9, 2016. (AP Photo/Jeff Chiu)

The soup kitchen is located in Tenderloin, one of San Francisco's poorest neighborhoods. Closing the operation would have meant that hundreds of homeless would miss out on the free meals provided to them every week.
But this past week, SFGate.com reported that multimillionaire business adviser and self-improvement coach Tony Robbins went above and beyond paying the rent. Instead, he bough the sisters their own soup kitchen.
According to SFGate.com, the new Mission Street location is next door to a one-stop Navigation Center for the homeless. Robbins donated over $750,000 in cash to purchase the property. The nuns are scheduled to relocate to the new spot by the end of the month.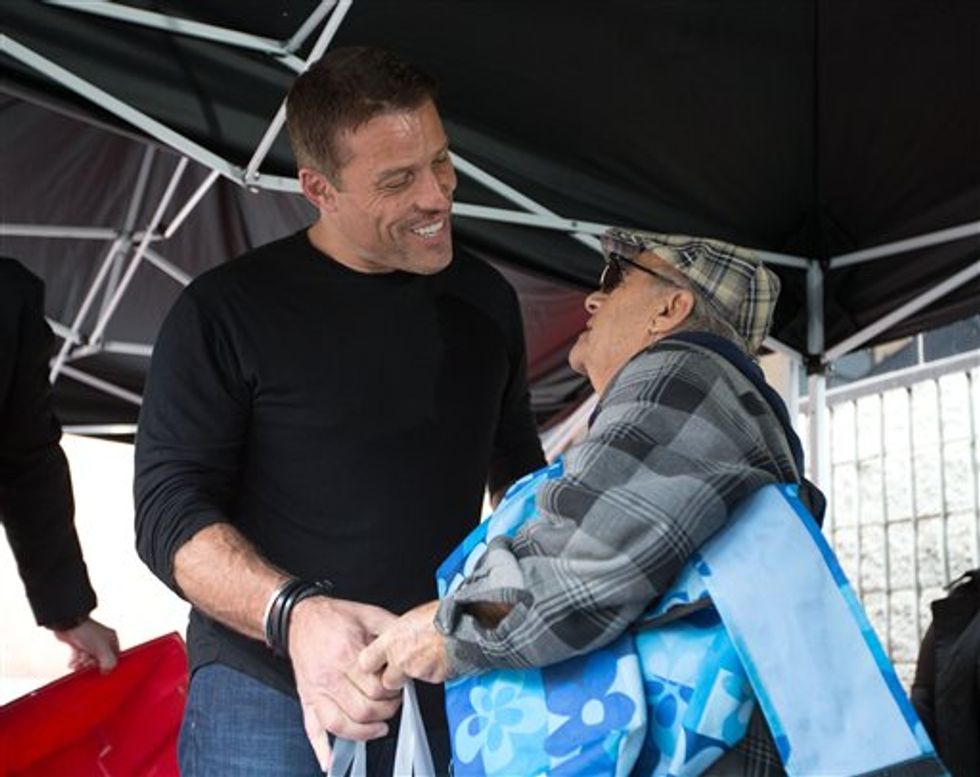 Tony Robbins appears at the Salvation Army for Feeding America to promote his 100 Million Meals Challenge on Tuesday, Dec. 2, 2014 in Burbank, CA. Tony Robbins, #1 New York Times Bestseller of Money: Master the Game, is donating profits towards the 100 Million Meals Challenge. (Jeff Lewis/AP Images for Tony Robbins Feeding America)
Sister Mary Benedicte, who with Sister Mary of the Angels operates the community soup kitchen, was overwhelmed by Robbins' compassion and support.
"It feels like God's providence," she told SFGate.com. "This is God's blessing. Wow."
But this isn't the first time the self-help guru has come to the rescue. After reading of the nuns' situation in the Chronicle last month, Robbins donated $25,000 to help ease their financial struggles and brokered a deal with the landlord that would allow the sisters to remain tenants for another year.
Robbins is famous for infomercials he's starred in, books he's written and celebrities with whom he has worked — from former president Bill Clinton to actor Leonardo DiCaprio.
In addition to his personal donation, he also told SFGate.com that he's reached out to some of his billionaire friends for help and advice on the housing predicament. In the meantime, he's personally chipped in another $50,000 to help the nuns stock their new kitchen.
"It's been a wild journey," Robbins told SFGate.com. "My original intent was just to get them a place to lease, but this building opportunity looked too good."
Robbins shared that supporting the nuns' dedication to feeding the homeless seemed like a natural extension of his personal philanthropic work to fight poverty around the world. Before he was deemed "the CEO Whisperer" by Fortune magazine, Robbins shared that he himself had spent some time homeless.
"I was so inspired by their story," he said. "I was deeply touched that not only are they feeding people, but their entire lives are spent toward loving and taking care of people."
"I was struck by it, and I trust my instincts," Robbins continued. "I have a deep love for the nuns, and I want them to be able to put all their efforts into doing the wonderful things that they do."
Sister Benedictine said that preparation for the move will not commence until next week, after Easter.
"For now, this is a time only for prayer," she said. "We are closed. But in our prayers, we thank God for this miracle."