Full-time wife, mother and college student Katy Humphrey found herself in a predicament last week when the babysitter she hired backed out last minute. Humphrey, a former Marine, was counting on the sitter to watch her 4-month-old daughter, Millie, while she attended class at Baylor University.
Knowing that missing class was not an option, Humphrey quickly began brainstorming solutions.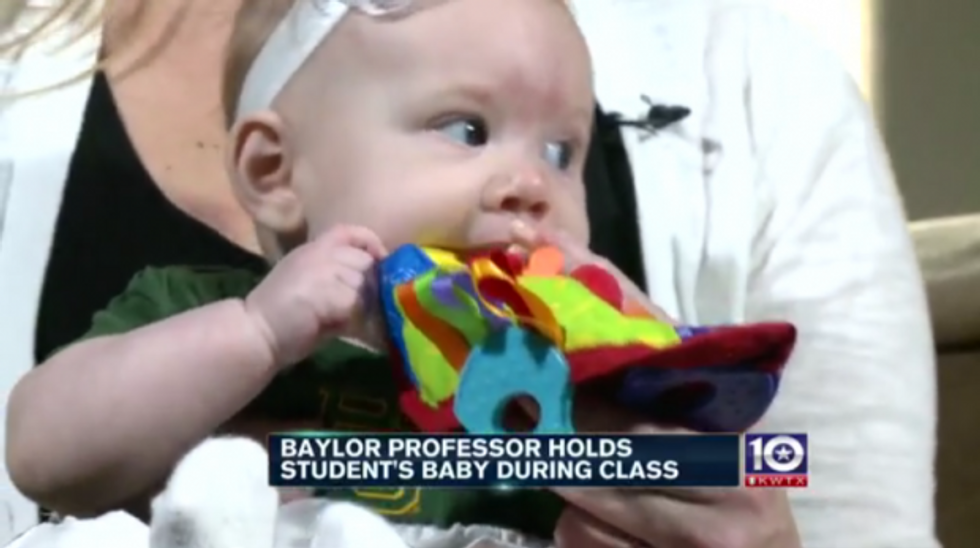 Image source: KWTX-TV
"I had the Marine reaction, since I was in Marine Corps — I have to pull through somehow," she told KWTX-TV.
So she placed her baby girl in a carseat and headed to class.
"I was thinking, 'well I hope I can balance both,'" Humphrey said.
She didn't however, think of what she'd do if Millie got fussy. And that's exactly what happened.
But instead of getting frustrated at the student who decided to bring a wailing infant to class, the professor, Dr. Darryn Willoughby, went over to Humphrey and offered to help comfort Millie.
"Within the first five minutes Millie got fussy," Willoughby, the Associate Professor of Health, Human Performance, and Recreation and the Director of Exercise and Biochemical Nutrition Laboratory at Baylor, told KWTX-TV. "So I just went over, picked her up, carried her back, and went right back to lecturing without missing a beat."
Willoughby, a professional body-builder, held the child in his massive arms for the remainder of the class — about an hour. She didn't make a peep.
"I didn't want [Humphrey] to feel uncomfortable because there was nothing to feel uncomfortable about," he said.
When asked about the event, the compassionate professor said he'd do it again.
"Taking care of others in a time of need, and even in not a time of need, just loving and caring about others — that God's purpose," he said.
Watch: