A Nevada woman who was traveling on her way to attend her mother's funeral in Salt Lake City was killed in a car crash in southern Utah on Saturday morning.
Danielle Valle, 48, had been sitting in the front passenger seat of a 2004 GMC Sierra pickup truck when the 48-year-old male driver lost control of the vehicle on I-15 and the truck spun over several times, ejecting Valle, who had not been wearing her seatbelt, from the vehicle. Valle was pronounced dead at the scene when the medical crews arrived, according to KUTV-TV.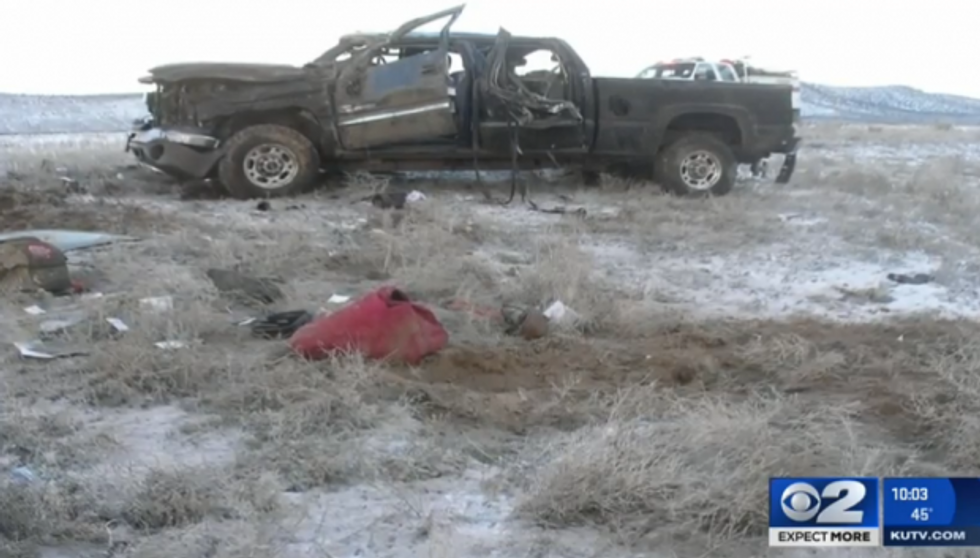 Image source: KUTV-TV
A 28-year-old woman who was also not wearing her seatbelt at the time of the crash was flown by medical helicopter to a nearby hospital in serious condition, KUTV reported. The driver was transported to Beaver hospital.
The Utah Highway Patrol confirmed that Valle had been traveling on her way to attend her mother's funeral when the fatal accident occurred around 7 a.m. Saturday morning, according to KSTU-TV. Although the police initially thought that Valle had been carrying her mother's ashes with her in the pickup truck, after searching the scene of the crash, it was revealed that a change in plans led to Valle traveling without her mother's ashes that morning.
—
Follow Kathryn Blackhurst (@kablackhurst) on Twitter