When NBC News' Andrea Mitchell appeared on "Meet the Press" Sunday morning to discuss Donald Trump's recent conversation with the Washington Post's editorial board, she told host Chuck Todd that Trump "is completely uneducated about any part of the world."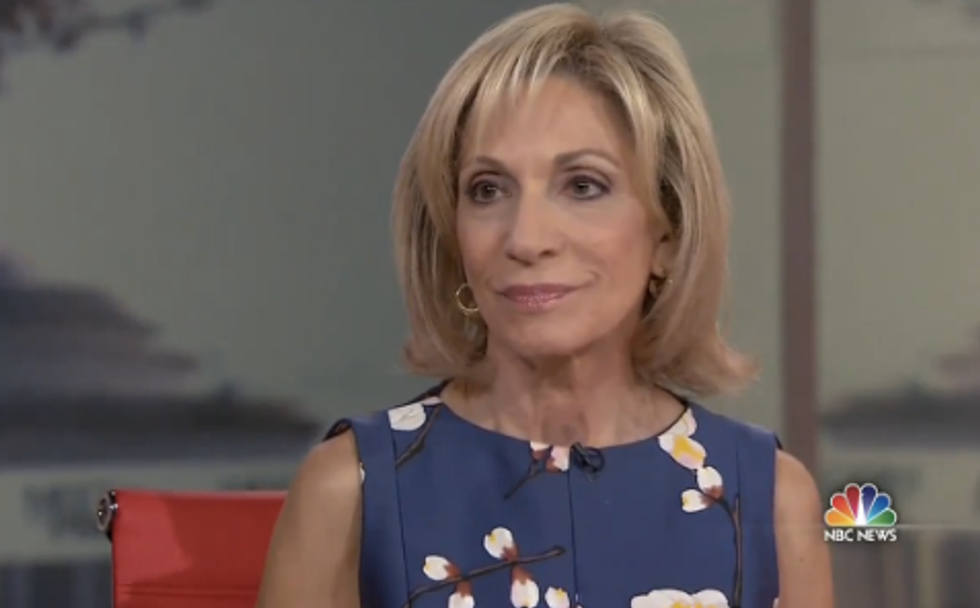 Image source: Mediaite
During the segment, Todd played for Mitchell an audio clip from Trump's interview with the board during which Trump was asked about his opinions regarding using nukes against the Islamic State. Instead of answering the question directly, Trump began talking about how he responded to his political rivals' attacks against himself before concluding with, "This is a very good looking group of people here. Could I just go around so I know who the hell I'm talking to?"
"He cannot stick to a subject. It is remarkable," Mitchell told Todd. "And when he doesn't know something, he just changes the subject, makes it all about himself."
"On national security it's a very noticeable — especially to your ears and mine," Todd responded.
Mitchell then went on to discuss how she perceives Trump's policies.
"[Trump] would cancel defense treaties with Japan and South Korea against North Korea. He doesn't mind, he would be okay if Japan and South Korea go nuclear. American policy for decades since World War II has been trying to keep nukes out of that arena," Mitchell said. "He is completely all over the lot on Iran. He believes — he complained that Iran isn't buying our planes. It had to be pointed out to him that Iran is still under sanctions and cannot buy American planes. He thinks North Korea and Iran are the biggest trading partners when North Korea's biggest trading partner is China."
Mitchell then concluded her rant with a harsh verdict against the Republican presidential frontunner: "He is completely uneducated about any part of the world."
(H/T: Mediaite)
—
Follow Kathryn Blackhurst (@kablackhurst) on Twitter