When a police chase involving an armed robbery suspect over the weekend took a bizarre turn, local news teams watched in awe as chopper crews caught the whole interaction on tape.
The suspect, a female driving a black Tacoma Toyota pickup, led Los Angeles police on a chase from Sherman Oaks to West Hills — about 15 miles — before making one of the boldest and most foolish moves attempted in a long time. When the chase ended in West Hills, the suspect made one last attempt to escape, abandoning the vehicle she was believed to have stolen and attempting to abscond with a police cruiser.
In the minutes leading up to the incident, KCBS-TV caught chopper footage of the suspect driving erratically and reaching triple-digit speeds.
The chase came to a halt after the woman lost control of the truck and sped across several medians after exiting a freeway.
"He's driving totally nuts, totally nuts," KCBS's Desmond Shaw observed from the chopper. "And strangely he's also using his signal."
Shaw later learned that the "he" was actually a "she," a woman described by the LAPD as "armed and dangerous."
Before the crazy freeway exit stunt, the woman had driven into a cul-de-sac in West Hills. After getting temporarily stuck, the woman drove through a yard and escaped again.
Only after police conducted a PIT, or precision immobilization technique, maneuver on the vehicle did the suspect exit the vehicle.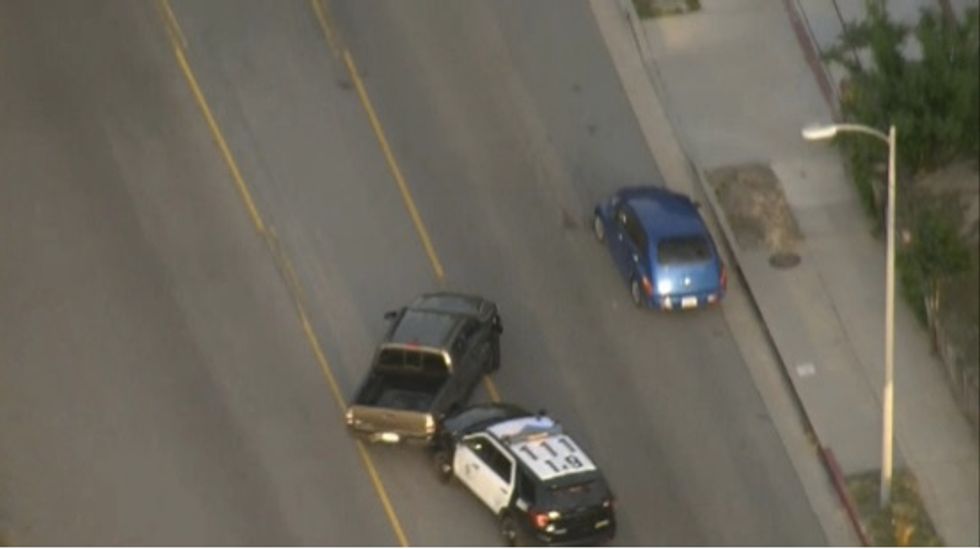 Image source: KCBS-TV
The woman then apparently lunged at a police vehicle that pulled up behind her and attempted to hijack it. But she was outnumbered. Half a dozen officers wrestled her to the ground before she was even able to enter the vehicle.
"Oh my God!" Shaw said. "She just tried to jack an LAPD cruiser!"
According to KCBS, the LAPD was able find the suspect because the owner of the vehicle had personal property, including an iPhone with GPS technology, still in the pickup.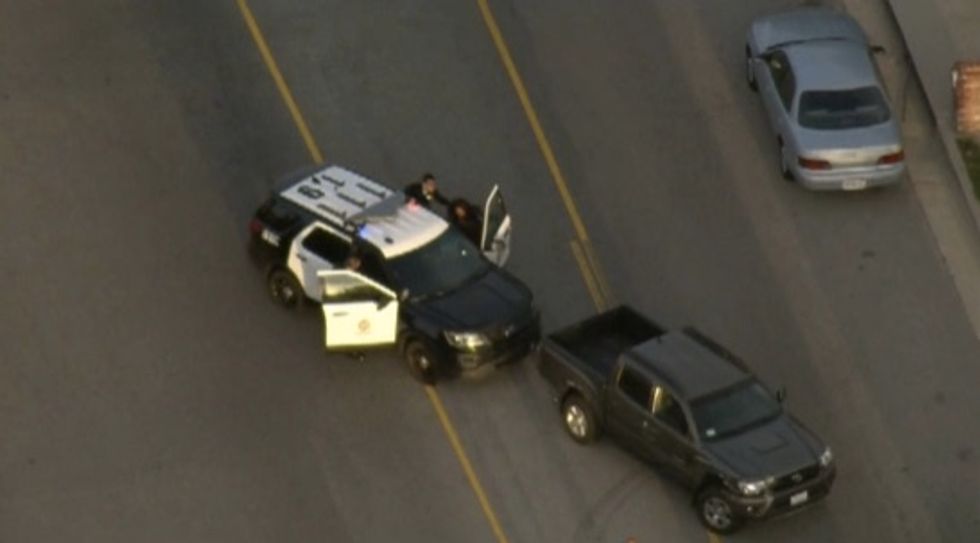 Image source: KCBS-TV
The victim, who did not want to be identified, told the news station she heard the suspect outside of her home trying to steal her pickup truck.
"I just ran out of the house, and I saw a woman I did not know, sitting in my car and backing up," the victim told KCBS.
According to the victim, the suspect tried to run her over before taking off with the stolen car.
"I was still trying to get in the car. I was trying to open the door, but she was driving so badly, I didn't want to get crushed," the victim recalled.
Police said the suspect complained of leg pain she said she incurred during the chase. After authorities made the arrest, the suspect was taken to a hospital for a physical evaluation.