Visitors and staff at the U.S. Capitol were told to shelter in place after reports of gunshots at the Capitol Visitors' Center today.
The shooting occurred earlier today at a security checkpoint, and the suspect is in custody, U.S. Capitol Police officials said in a press conference this afternoon.
At 2:39 p.m., an adult male was found to have a firearm during a routine screening. He reportedly pointed the gun at an officer and was shot. The man, who was already known to U.S. Capitol Police through "previous contact," is currently undergoing surgery and his condition is unknown.
A female bystander was also injured in the shooting, Capitol Police chief Matthew Verderosa told reporters.
The incident was a "criminal act," Verderosa added, and there's no reason to believe it was anything else — like terrorism, though he didn't say that outright.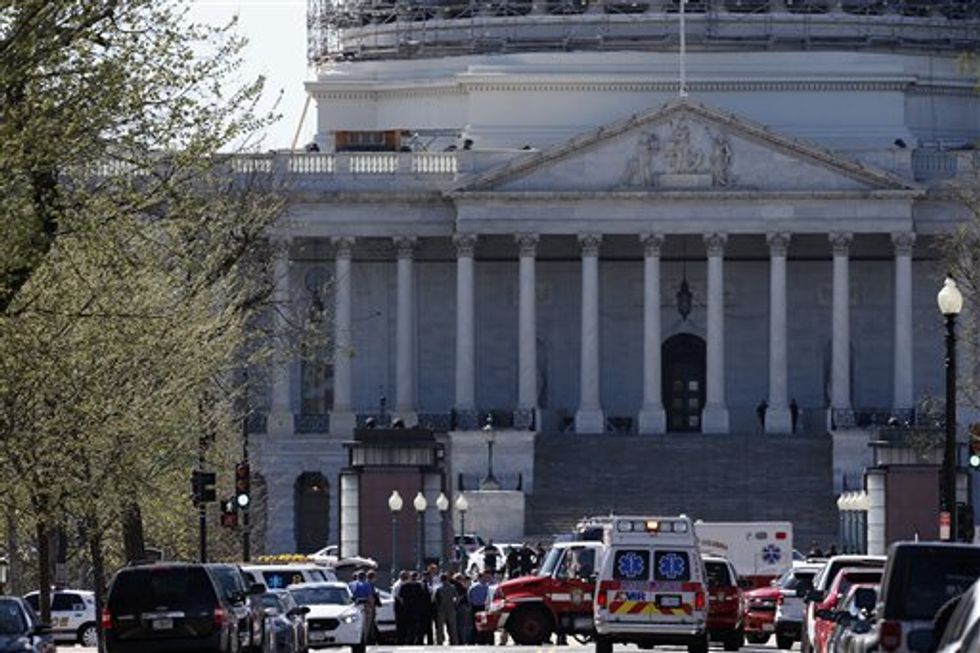 Law Enforcement and rescue vehicles are seen on Capitol Hill in Washington on Monday after a U.S. Capitol Police officer was shot at the Capitol Visitor Center complex, and the shooter was taken into custody. (AP/Alex Brandon)
Verderosa would not name the suspect, but multiple outlets including CBS and Fox News reported that 66-year old Larry Dawson, who had previous run-ins with the Capitol Police, is suspected by officers. No charges have been filed at this time, Verderosa said.
Multiple law enforcement sources tell @CBSNews the man who allegedly pulled a gun on Capitol Hill today is 66-year old Larry Dawson.

— Charlie Kaye (@CharlieKayeCBS) March 28, 2016
Sources tell Fox the suspect is same individual, a man from Tenn., arrested last year for an outburst at US House chamber.

— Jared Halpern (@JaredHalpern) March 28, 2016
Shortly after the shooting, the House, Senate an Library of Congress buildings had reopened, and the U.S. Capitol Building had reopened for official business only, but the CVC building remained closed Monday afternoon.
After the reports of shots fired, an announcement was made to shelter in place over the loudspeaker system.
Gunshots reported in the Capitol Visitors Center, we hear over the loudspeaker. Shelter in place, we're told.

— Emma Dumain (@Emma_Dumain) March 28, 2016
Looks like people are being walked out of the Capitol. Still on lockdown here in the gallery pic.twitter.com/BjSyH6c7eL

— Leigh Giangreco (@LeighGiangreco) March 28, 2016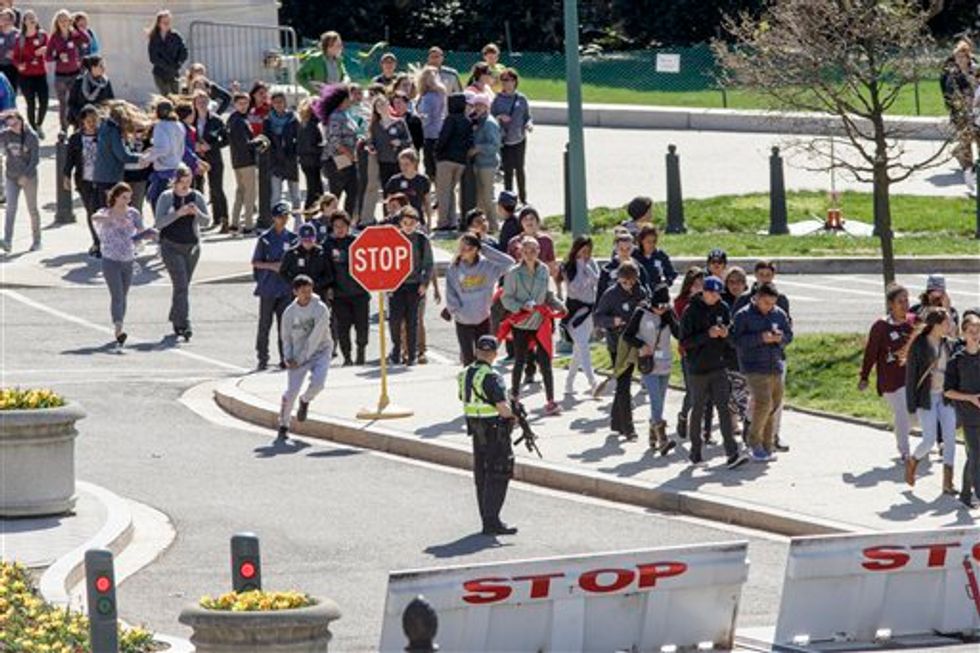 Tourists are directed by Capitol Police away from the Capitol on Constitution Ave. and Delaware Ave. in Washington on Monday. (AP/J. Scott Applewhite)
Initial reports of a shooting were especially unclear because the Capitol had held an active shooter drill on Monday morning, leading to confusion over whether the shelter-in-place order was real or a drill.
Additional confusion because JUST THIS MORNING there was an ACTIVE SHOOTER DRILL at Capitol, per source. ---> pic.twitter.com/cfQYxaqCFK

— Jonathan Allen (@jonallendc) March 28, 2016
UPDATE, 10:01 p.m. ET: The U.S. Capitol Police said the suspect, identified as 66-year-old Larry Dawson of Tennessee, was charged Monday night with assault with a deadly weapon and assault on a police officer while armed.
Police secured his vehicle and said they will search it when a warrant had been obtained.
Dawson remained in the hospital in stable but critical condition.
Editor's Note: This story has been updated with new information. The original version was first published at 2:57 p.m.
—
Follow the author of this story on Twitter and Facebook:
[facebook //www.facebook.com/plugins/like.php?href=