BRUSSELS (TheBlaze/AP) -- Belgian federal prosecutors announced Monday that three more people have been arrested and held on charges of participating in terrorist activities.
Prosecutors did not immediately release details on the alleged terrorist acts or whether they were linked to last week's suicide bombings at Brussels Airport and in the Brussels subway.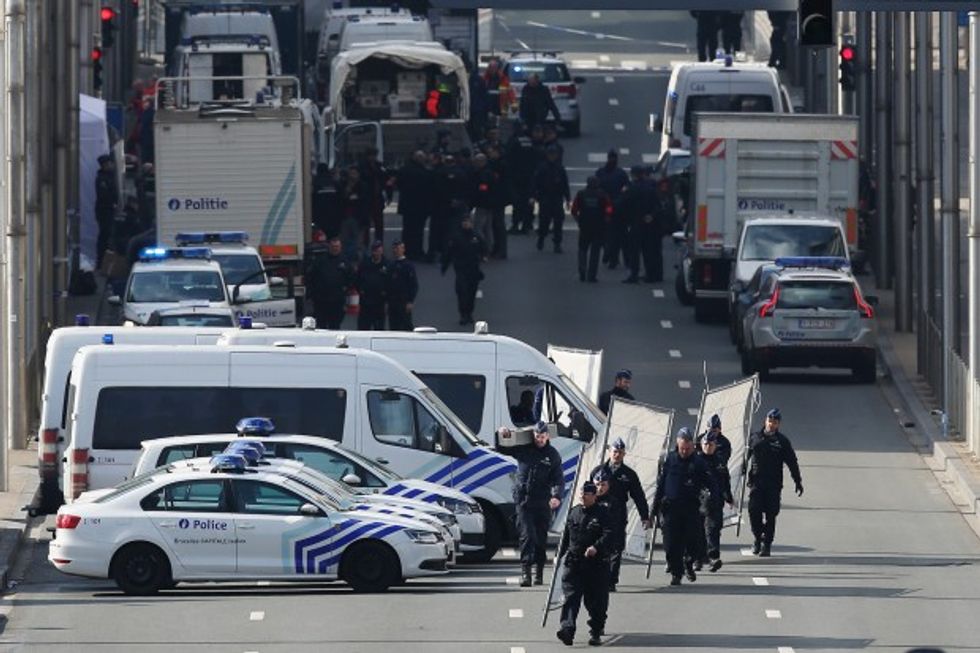 Soldiers, police officers and medical personnel attend the scene at the Maelbeek metro station following last Tuesday's attacks. (Getty Images/Carl Court)
The three charged by an investigating magistrate — identified as Yassine A., Mohamed B. and Aboubaker O. by the federal prosecutors office — were among four people detained during 13 police raids Sunday in Brussels and the northern cities of Mechelen and Duffel.
A fourth person detained was released without charge, the prosecutors' statement said.
On March 22, two suicide bombers blew themselves up at Brussels Airport and a third did the same in a Brussels subway train.
Belgian Health Minister Maggie De Block also announced via Twitter Monday that four people wounded in the attack have died in the hospital, increasing the death toll to 35.
Four patients deceased in hospital. Medical teams did all possible. Total victims: 35. Courage to all the families. #BrusselsAttacks

— Maggie De Block (@Maggie De Block) 1459156418.0
The attacks caused great damage to the airport's departure area. On Tuesday, one week after the bombings, Brussels Airport will test its capacity to partially resume passenger service, an airport official said Monday. But she said it's too early to say when passenger service might actually resume.
Florence Muls, the airport's external communications manager, said 800 staff members on Tuesday will test temporary infrastructure and new arrangements designed for passenger check-in. Firefighters and the Belgian government must approve the new system, Muls said, before Brussels Airport can resume handling passenger traffic.
Before the bombings, Brussels Airport served some 600 flights a day and 23.5 million passengers per year.