Shocked laughter and denials broke out during CNN's "State of the Union" on Sunday after Stephen Miller, a senior policy adviser for Republican presidential candidate Donald Trump, proclaimed that half a million girls in the U.S. are "at risk of female genital mutilation."
It was a statement that sparked laughter from Neera Tanden, president of the Center for American Progress, who instantaneously responded with an, "Oh my God" before accusing Miller of saying "something outrageous," stating that she doesn't believe the half-a-million figure.
"You want to talk about women's issues? Here's something we should be talking about. This is a fact," Miller said. "As a result of uncontrolled migration into this country — you can look this up, this is statistic from Equality Now — half a million U.S. girls in this country are at risk of female genital mutilation."
Watch it at the 6:45 mark below:
Now, let's unpack his claim a bit.
A call to action published by Equality Now, a women's rights group that works to end female genital mutilation, on the organization's website does include the following claim: "513,000 women and girls across the U.S. are at risk of undergoing [female genital mutilation]."
An update to the page in Feb. 2016 goes on to cite a Center for Disease Control and Prevention study that tackles the issue of female genital mutilation and cutting (FGM/C) in the U.S.; that study is where the 513,000 figure originated.
Recapping the study, titled, "Female Genital Mutilation/Cutting in the United States: Updated Estimates of Women and Girls at Risk, 2012," Equality Now wrote that half a million women and girls in the United States "have undergone or are at risk of being subjected to FGM!" saying that the figure is three times higher than a previous 168,000 estimate that was based on data collected in 1990.
The CDC study does indeed include these details, noting as well that, in 2004, the African Women's Health Center at Brigham and Women's Hospital and the Population Reference Bureau previously crafted an updated estimate — 227,887 — based on 2000 data, yielding a 35 percent increase due to "large increases in the U.S. population of women and girls born in or with ancestry from FGM/C-practicing countries."
So, Miller was certainly correct that Equality Now had published a statistic indicating that half a million women and girls are at risk, but there will clearly be some debate about how representative that 513,000 figure is, with many wondering about the actual levels of danger in America.
The first place to look when assessing the accuracy of the data, of course, is at the methodology. The CDC said in its study that researchers crafted the estimate "by applying country-specific prevalence of FGM/C to the estimated number of women and girls living in the United States who were born in that country or who lived with a parent born in that country."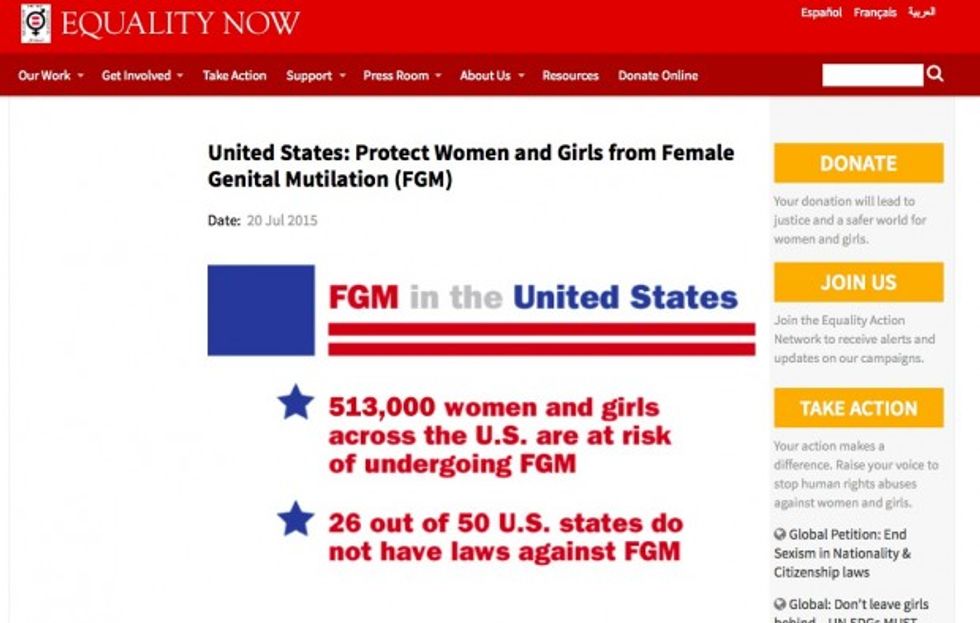 A screen shot from the Equality Now website
Rather than definitive and individualized danger levels, the study appears to have taken into account the country of origin where female genital mutilation is practiced, applying those practices to the potential levels of danger for women and girls who have immigrated — or have had family members immigrate — to the U.S.
As for Miller's claim about "uncontrolled migration" being the cause of that risk, let's look to the study's conclusion.
"The estimated increase was wholly a result of rapid growth in the number of immigrants from FGM/C-practicing countries living in the United States and not from increases in FGM/C prevalence in those countries," the conclusion read. "Scientifically valid information regarding whether women or their daughters have actually undergone FGM/C and related information that can contribute to efforts to prevent the practice in the United States and provide needed health services to women who have undergone FGM/C are needed."
Let's also explore comments from demographer Mark Mather, who works with the Population Reference Bureau and is credited for helping craft the CDC study. Mather told Newsweek last year that he and other researchers have been trying to figure out the "best estimate of potential risk."
"Given that we've seen a lot of new immigrants, especially from Africa, it's become a more important issue here in the U.S. and in Europe as well," he said.
The CDC study also notes that some immigrants have attempted to have their daughters cut here in the U.S. or have returned to their home countries to have the procedure done — something that is known as "vacation cutting."
That said, there are some important caveats: currently, the methods being used by the Center for Disease Control and Prevention are purportedly the best and most accurate, though definitive data on how many women in the U.S. have undergone genital mutilation and cutting is not readily available. After all, potential risk based on immigration factors and definitive risk can be quite different — and difficult to measure.
The study's own conclusion says that the estimates "do not provide information on the extent to which FGM/C is practiced in the United States," nor do they "provide information on other important aspects of the practice, such as the ages at which it occurs, who performs the procedure, what types of FGM/C procedures are performed, and the degree to which the practice of FGM/C changes after arrival in the United States."
Clearly, many questions remain on the issue.
---