Republican presidential candidate Donald Trump remains unmoved and unwilling to apologize to GOP rival Ted Cruz for his attack on the Texas senator's wife, Heidi, and one CNN anchor seems to have had enough of it.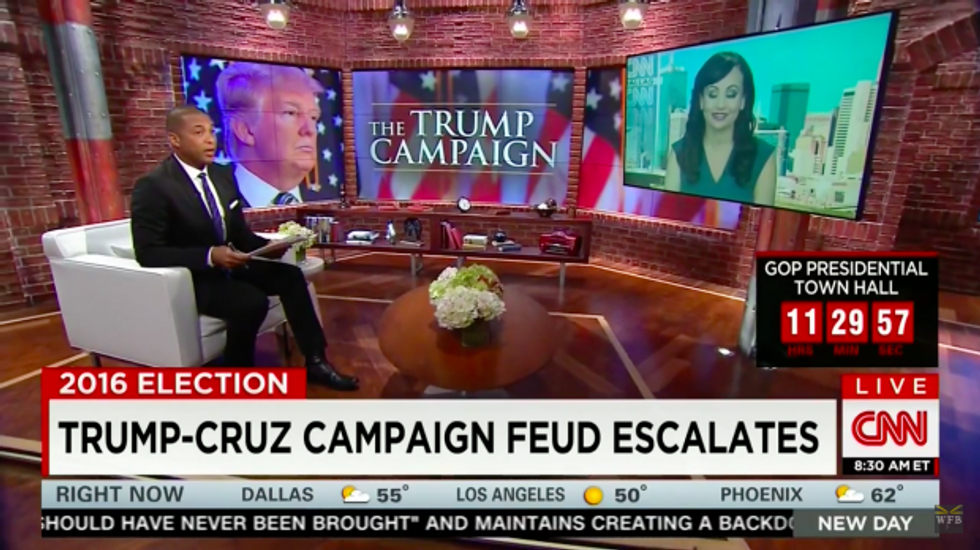 CNN host Don Lemon discusses the feud between Cruz and Trump with Katrina Pierson on "New Day" Tuesday. (Image: YouTube/CNN)
CNN "New Day" host Don Lemon offered a sarcastic compliment to Trump spokeswoman Katrina Pierson Tuesday morning for delivering a "good spin ... but not necessarily the truth" about the mean-spirited image of Cruz's wife the billionaire businessman retweeted last week.
The spat between Trump and Cruz began when an anti-Trump super PAC unaffiliated with the Cruz campaign published an ad featuring a risqué image of the GOP front-runner's wife, Melania, ahead of last week's Utah primaries, suggesting Utahans should vote for Cruz to keep the former super model from becoming the next first lady.
Lemon asked Pierson if Trump owed Cruz an apology for attacking his wife and suggesting that he was behind the super PAC's ad against the New Yorker's spouse. The Trump spokeswoman didn't think so.
"The fact that he continues to support his wife and defend her, in light of these attacks, when the media is making someone else the victim — no, he shouldn't apologize until Ted Cruz does," Pierson replied. "Because even a Fox News anchor, when Melania was being attacked on his show, said, 'This is a very slippery slope to start going after spouses,' and that's when Donald Trump issued the warning."
Lemon didn't buy her answer.
"I think that's a very good spin that you put on it," the CNN anchor told a smiling Pierson. "But not necessarily the truth."
—
Follow the author of this story on Twitter: