Evangelist Franklin Graham issued a fiery response after a suicide bombing targeted and killed at least 70 people as Christians celebrated Easter in Pakistan's Gulshan-e-Iqbal Park on Sunday, decrying the act and directly responding to the terrorists responsible.
"Islam has reared its ugly head again, killing innocent Christians — mostly women and children — this Easter Sunday in Lahore, Pakistan," Graham wrote on his Facebook page. "These families were celebrating a risen Savior who took our sins to the cross."
The Christian leader, who is CEO of Samaritan's Purse and the Billy Graham Evangelistic Association, asked Christians to pray for the victims of the attack, saying that Bible believers who die "ushered into the presence of our heavenly father and will live for eternity in his presence."
But he also issued a message back to the radical Islamic terrorists with a breakaway Taliban faction who claimed responsibility for the attack.
"The Muslim terrorist group spokesman said after this wicked attack, 'It's our message to the government that we will carry out such attacks again until sharia [Islamic law] is imposed in the country.' Muslims want Sharia Law," Graham continued. "They want the whole world to bow to Islam — that won't happen."
He continued, "The Word of God tells us that one day 'at the name of Jesus every knee should bow, in heaven and on earth and under the earth, and every tongue confess that Jesus Christ is Lord, to the glory of God the Father.'"
As TheBlaze previously reported, this is at least the second time in recent days that Graham has taken aim at Islam. Last week, he published a fiery rhetorical question about Islam on his Facebook page — then promptly offered up an equally controversial response.
"Why does Islam hate so much?" he wrote. "It's because the Quran teaches its followers to hate."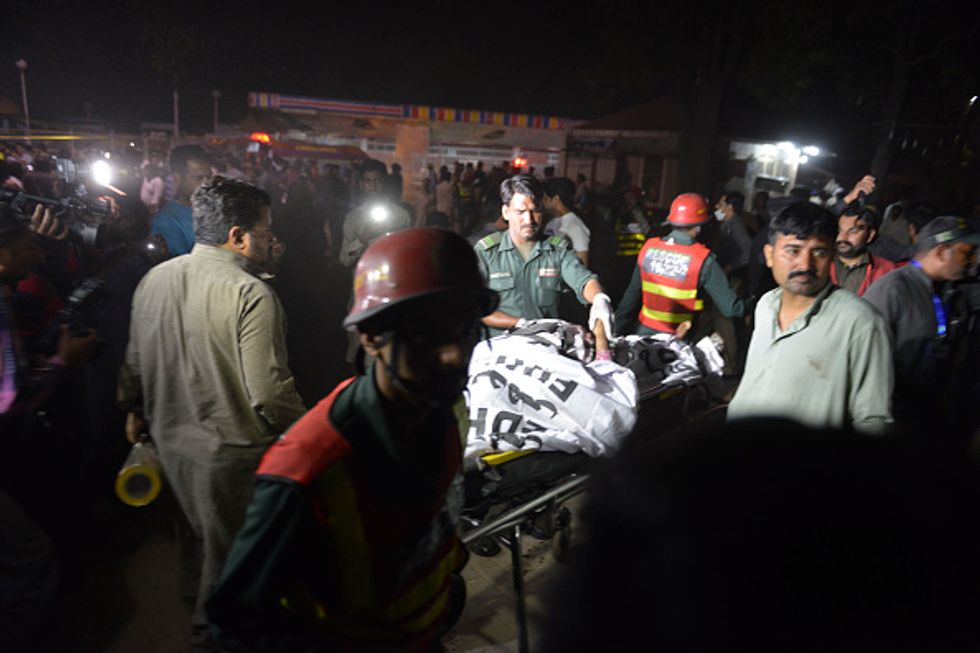 Pakistani rescuers use a stretcher to shift a body from a bomb blast site in Lahore on March 27, 2016. (ARIF ALI/AFP/Getty Images)
And Graham wasn't done there. The faith leader went on to say that "Jews, Christians and others are to be subdued so that Islam may 'prevail over all religions.'"
Graham is no stranger to criticizing Islam, saying in a separate Facebook post last November that "Islam is not a peaceful religion" and that Muslim immigration cannot continue.
"We cannot allow Muslim immigrants to come across our borders unchecked while we are fighting this war on terror," Graham wrote at the time. "If we continue to allow Muslim immigration, we'll see much more of what happened in Paris — it's on our doorstep."
He also defended these stances in an interview last fall on The Church Boys podcast.
"By letting Muslims come into this country at this time [there's] the potential for some of these people to turn on this nation for our kindness and our gratitude and commit murder," Graham said. "And it's not just the murder of just one or two, but it could be a large event that could take the lives of many people."
Listen to Grahm on the podcast last fall below:
--
Follow the author of this story on Twitter and Facebook: