Hillary Clinton and Bernie Sanders are closer than ever — at least according to recent polling.
The divide between the two Democratic presidential candidates is shrinking after a big weekend of primary wins for Sanders. As seen in the most recent NBC News poll, Clinton maintains only a 6-point lead over Sanders — the smallest gap since the poll began to track the two candidates in December.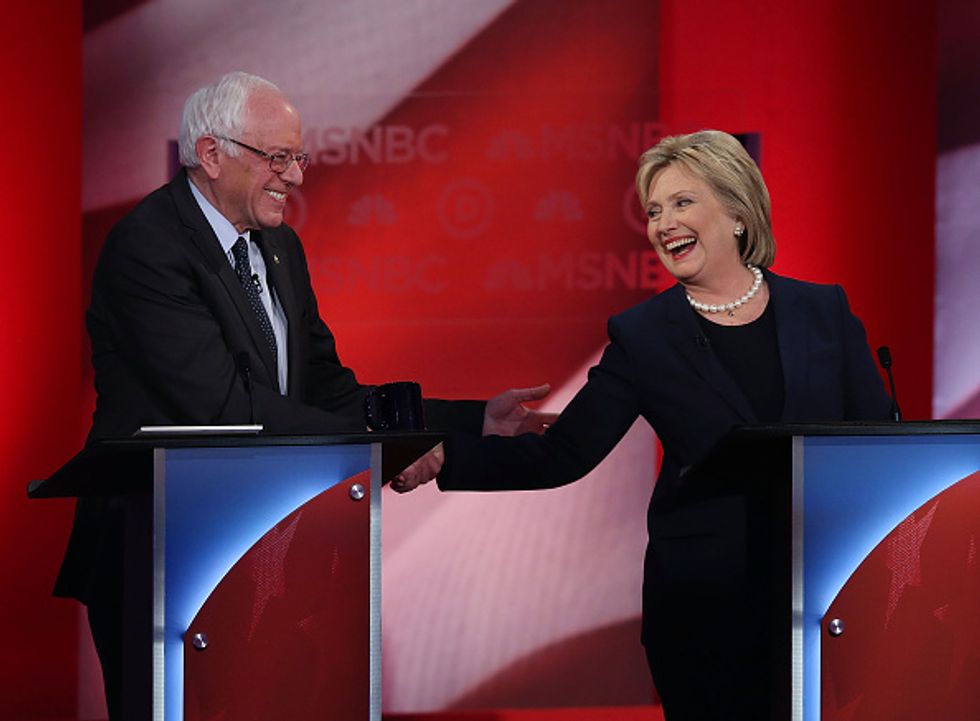 Democratic presidential candidates former Secretary of State Hillary Clinton and Vermont Sen. Bernie Sanders shake hands during their MSNBC Democratic debate at the University of New Hampshire Feb. 4. (Getty Images/Justin Sullivan)
The new polling data also indicated that Clinton's national support has dipped to 49 percent, down from 53 percent last week. At the same time, Sanders ticked up slightly from 41 percent to 43 percent.
As MSNBC noted, the demographics in the primary states which Sanders secured over the weekend heavily favored the Vermont senator, and Clinton seems to be losing traction among all racial groups. Over the last week, she dropped 3 points among whites, 4 points among blacks and 5 points among Hispanics.
However, according to Real Clear Politics' aggregated polling data, Clinton still leads Sanders by 7.2 points.
Over Easter weekend, Sanders easily won in Alaska, Hawaii and Washington — each victory coming with at least a margin of 40 points over Clinton.
The latest NBC News poll was conducted from March 21-27 among a national sample of 6,521 adults online with a margin of error of +/-1.7 points.
—
Follow Kaitlyn Schallhorn (@K_Schallhorn) on Twitter