Writing in an op-ed for the Harvard Crimson, the Ivy League university's student newspaper, sophomore Rachel Huebner found one of the last places on her prestigious college campus that a person is allowed to be anti-politically correct — or so she contends.
Huebner, a staff editorial writer for the Crimson, detailed in her Wednesday op-ed how the modern American college system has changed her view that Americans value open discourse.
Huebner contends in her article that once she began college, she quickly realized that "the current culture on college campuses is a culture defined not by open expression — but by sensitivity."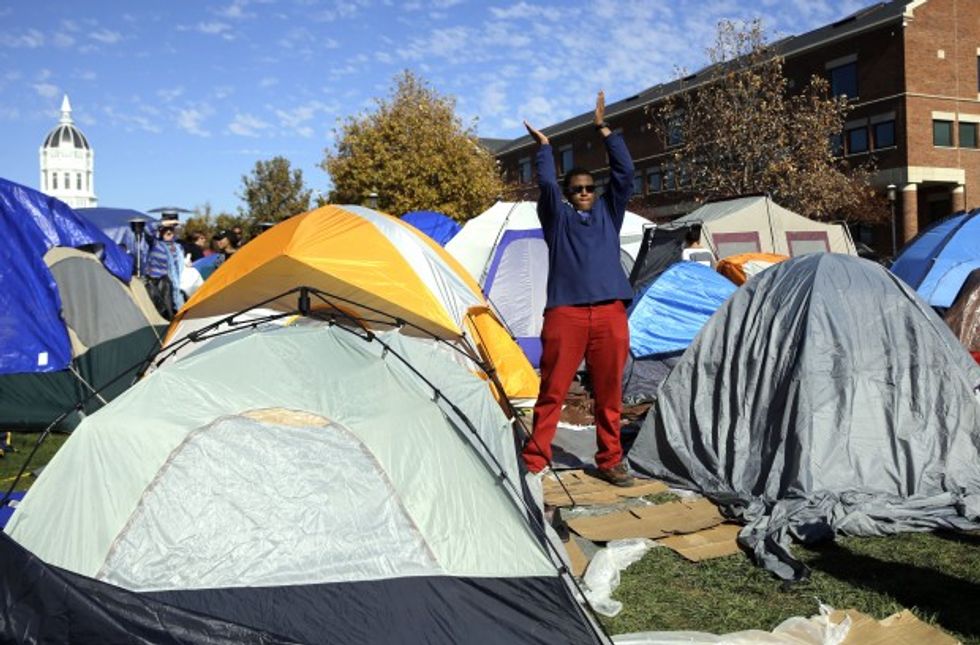 A student claps while standing in a protest movement's camp at the University of Missouri Nov. 9. (AP Photo/Jeff Roberson)
"This undue focus on feelings has caused the college campus to often feel like a place where one has to monitor every syllable that is uttered to ensure that it could not under any circumstance offend anyone to the slightest degree," she wrote. "It sometimes feels as though pluralism has become an antiquated concept."
"Facts and history have been discarded, and instead feelings have been deemed to be the criteria that determine whether words and actions are acceptable," she added.
[sharequote align="center"]"It sometimes feels as though pluralism has become an antiquated concept."[/sharequote]
While she said that she respects the "explosion of new identities" in the college culture over the last several decades, Huebner believes many of the movements "have gone too far," citing the University of New Hampshire's "Bias-Free Language Guide" and other hyper-sensitive college incidents.
"Safe spaces" are another huge problem on today's college campuses, Huebner added, because they "deeply encroach" on "open dialogue and free expression."
"It is ironic that while the origins of the term safe space can be found in the 20th century women's movement, where it 'implies a certain license to speak and act freely,'" she wrote. "Today, the term has come to be associated with precisely the opposite: the inability to speak freely."
In a class I attended earlier this semester, a large portion of the first meeting was devoted to compiling a list of rules for class discussion. A student contended that as a woman, she would be unable to sit across from a student who declared that he was strongly against abortion, and the other students in the seminar vigorously defended this declaration. The professor remained silent. In a recent conversation with peers, I posed a question about a verse from the Bible. A Harvard employee in the room immediately interjected, informing me that we were in a safe space and I was thus not permitted to discuss the controversial biblical passage. And these are just stories from the past three months.
According to Huebner, the rise of hyper-sensitivity on college campuses and the "assault" on free speech have "dire consequences." In fact, she even cited a recent study that alleged the "microagression climate" at universities has been "detrimental" to student health.
"Administrators must recognize that the current restrictions are incompatible with the very premise and goal of an education," Huebner concluded. "It is time to stop focusing on feelings as the criteria for speech and actions on the college campus."
—
Follow the author of this story on Twitter and Facebook:
[facebook //www.facebook.com/plugins/like.php?href=