A private Catholic university in Wisconsin suspended a professor last week for a blog post he wrote criticizing another faculty member's decision to bar a student who opposed same-sex marriage from speaking in class. Now, the school has said it fire will the professor if he does not retract his critical comments.
John McAdams of Marquette University published the piece on his blog, the "Marquette Warrior," in November 2014.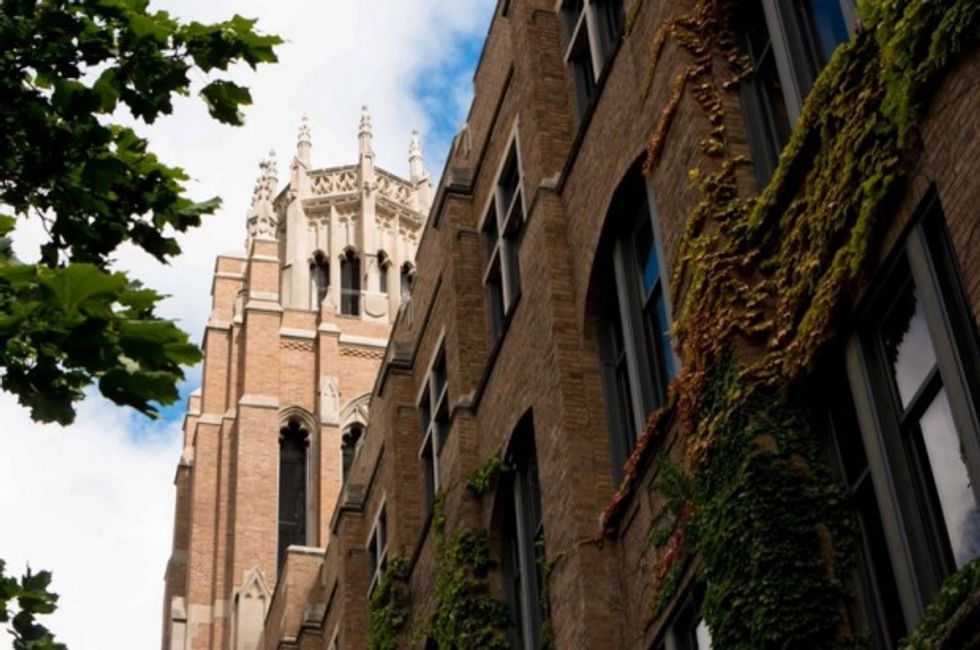 Image via Twitter/@MarquetteU
In the post, McAdams criticized teaching assistant Cheryl Abbate for preventing a student from sharing his views on gay marriage in a "Theory of Ethics" class.
McAdams explained in his post that the issue of gay marriage arose when Abbate reportedly prompted students "to apply a philosophical text to modern political controversies." The teaching assistant had compiled a list of possible issues on the board, but when she came to "gay rights," she reportedly said that "everybody agrees on this, and there is no need to discuss it."
McAdams' post discussed what allegedly happened when a student approached Abbate after class:
The student, a conservative who disagrees with some of the gay lobby's notions of "gay rights" (such as gay marriage) approached her after class and told her he thought the issue deserved to be discussed. Indeed, he told Abbate that if she dismisses an entire argument because of her personal views, that sets a terrible precedent for the class.

The student argued against gay marriage and gay adoption, and for a while, Abbate made some plausible arguments to the student — pointing out that single people can adopt a child, so why not a gay couple? She even asked the student for research showing that children of gay parents do worse than children of straight, married parents. The student said he would provide it.

So far, this is the sort of argument that ought to happen in academia.

But then things deteriorated.
According to McAdams, Abbate told the student, "You don't have a right in this class to make homophobic comments," and she invited him to drop the class, which he reportedly did.
AFP/Getty Images

"Abbate, of course, was just using a tactic typical among liberals now. Opinions with which they disagree are not merely wrong, and are not to be argued against on their merits, but are deemed 'offensive' and need to be shut up," McAdams' post continued.
Over the weekend, McAdams posted excerpts from a letter he received from Marquette University officials detailing the penalty facing him for for his 2014 post.
"I have decided to accept your fellow faculty members' recommendation to suspend you without pay. Your suspension without pay will begin April 1 and continue through the fall semester," the letter, signed by University President Michael R. Lovell, read. "In addition, your return to the faculty on Jan. 17, 2017, for the spring semester is conditioned upon you delivering a written statement to the president's office by April 4, the details of which are contained later in this letter."
In a statement provided to the Christian Post, Lovell said:
While I cannot provide specific details of the recommendation because it relates to a personnel matter, I can assure you that my decision has been guided by Marquette University's values and is solely based on professor McAdams' actions, and not political or ideological views expressed in his blog.
McAdams wrote Saturday that the apology he was asked to provide is "reminiscent of the Inquisition, in which victims who 'confessed' they had been consorting with Satan and spreading heresy would be spared execution."
A description on the "Marquette Warrior" reads: "We are here to provide an independent, rather skeptical view of the events at Marquette University."
"It is bizarre that Lovell can invoke Marquette's 'guiding values' to contravene the black letter guarantees of academic freedom embodied in University Statues," McAdams added.