During a community forum on gun violence at a Milwaukee church today, a guest speaker seated next to Hillary Clinton offered a blunt comparison between the former secretary of state and fellow Democratic presidential candidate Sen. Bernie Sanders.
With a microphone in hand, Annette Nance-Holt, whose 16-year-old son was fatally shot as he rode a Chicago bus in 2007, said "that other candidate on the Democratic side did not reach out to us."
"If you want my vote, you better work for it," Nance-Holt said. "[Clinton is] working for our votes. I'm not going to give it to you just because you say you can do free college.
"If my child is dead, he can't go to college."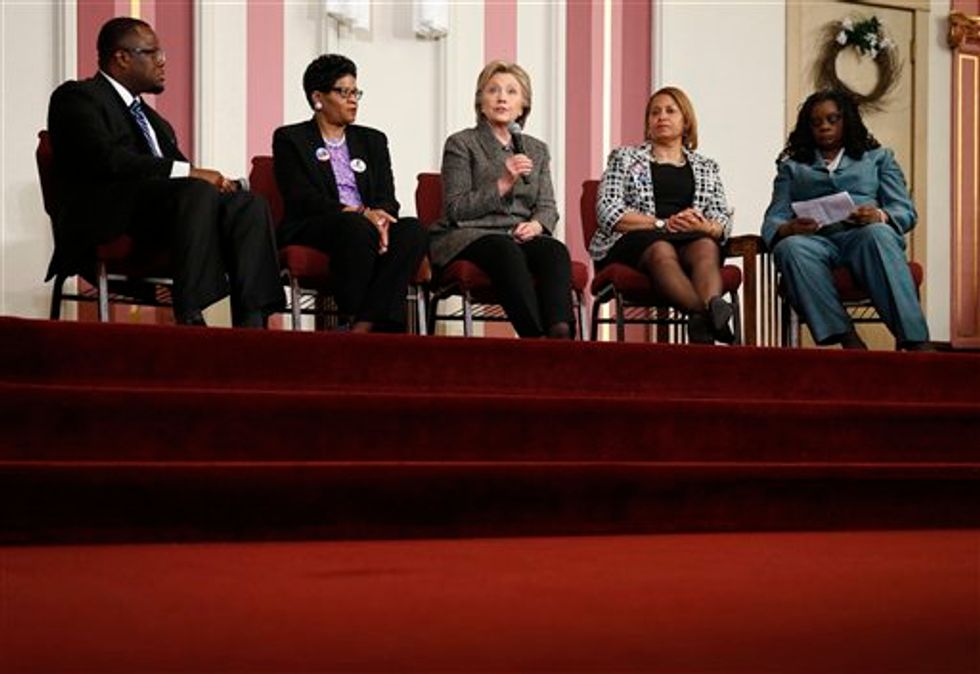 Democratic presidential candidate Hillary Clinton speaks during a forum on gun violence, Tuesday, March 29, 2016, at the Tabernacle Community Baptist Church in Milwaukee. From left are, Pastor Don Darius Butler, Geneva Reed-Veal, Annette Holt and Rep. Gwen Moore, D-Wis. (AP Photo/Patrick Semansky)
Nodding and smiling, Clinton uttered some exclamations before she joined the audience in clapping at Nance-Holt's remarks.
Clinton attended the community forum on gun violence at Tabernacle Baptist Church ahead of Wisconsin's April 5 primary, where 86 delegates are at stake for Democrats.
See the video of Nance-Holt's comments and Clinton's response below.
—
Follow Kaitlyn Schallhorn (@K_Schallhorn) on Twitter