A Muslim Democrat running for Congress in Nevada said that Senate Minority Leader Harry Reid (D-Nev.) told him to end his campaign because a member of his faith couldn't win the election. Reid's Senate office quickly denied the claim.
According to the Washington Post, Reid told Jesse Sbaih, a candidate for the House in Nevada's 3rd congressional district, that he should end his campaign because "a Muslim cannot win this race."
"He said, 'You should not run for this office,'" Sbaih told the Post.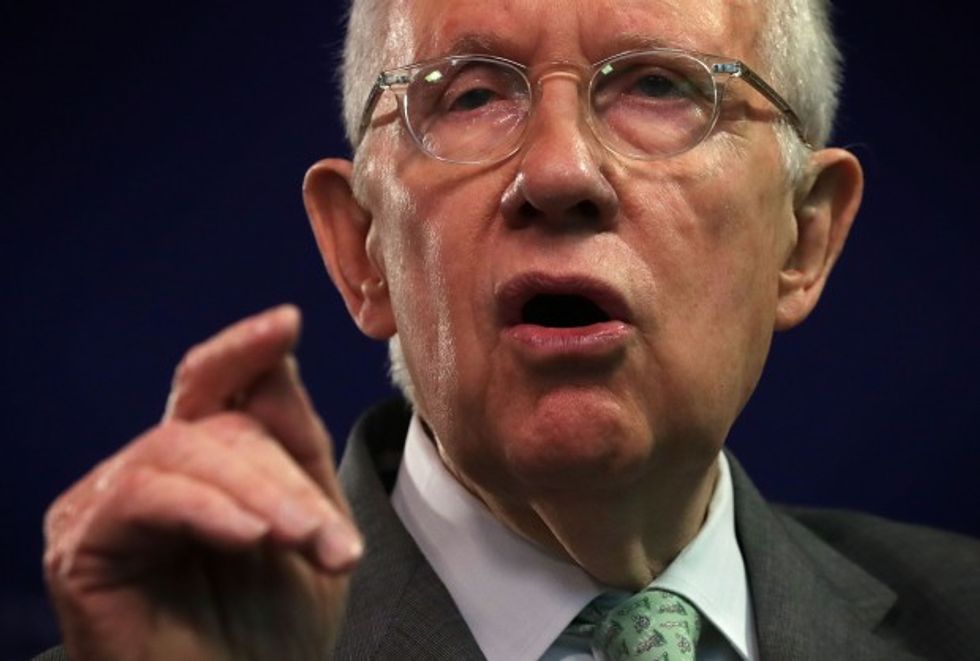 U.S. Senate Minority Leader Sen. Harry Reid (D-NV) speaks during a Center for American Progress forum March 17, 2016 in Washington, DC. (Photo: Alex Wong/Getty Images)
"I did not feel that this was an issue," Sbaih said. "They made it an issue. My campaign is about me being an American."
Sbaih said he has not faced such discrimination before.
"I just turned 40. Been in this country for 29 years. And it's just absolutely shocking that this occurred."
Sbaih said Reid made the remark during a meeting at the Paris Las Vegas Hotel last August shortly after he launched his campaign.
A spokesperson for Reid confirmed that the meeting took place, but accused Sbaih of lying about what Reid said during that meeting.
"Senator Reid did not say that," Kristen Orthman, a spokeswoman in Reid's Senate office, told the Post. "Jesse Sbaih is a liar and that's why he is going to lose."
Sbaih also said that Reid's Senate office offered him a chance to apply for a position on the Election Assistance Commission after the meeting, a position he declined.
In a Daily Kos op-ed, Sbaih defended his version of events.
"The Washington Post broke that story today and I want to say yes, it did happen," he wrote.
"On August 27th, I was told by Harry Reid: "Let me be blunt, you are not going to be able to win because you are a Muslim," Sbaih wrote, adding, "I do not think that is true."
"I do not think that is the world in 2016. I trust that we have made strides since 1960, that we have not descended along that dark path where a person's race or religion defines what they can do or where they can go," Sbaih wrote.
Sbaih alleged that "Party elites in Washington have shoveled endorsements on a handpicked candidate who [has] zero political experience, the very excuse the establishment is given to media for not supporting me."
Sbaih is an immigrant from Jordan and a trial lawyer. This is his first run for office. The Post notes that Sbaih is "an ally" of Democratic presidential candidate Sen. Bernie Sanders.