The head of an organization that works to combat Christian persecution across the globe recently shared some stories with TheBlaze that he believes show God's "miraculous intervention" in difficult and life-threatening situations across the globe.
"We're hearing supernatural interventions going on all around the world," said Dr. Jason Peters, associate vice-president of connection for the Voice of the Martyrs — an organization that has been working since 1967 to help besieged Christians.
Listen to Peters describe those purported "God" events below:
Among a number of harrowing stories, Peters shared how he believes that God once intervened to help protect a missionary serving in Vietnam.
He described how that missionary felt as though God was calling him to minister in a certain part of town — an area where he did not have access or permission to visit. Despite those barriers, he decided to head there and share the Christian gospel anyway.
"As it began to get dark, he realized they were putting up a checkpoint and he didn't know how he was going to get back [home]," Peters recounted.
Instead of turning back, the man prayed to God and said that, though he was uncertain, he would forge on and trust in the Lord. And that's when a man on a motorbike randomly pulled up and asked, "Hey, do you need a ride?"
The missionary, though uncertain and slightly uncomfortable, agreed to ride with the stranger — but what happened next made him even more leery.
"The man on the motorbike drives directly to the police station," Peters said, noting that he instructed the missionary to sit on the bike and wait for him to return from inside the building.
The missionary, who worried that the man might be getting police to arrest him, was left thinking, "Lord, should I stay or should I go?" But he felt as though God was telling him to remain, so he did.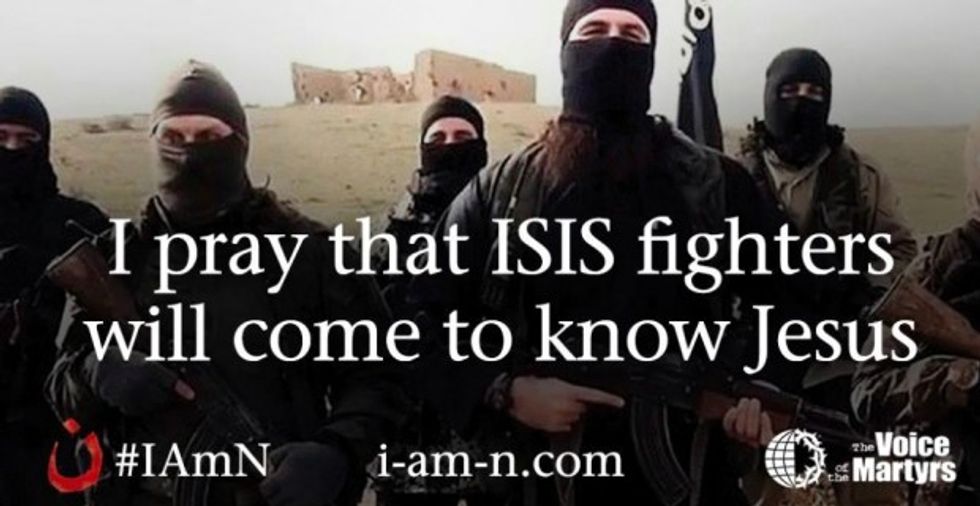 A call for prayer from the Voice of the Martyrs (Voice of the Martyrs/Facebook)
When the man emerged from the police station, he was in a cop uniform with a fair amount of rank. Once again, the missionary was panicked, as he did not realize that the stranger was a cop. Rather than arrest him, though, the policeman made good on his offer to drive him to the designated area of town, and the situation concluded without incident.
After the missionary had time to consider the kind gesture, he decided to thank the cop — but there was just one problem.
"He made his way when it was safe to the police station ... and as he began to describe the man, they said, 'How much rank did you say this guy had?'" Peters recounted. "And they said, 'There's never been anyone with that much rank at this police station.'"
The man was told that this individual did not exist (at least not at the station), which truly shocked the missionary, leaving him convinced that it was an angel who assisted him that night. Whether that's true or not, of course, cannot be substantiated, though the story certainly resonates with the faithful.
This is just one of the many stories that Peters said that the Voice of the Martyrs has collected over the years, as the group works in 68 countries and has extensive reach into communities through on-the-ground field workers who collect information from various groups and individuals.
Many of these stories are recounted in "I am N: Inspiring Stories of Christians Facing Islamic Extremists," a new book that was recently released by the Voice of the Martyrs.
"The theme of the book really is, 'We're not going to let them suffer in silence, nor will we let them stand alone. We're going to stand with them and help them to stand strong for Christ,'" Peters said.
He went on to share a story from the book involving a man in Nigeria who was brutally shot by members of the Islamic terror group Boko Haram.
"They were in their home [around] 11 p.m. and all of the sudden they hear pounding on the door. It's Boko Haram ... they start to bringing people out [of their homes]," Peters explained. "As [he] was brought out and asked the question, 'Are you a Christian or a Muslim?' He had to be honest."
The man responded, "I'm a follower of Jesus."
The radicals attempted to convince the man to renounce his faith and threatened to kill him if he remained a Christian. After the extremists begged him to convert and also pleaded with his wife, the man remained unwavering — and they shot him in the face.
Miraculously, he survived.
"Today, he has a massive scar," Peters said. "He talks awkwardly because of where his cheek was blown away."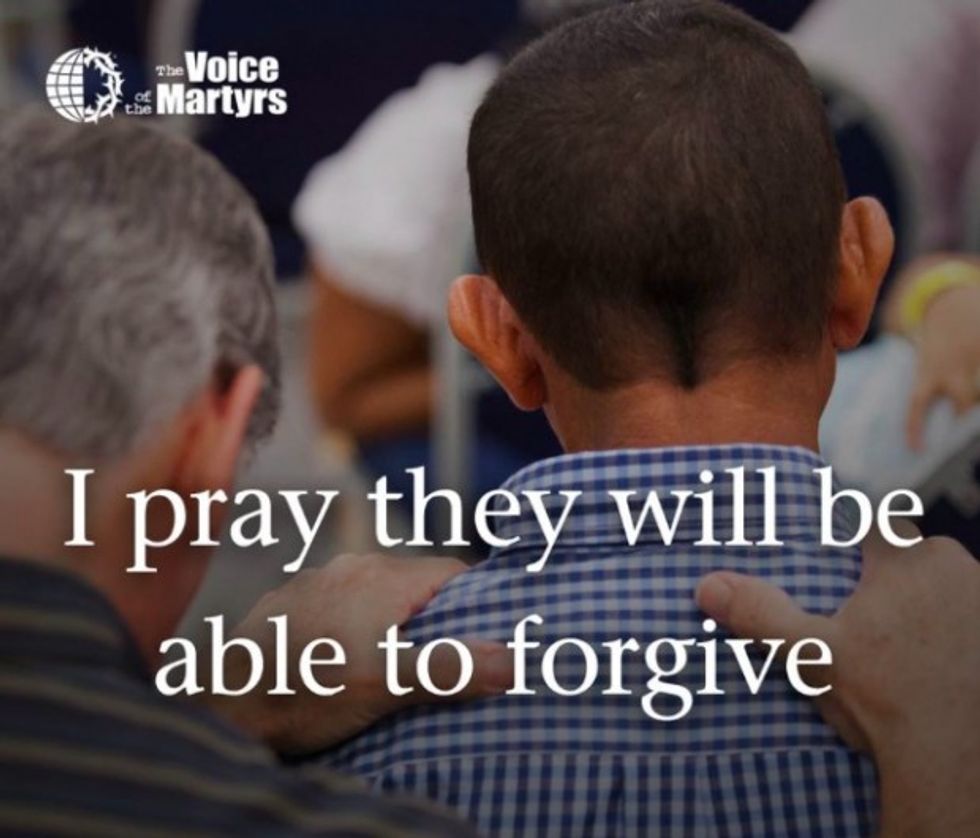 A call for prayer from the Voice of the Martyrs (Voice of the Martyrs/Facebook)
But perhaps the most astounding part of the story is the level of forgiveness that the man was willing to show those who violently attacked him. He told the Voice of the Martyrs, "If I saw the men who did this today, I would hug them and I would tell them, 'I forgive you.'"
Peters called this a "supernatural" level of forgiveness. And while he said that it was once difficult to get the world to pay attention to persecution stories, it's increasing public knowledge about events like this that has profoundly changed that dynamic in recent years.
"We used to have this uphill battle to convince people about persecution — not a problem anymore," he said. "Now, we have to figure out, 'Well what's the Christian response?"
Peters also said that the Islamic State's horrific actions are actually driving some Muslims away from Islam and toward the Christian faith.
"They're looking at ISIS and they're saying, 'If that's what being a Muslim means, I don't want to do that,'" Peters said. "We all have this inner compass, we all have general revelation ... many of them are choosing to leave Islam and come to Christ."
Find out more about Voice of the Martyrs.
--
Follow the author of this story on Twitter and Facebook: