Eugene Donnelly, a police officer in the Bronx, New York, has been accused of breaking into a woman's apartment and assaulting her just hours after receiving one of the NYPD's top honors. But he claims that he had been sleepwalking at the time, the New York Daily News reported.
"Our report shows that it wasn't an alcoholic blackout. It was sleepwalking," Michael Marinaccio, officer Donnelly's lawyer, said Tuesday.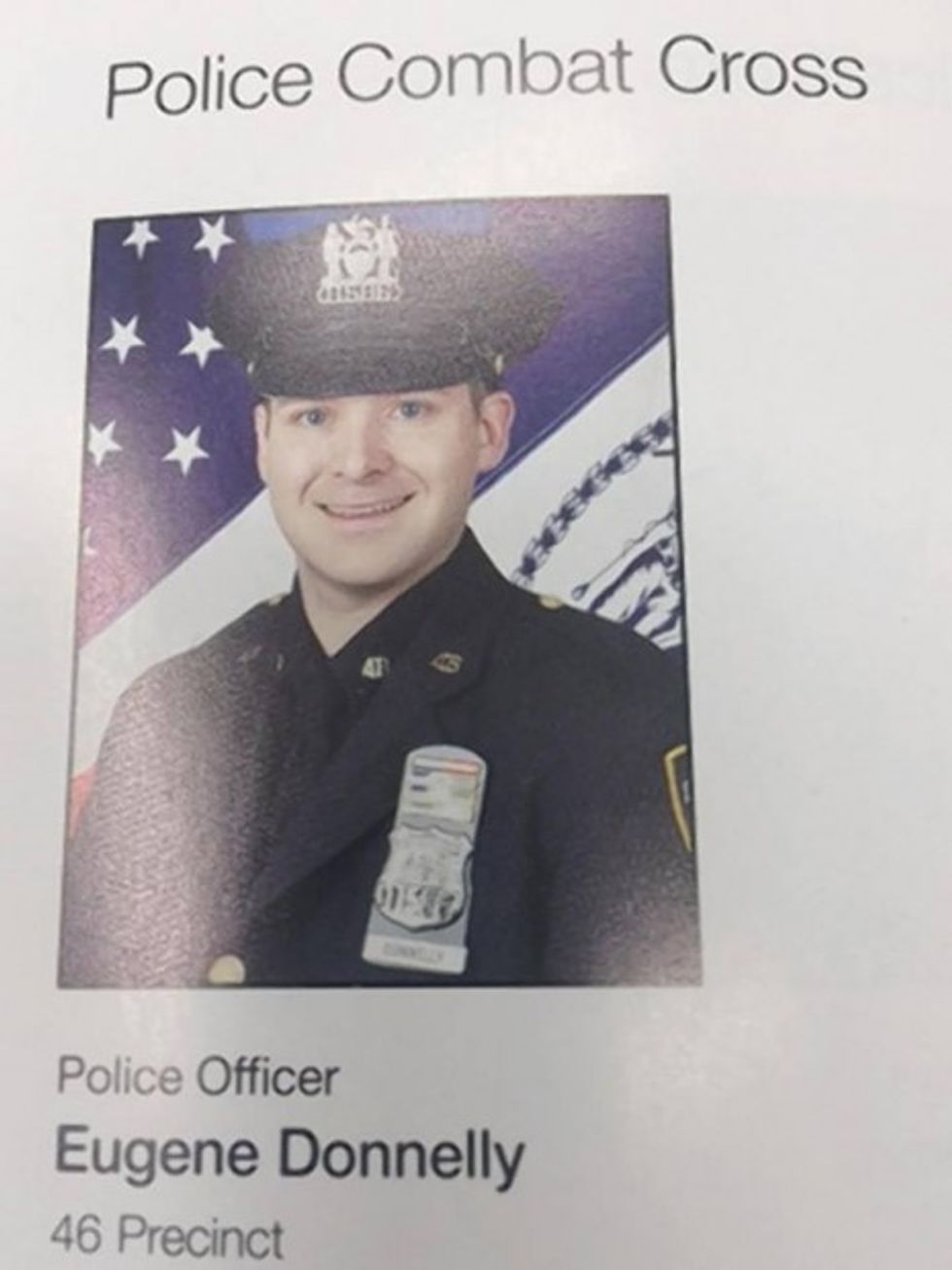 Image via Facebook
That same day Donnelly, 27, appeared in Bronx Supreme Court, where he faces misdemeanor assault and burglary charges for the alleged attack that occurred in June 2014.
Prosecutors and the alleged victim were not buying Donnelly's claims. According to them, Donnelly drunkenly assaulted his victim after barging into her Bronx apartment in his underwear.
The victim reported that the officer appeared at her bedside wearing only a pair of white boxer shorts and said, "Sometimes I'm a good guy, but sometimes I'm a bad guy."
The victim later told police that Donnelly jumped on her while she was still in bed and punched her 20 times. The victim further claimed that, after punching her, the officer wandered into her kitchen and drank some milk from her refrigerator before leaving the apartment.
The alleged attack took place hours after New York Mayor Bill de Blasio presented Officer Donnelly with the Police Combat Cross -- the NYPD's second-highest honor -- for arresting a teen gunman after a brutal Bronx gunfight in May 2012, the Daily News reported.
"On the best day of this guy's life, he does something so out of character," Marinaccio said. "Can we at least consider the possibility that something else is going on here?"
Donnelly's alleged victim indicated to the Daily News that Donnelly's "sleepwalking" defense is too implausible and too late to be taken seriously.
"It took them over a year to come up with this defense," the woman, 32, said. "It's ridiculous. He's grasping at straws."
But Donnelly's lawyer claimed that his client has been diagnosed with post-traumatic stress disorder and various sleep disorders that date back to the 2012 Bronx gunfight. Court papers also show that in a 2014 interview with prosecutors, Donnelly said he didn't initially report the incident because he thought the whole thing was a dream.
Donnelly has, however, admitted that the 2012 gunfight led to a relapse after he achieved sobriety following a long struggle with alcoholism.
Prosecutors have summoned their own team of doctors and plan to test Donnelly and his sleepwalking claims in the coming weeks.
Marinaccio told the Daily News that Donnelly's sleep issues developed during a short period of time in which he was removed from his command while his superiors investigated the 2012 shooting.
"The sleepwalking is just a manifestation of a broader sleep disorder," Marinaccio said Tuesday.
The Daily News reported that Donnelly is serving on modified duty and has been stripped of his gun and badge pending the outcome of the 2014 assault case.