Paul Chodas was recording video of space when he inadvertently captured video of what is believed to be an asteroid impacting the surface of Jupiter.
Chodas, who is the head of the Near-Earth Object Program at the Jet Propulsion Laboratory, a federally funded space research center in California, was recording video when he captured an unknown object hitting the planet March 17. While Chodas said it's unclear exactly what the object was, he suspects it was an asteroid.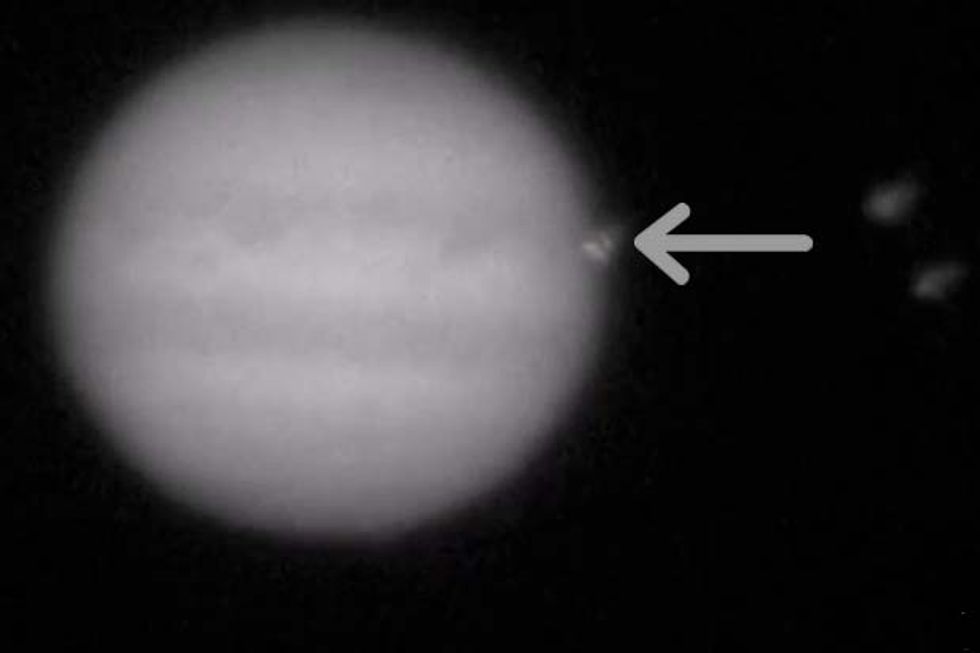 Image source: YouTube
"It's more likely to be an asteroid simply because there are more of them," Chodas said, according to the Huffington Post.
Chodas wasn't the only astronomer to catch the phenomenon, however.
John McKeon, who lives in Ireland, was recording a time-lapse video when the event took place.
"The original purpose of the imaging session was to get this time-lapse, with a happy coincidence of the impact in the second last capture of the night," McKeon wrote in a YouTube video description.
Gerrit Kernbauer, who was in Austria, was also recording video of the planet, but didn't realize what had happened until 10 days later.
"I found this strange light spot that appeared for less than one second on the edge of the planetary disc," Kernbauer said, adding that his "only explanation for this is an asteroid or comet" that "exploded very fast."
(H/T: Huffington Post)
—
Follow the author of this story on Twitter and Facebook: