One 4-year-old girl was pulled out of her Colorado preschool classroom last month when her parents pressed the administration on why their daughter was reading books about same-sex couples and worms unsure of their gender identity.
R.B. Sinclair, the little girl's mother, saw the books as a form of sex education and wanted the option to keep her daughter from having those discussions at such an early age, according to the Denver Post.
Sinclair informed the school that her daughter, who is part of a biracial family and has been raised with both Muslim and Western cultures, is too young to reason the concepts taught in the books because she doesn't yet understand the differences between anatomy and identity.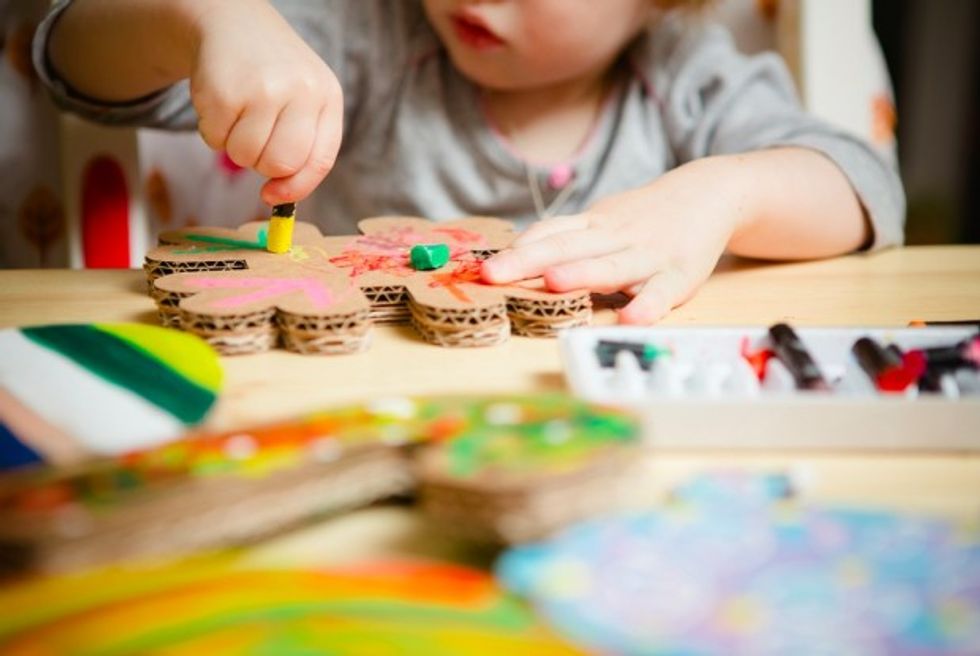 Image source: Shutterstock
But the school administration gave Sinclair an ultimatum. She could either pull her daughter from the classroom, or allow her to sit under the teaching about gender issues and sexual preferences.
School officials at Montview Community Preschool & Kindergarten in Aurora, Colorado, which is run as a private, parent cooperative institution, told Sinclair that the stories are part of the school's anti-bias curriculum and, since the discussions are scattered throughout the school day, her daughter could not opt out of it.
The school's anti-bias curriculum is intended to expose the young children to diverse depictions of families and gender roles before they have the opportunity to form opinions or beliefs that are contrary to accepting those lifestyles.
"Biases start as kids get older and start to see differences as negative," Kim Bloemen, director of early childhood education for the Boulder Valley School District, told the Post. "At a young age, kids are exploring all different kinds of things. It's about just providing them with all these experiences."
In a letter sent to parents, the Montview administration defended the books and offered a newsletter suggesting ways for parents to discuss the controversial issues at home. But that was not satisfactory to Sinclair.
"I think at this age they don't know what bias is," Sinclair said. "They could have kids from Mars, and they would still play with each other. It's not that she isn't exposed to diversity, because it is the world we live in, but how are they having these conversations?"
According to the Post, all area public preschool teachers went through training earlier this year, equipping them with techniques to integrate more discussions about gender identity and sexual preferences with young children.
"This is a fairly new topic to be discussing. We as leaders are learning as well," Bloemen said.
An initiative started by the School of Education at the University of Colorado known as A Queer Endeavor has helped train 2,500 teachers over the past three years, because according to the group's co-founder, instructors "have been really under-supported" when it comes to the issue.
"Times are changing," Bethy Leonardi, a research associate and co-founder of A Queer Endeavor, said. "The only hesitations we've seen is that teachers have been really under-supported. They wonder, 'Am I doing it right,' [and] what language to use. There's a real willingness to do the work."
The initiatives are there to help teachers keep the focus on family structures and on remaining positive about alternative lifestyles. And though the topics are not intended to delve into discussions about sex and anatomy, teachers have to be prepared to answer whatever questions the young students might ask.
"Kids might say, 'My mommy is this' or 'My daddy doesn't live with us,'" Bloemen said. "Or preschoolers go, 'How come you're brown' and another child will say, 'I don't know.' They'll ask the teacher, who might say, 'We are all alike, and we are all different.'
But Sinclair is not comfortable with the way the teachers are talking about these issues with her daughter. In fact, one day, Sinclair said her daughter came home concerned that her father may no longer be interested in women.
Additionally, Sinclair fears the focus on sexual preferences and gender identity may teach children to prioritize one type of diversity over another. And, two days after meeting with the principal, Sinclair determined the school was no longer "a good fit" for her daughter.
Sinclair took the school's ultimatum and decided to pull her daughter from the classroom.
"There was no consideration for the bias against my family's culture, faith and concerns," she said.
—
Follow the author of this story on Twitter: