A well-known pastor faced-off against an imam during a fiery segment during "Hannity" on Wednesday night, proclaiming that "Muhammad was nothing but a bloodthirsty warlord" while debating what has led to so many radical Muslims across the globe.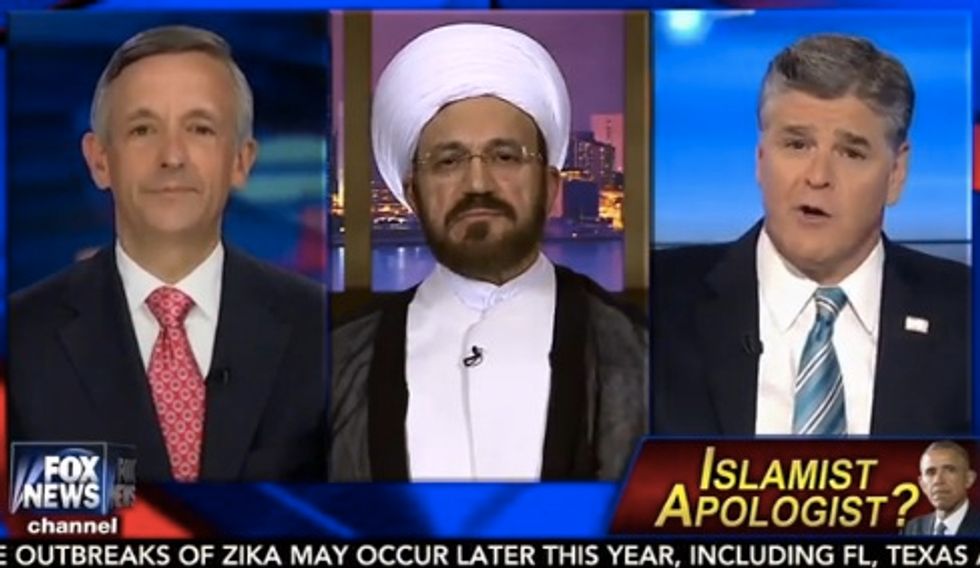 A pastor and an imam debate over Islam with Sean Hannity (YouTube/Fox News)
The segment started with Pastor Robert Jeffress of First Baptist Church in Dallas, Texas, criticizing President Barack Obama's behavior in the days following the Brussels terror attack.
"Once again, on the heels of a horrific terror attack you have the president assuming his favorite role of defender-in-chief of Islam," the preacher said. "It is time for this president and others to wake up to the fact of, whether we're talking about Paris, Pakistan, Brussels or San Bernardino, all of these attacks share one common denominator: they were not committed by Jews or Hindus or Episcopalians, they were committed by radical Islamic terrorists."
But Imam Mohammad Ali Elahi of the Islamic House of Wisdom in Dearborn Heights, Michigan, said that he wanted host Sean Hannity and Jeffress to stop using the term "radical Islam," as "it is either radical or Islam, but it can't be both," expressing his belief that the terrorists are not representative of the Muslim faith.
Elahi also made a reference to the Ku Klux Klan, drawing a parallel to radical Muslims and Islam by saying that he would never act as though the KKK is representative of Christianity more broadly.
And that's when Jeffress truly unleashed his beliefs about the Prophet Muhammad, among other sentiments.
"Here's why you cant tie [the KKK] to Christianity. You can't find one verse in the New Testament that says, 'Kill unbelievers,'" he said. "Jesus, the founder of our faith, didn't kill anybody. He was crucified, but you look in the Koran, you can find 35 sword verses."
Jeffress continued, "Muhammad was nothing but a bloodthirsty warlord who beheaded 600 Jews who would not follow him into battle."
Elahi protested that this "is not true," but the pastor continued, saying that Republican presidential candidate Donald Trump was right when he said that there is something within Islam that "causes its followers to hate us." While Jeffress admitted that it is, in his view, only five percent of Muslims that are radical, he said that, among 1.5 billion followers, that amounts to 75 million extremists.
"How did so many people get their religion wrong?" he rhetorically asked. "You don't have 100 million radical Christians in the world."
Watch the segment below:
Jeffress recently spoke with TheBlaze about these issues as well. Listen to him discuss Trump, Islam and plenty more below:
(H/T: Mediaite)
--
Follow the author of this story on Twitter and Facebook: