Two alleged Mexican cartel drug smugglers were recently caught on camera scaling the border fence into the United States from Mexico with bundles strapped to their backs.
Carolina Rocha, a reporter for Mexico's Azteca Noticias, was recording a segment on recent cross border shootings in Nogales, Arizona, when, in just a matter of seconds, two alleged smugglers made their way up and over the tall fence behind her with ease, despite federal agents and cameras patrolling the border.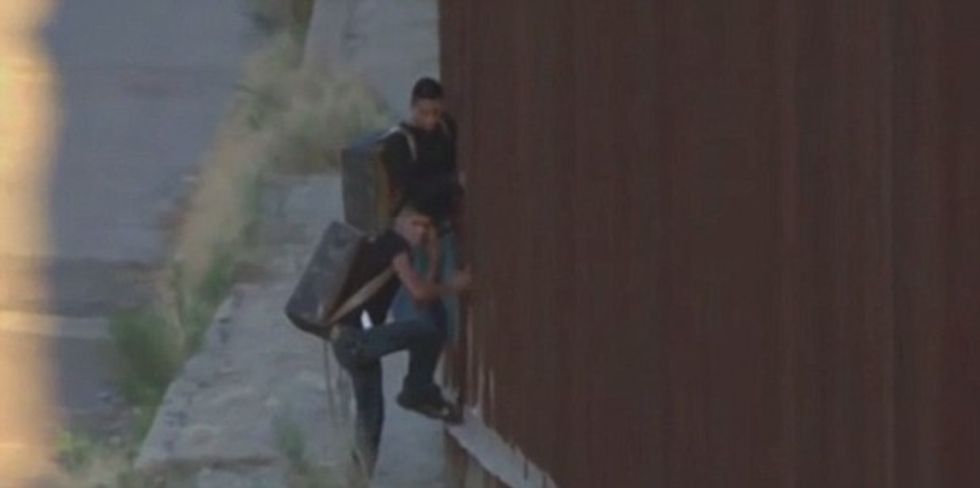 Image source: Youtube
Once over the fence, the pair is seen ducking for cover while one of the men talks on what appears to be a cellphone or walkie-talkie.
At first, the men were unaware that their every move was being recorded. But once they spotted the news crew, one of the men yelled at the crew to stop recording while the other man attempted to cover his face with his shirt.
However, the tense situation quickly ended as the men once again climbed the fence and shimmied their way back down into Mexico. Once back on the other side, the reporter is heard telling one of the men in Spanish, "I am only doing my job, son."
According to Breitbart Texas, drug smugglers hopping over the fence is a common occurrence in the Nogales area.
Being a journalist like Rocha in Mexico is a dangerous, often life-threatening career choice, especially for those who cover crime, which naturally includes reports around drug cartel activity. According to the Washington Post, more than 100 Mexican journalists have been killed while on the job in the past 15 years.
(H/T: Daily Mail)
—
Follow the author of this story on Twitter and Facebook:
[facebook //www.facebook.com/plugins/like.php?href=