Republican front-runner Donald Trump declined to answer an "interesting" question New York Times columnist Maureen Dowd posed to him for a column published Saturday.
Dowd asked Trump if in his days as a Manhattan bachelor he had ever been involved with a woman who had chosen to have an abortion
"Such an interesting question," he replied. "So what's your next question?"
Dowd did not appear to press the usually-blunt billionaire for an answer, but instead moved on to her next question on courting the women vote.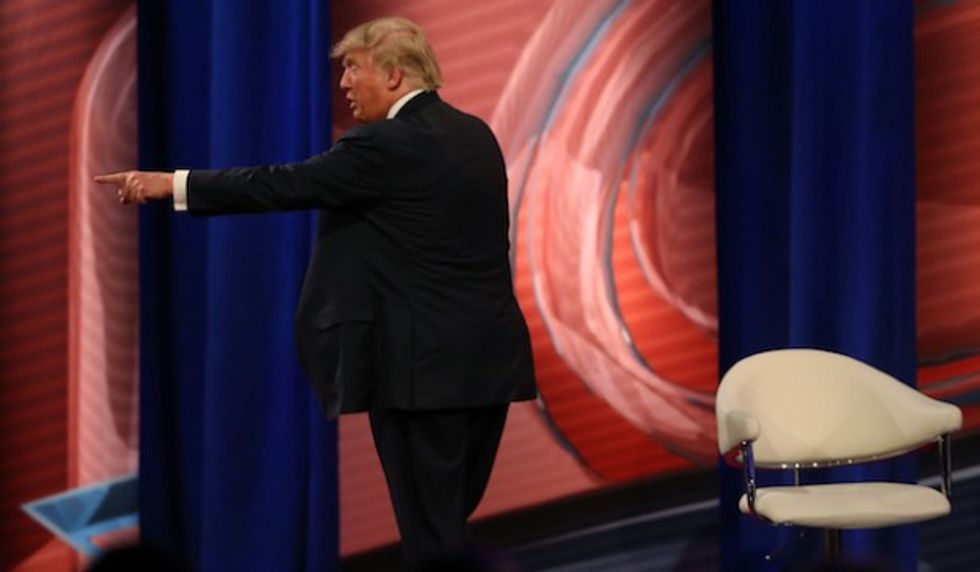 Spencer Platt/Getty Images
It was not clear why the pulitzer-prize winning journalist did not insist the presidential candidate answer her question and she did not return a request for comment from TheBlaze Saturday afternoon.
The failure to press Trump, however, did cause some stir on social media.
"If a candidate calls a question 'interesting,' ask them to answer the damn question," Daily Beast reporter Gideon Resnick posited on Twitter.
If a candidate calls a question "interesting," ask them to answer the damn question.

— Gideon Resnick (@GideonResnick) April 2, 2016
Mother Jones Editor David Corn, who suggested days earlier that a journalist ask Trump the question, noted Dowd did not ask a follow up.
A few days ago I suggested Trump be asked if he ever paid for an abortion. Maureen Dowd did so. But no follow up. https://t.co/0HvdKGyd3G

— David Corn (@David Corn) 1459625880.0
BuzzFeed senior political reporter McKay Coppins suggested a followup question: "Has Donald Trump ever personally paid for an abortion?"
Trump dodging the abortion question comes on the heels of him struggling to answer a host of questions on the issue. 
On Wednesday, Trump said that "there has to be some form of punishment" for women who would have abortions if it were to be outlawed. He later reversed his comment. On Friday, the Republican front-runner tried dodging a question on whether he considers abortion to be murder and said that he would not change current laws on the controversial procedure.
—
Follow the author of this story on Twitter and Facebook: