A Greek farmer fed up with migrants who have turned his field into a virtual refugee tent camp took his tractor last week and began plowing between the tents.
The farmer, identified by news outlets as Lazaros Oulis was videotaped as he plowed his field while the migrants looked on.
"I need to plow my field. Not somebody else's field, mine! I have a business with 70-80 calves — I want to produce (food for them), feed them, because, financially, I can't take this anymore," said Oulis of the village of Idomeni, the Associated Press reported.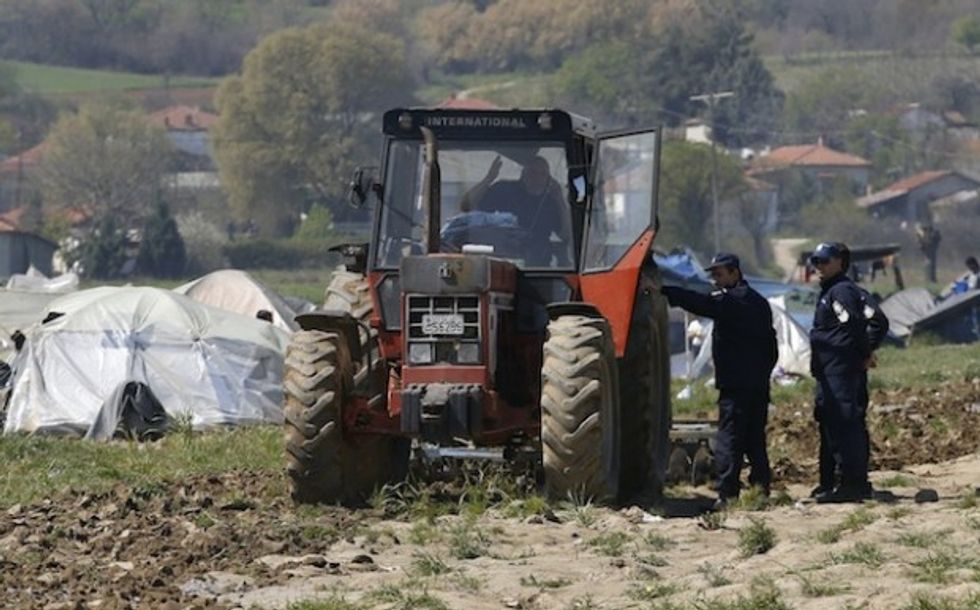 Greek police officers speak with Lazaros Oulis, farmer and owner of fields near the makeshift refugee camp at the northern Greek border point of Idomeni, Greece, Thursday, March 31, 2016. Oulis, tried to plough his land on Thursday, driving the tractor near the tents and people. (AP Photo/Darko Vojinovic)
Oulis, who was stopped by police, said he had offered NGOs some acres of his land so they could build sheds to house the migrants, but asserted that his offer had been ignored.
"I don't have a problem with the (refugee) families, no problem at all. I could have been in their place. But I, also, have obligations," he said.
Some refugees told the AP that they sympathized with the farmer's situation.
"He is right — I say that he is right because it's his land," Reshal Hamdo, a Syrian migrant, said. "We don't know what we will do, this is not our country, it's not our land."
RT's Ruptly TV posted this video on YouTube:
The migrants living in the tents hope for the Macedonia border to reopen so that they can travel to other European destinations and apply for refugee status. The border has been closed for nearly a month, leaving some 11,000 in Idomeni.